The day is nearly upon us, and Euro 2012 is close to getting underway. With that in mind, the sense of excitement in the air is palpable as we pool together the best of Twitter for your viewing pleasure.
In today's edition, we have updates from Spain and Holland's camp, Rio Ferdinand receives a timely boost from his fellow players after his England snub and Alex Oxlade-Chamberlain asks his followers for a spot of advice as he looks for ways to fill in the time while on England duty.
"Good news! Finally we are allowed to use social networks so we will be in contact during the Euro Cup! We keep in touch!"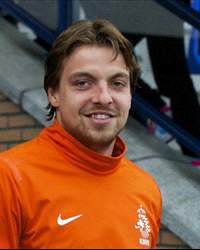 Barcelona and Spain midfielder Cesc Fabregas delivers the news that we've all been waiting for. Huzzah!
"Amsterdam airport.. Flying to Poland.. 5 more days Till our first game against Denmark"
Newcastle goalkeeper Tim Krul gives us the lowdown on the status of Holland's 23-man party for Euro 2012.
"Today we travel to Poland and start our preperations for the first game against Denmark! Looking forward to it"
Tottenham's Rafael van der Vaart gets in on the act too, as we head into the last few days before the tournament kicks off.
"@rioferdy5 should be in the euro squad he's the best defender England have and has been for years #justmyopinion"
QPR striker Jay Bothroyd weighs into the debate on whether Rio Ferdinand should have been chosen to replace the injured Gary Cahill in Roy Hodgson's Euro 2012 squad.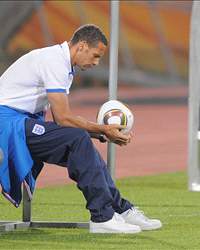 "Keeping up this "Football Reasons" line where @rioferdy5 is concerned...is really insulting people's intelligence now.."
Reading forward Jason Roberts also backed Rio Ferdinand's cause after the defender was controversially overlooked ahead of this summer's major championships.
"If you havent been to the Man Utd museum you are missing out. Obviously the history but things like the old boots & kits are wicked! #random"
Nothing cures a spot of rejection like a tour around a footballing museum, according to Manchester United defender Rio Ferdinand. It's nice to see that he's keeping himself busy.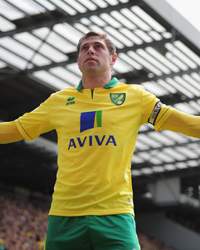 "Morning all from Barbados 5 hours behind uk time kids been watching spongebob since 5am! #jetlag"
Everton utility man Phil Neville warns us on the perils of small children, travelling and morning TV. Terrifying little terrors.
"Airport to drop mrs holt and the girls off to go to NYC"
Norwich striker Grant Holt is staying put in England for the time being, could he be discussing a move away from the Canaries? Nobody in their right mind would miss out on a trip to New York unless they absolutely had to.
"It's great to see football and the English Premier League reach out so far."
Manchester City defender Vincent Kompany tells it as it is on the impact of the top flight in China.
"Downloading films on the iPad for this trip and struggling massively to think of any good ones! please help..... :D"
England winger Alex Oxlade-Chamberlain is sensibly planning ahead as he bids to beat the boredom of a trip away with the same faces for over a month.