Italy head to this summer's European Championships as one of the dark horses for the title.
Handicapped by injuries to key personnel and an off the field betting scandal which led to the exclusion of Domenico Criscito, means that the Azzurri haven't had the best preparation for a title assault during the Euro 2012.
However all hope is not lost for Italy, who have an able leader in Cesare Prandelli, who has moulded this squad into a far more attacking and attractive unit.
Although the former Fiorentina man would have preferred playing a 4-3-3, lack of options outwide, which have also hindered his try at moulding the team into a 4-4-2 formation. This lead to him largely preferring a 4-3-1-2 for Italy but injury to Andrea Barzagli means he might have to switch to a 3-5-2, to play to his squad's strengths.
However here too they have had the problem of not having a in-form attacking midfielder to play just behind the strikers, with Alberto Aquilani, Riccardo Montolivo and Thiago Motta all having been tried there in recent times, with next to no success.
The inclusion of Sebastian Giovinco might give him a viable alternative at the no. 10 position however it might well be that Claudio Marchisio, coming off a great season with Juventus, might be used there, thanks to the dynamism he offers in midfield.
| | |
| --- | --- |
| | |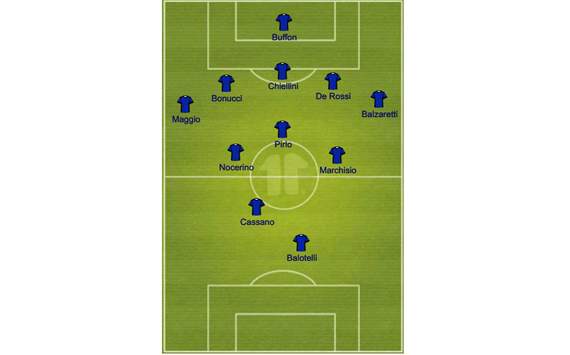 The Azzurri's qualification to the Euros was based on a solid defense, as has always been the case with Italy, as they conceded a mere two goals. While they might not boast of any superstar names of the past, except Giorgio Chiellini, the backline with Gianluigi Buffon behind them, have done the job with minimum fuss – atleast until they crumbled against Russia in the last friendly.
Until Andrea Barzagli picked up a knock in training, four of the back five would have been Juventus players, the others being Buffon, Leonardo Bonucci and ofcourse Chiellini. However in Federico Balzaretti, they have an able left-back, who shall allow Chiellini to move into central defense, while Barzagli is out injured. With the Turin based side having conceded just a measly 20 goals last season, and allowing the third lowest, just 9.3 shots on goal against them in the entire campaign, the Azzurri faithful can look forward to a stubborn display in defense.
Prandelli might switch to a 3-5-2 formation, allowing a back three of Bonucci, Chiellini and Daniele De Rossi, with the Roma man having often filled in at centre-back for his club with some distinction.
This shall allow the duo of Christian Maggio and Federico Balzaretti to play further upfield as wing-backs, which suits the pair, who are better bombing down the wings rather than defending in anycase.
Prandelli's side can be expected to play slightly deeper than usual when defending, relying on the tenacity of Antonio Nocerino and Marchisio to win back the ball in midfield, with Pirlo's positional sense adding further safety.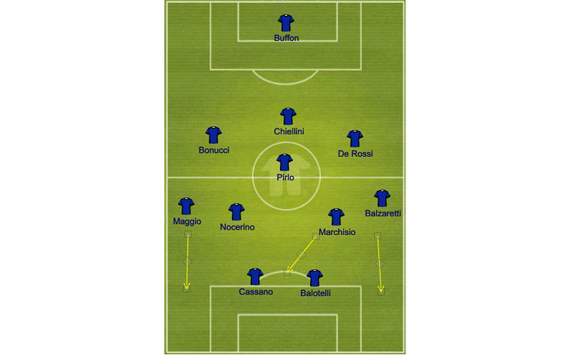 As stated above, Prandelli would have liked to play with a 4-3-3, but due to the lack of options for such a formation, he only ever tried it twice, both against relative lightweights in Northern Ireland and Faroe Island, largely settling for a 4-3-1-2 formation after that, though a switch to 3-5-2 might now allow for a more attacking formation, utilizing the excellent offensive wingplay of Balzaretti and Maggio.
Another noticeable feature of Prandelli's squad selection is that no targetman as such has been included in the squad, with poachers like Pablo Osvaldo, Alessandro Matri, Giampaolo Pazzini amongst others being all left out.
That leaves Antonio Di Natale as the only goal poacher of note in the squad, and with the Udinese man also making only a late foray into the squad, it is likely he shall be on the bench for their first tie.
What the inclusion of players like Fabio Borini, Giovinco, Antonio Cassano and the eccentric Mario Balotelli means is that the former Fiorentina manager hopes to have a very fluid attacking line-up, with plenty of movement and creativity. With 61 goals in-between them this season, the attacking line-up isn't that goal shy either.
However it must be said that barring Balotelli, the squad lacks a reference point upfront.
So one can expect the Azzurri to line-up with 2 strikers, widely expected to be Antonio Cassano and Mario Balotelli, with possibly a third joining them later on if needed.
The traditional no. 10 position in the squad though, remains up for grabs, with as stated above, several suitors failing to rise to the occasion.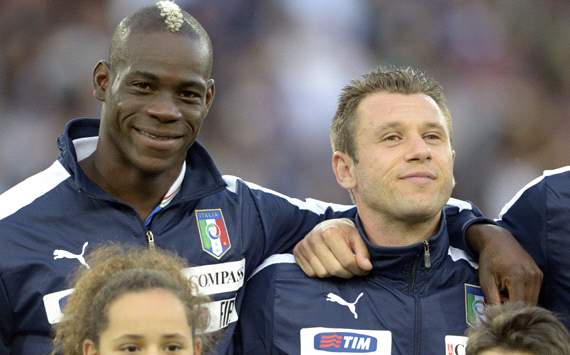 The Duo Shall Be Vital To Italy's Hopes In The Euros...
Whoever Prandelli chooses for that position, will definitely be someone with a good work-rate, because he would need to track back when Italy defend, while he shall then need to be on the other end of the pitch too, as the Azzurri make attacking forays.
Italy's system is based around quick passes and movement, with Pirlo sitting deep and pulling the strings with his impeccable passing abilities.
Infact Pirlo is the focal point in Italy's attack, with them relying on his ability to unlock defenses with his passing range to set their forwards free.
While Giuseppe Rossi shall be missed, Cassano and Balotelli bring plenty of creativity, with the Manchester City striker expected to play further upfield. The attacking trequartista is expected to join them in attack to add numbers in the box.
The movement of midfielders like Marchisio and Montolivo will also play a vital part in their attacks and Maggio from the right is expected to provide width and service into the box. With Balzaretti getting in at left wing-back, to mirror Maggio's runs on the right if needed.
| | |
| --- | --- |
| | |
Strengths - As stated above, it is their impeccable Juventus dominated defense where the Azzurri's skills lie. With Barzagli set to miss out, they still have some very capable defenders in their team and even the likes of Spain will find them difficult to break down.
Weakness - The injury to Giuseppe Rossi and a lack of a traditional targetman shall definitely hurt Prandelli's side. The lack of a natural trequartista of the capability of Francesco Totti and Alessandro Del Piero will also be a drawback. This shall put all the onus on the talented but erratic forward duo of Cassano and Balotelli.
Opportunities - A complete fresh start from the 2010 World Cup debacle, Prandelli has put his blueprint on the team. Not the biggest favourites for the Championship, a youthful side shall take to the pitch, hoping to make a mark during the tournament and repeat the 2006 World Cup heroics of their countrymen.
Threats - Yet again it is the match fixing scandal which is hovering over the squad like a dark cloud. Criscito has already been sacrificed, while Buffon and Bonucci have also come under the scope of the investigation amongst others. Such off the field incidents have the power to derail the preparations of the squad.
| | |
| --- | --- |
| | |
"The comparisons to 2006 seem like a cliche to me. The situation's different now,"

"They always say that Italy become more united in difficult situations, and I hope that is the case now, too. However, I don't believe in the theory that we can only perform under pressure.



| | |
| --- | --- |
| | |
Not the best crop of players that Italy have ever taken to a major championship, but the calmness of Prandelli and gritty nature embedded in all Italian players might see them cause a few upsets on the way. A title challenge cannot be ruled out.
How do you stay up to date with football when on the move? With

http://m.goal.com

– your best source for mobile coverage of the beautiful game.