SPECIAL
By Kaustav Bera


| | |
| --- | --- |
| | |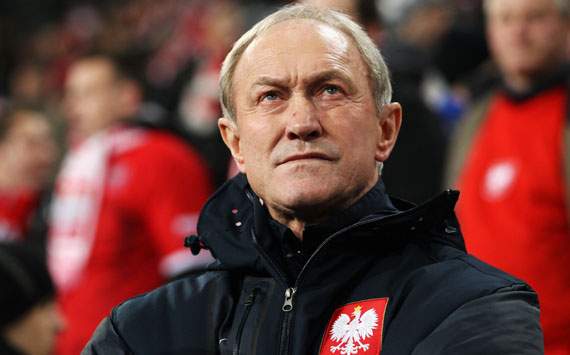 LAST FIVE

KEY STATISTICS


| | | | |
| --- | --- | --- | --- |
| 26 May 12 | Poland | 1-0 | Slovakia |
| 23 May 12 | Poland | 1-0 | Latvia |
| 29 Feb 12 | Poland | 0-0 | Portugal |
| 16 Dec 11 | Poland | 1-0 | BiH |
| 15 Nov 11 | Poland | 2-1 | Hungary |

Matches in Charge - 32
Matches WON 15 LOST 7 DREW 10
Win Percentage - 46.875%

Goals SCORED 41 CONCEDED 33
Goal DIFFERENCE - 8


How did he begin his coaching career?

Preferred Formation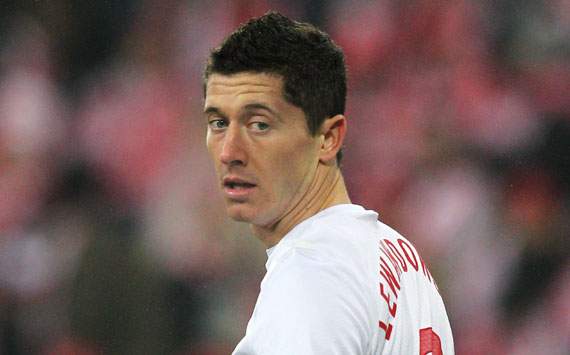 4-2-3-1
Szczesny
Piszczek - Perquis - Wasilewski-Wawrzyniak
Dudka - Polanski
Błaszczykowski - Obraniak - Rybus
Lewandowski
Smuda started off managing clubs in the German lower
divisions. However he really hit it off in his native Poland where he managed to win succesive Polish championships with Widzew Lodz and then also with Polish giants Wisla Krakow besides leading Lech Poznan to the Polish Cup.
His stint with Poland
It was from 1997 onwards that whenever coaches were being shuffled in Poland, Smuda was the media's favourite to take over the reigns of the national team. However it was in October 29, 2009 that he finally took over and although Poland did not have to go through Euro qualifying rounds being one of the host nations, their performances in the friendlies marked an improvement.
His style of coaching
Although he usually employs a standard 4-2-3-1 system which is the most preferred among European nations in general, he does not believe in his players rigidly following the formation and allows for individual creativity. Instead of looking to be on the attack he employs a system of containing and then rapid counter attacks on the break utilising his pacy players.
Key Personnel
The Dortmund trio of Kuba (Blaszczykowski), Lewandowski and Piszczek form a deadly combination for the White Eagles. Smuda will also look towards Szczesny in goal to keep them from conceding goals. And the Arsenal man's form in the Premiership this season will delight Smuda.
What makes Poland a contender?
Robert Lewandowski, who spearheaded Dortmund's Double winning campaign, is a fantastic target man upfront and will certainly get the goals if provided with the service. Their strong right flank comprising again the Dortmund duo of the super pacy Kuba and the versatile Piszczek will give any team nightmares. Kuba can cut in too at will and has a brilliant shot to test any goalkeeper. Moreover Dudka and Polanski both have had solid seasons in the French League and shall anchor the midfield.
What are Poland's weaknesses?
Their defense is a cause for concern as they have conceded a massive 33 goals under Smuda in 32 matches. Although Szczesny has been in good form at the club level he needs to translate it to national colours as well. Morever should Kuba or Lewandowski suffer any injury Poland's main attacking impetus will be gone. And with replacement strikers Brozek and Sobiech having indifferent seasons there is a distinct lack of firepower. 19 year old youngster Wolski has been called up into the squad after having a splendid season domestically but he lacks the big game experience which could prove to be an impediment.
| | |
| --- | --- |
| | |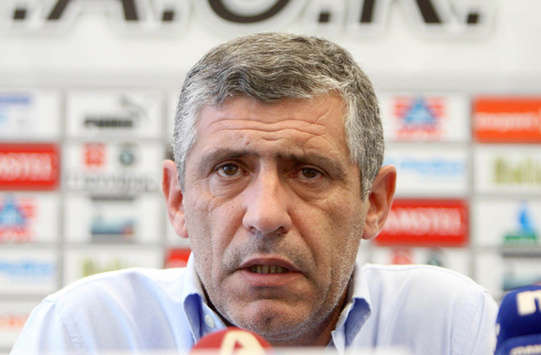 LAST FIVE

KEY STATISTICS

| | | | |
| --- | --- | --- | --- |
| 26 May 12 | Greece | 1-1 | Slovenia |
| 29 Feb 12 | Greece | 0-0 | Belgium |
| 15 Dec 11 | Greece | 1-3 | Romania |
| 11 Nov 11 | Greece | 1-1 | Russia |
| 11 Oct 11 | Georgia | 1-2 | Greece |

Matches in Charge - 19
Matches WON 10 LOST 1 DREW 7
Win Percentage - 52.631%

Goals SCORED 21 CONCEDED 12
Goal DIFFERENCE 9

How did he start his coaching career?
The Portugese nicknamed as 'El-Mechanico' started his career in his native country with Estoril with whom he managed to climb up two divisons to the top tier. He had his crowning glory with Porto where he won the league as well as taking them to the quarter-finals of the Champions League in 1999. He also won the cup and Super cup twice with Porto. He then shifted base to Greece where he would win the Greek Cup with AEK Athens. After a short stint at Benfica, he went back to Greece leading a resurgence of the historical PAOK where he finished 2nd in the 2009-10 season and qualifying for the Champions League.
Preferred Formation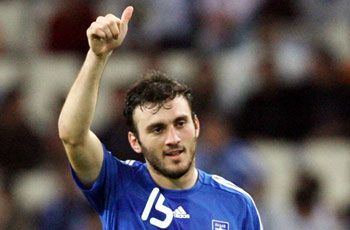 4-3-2-1
Karnezis
Torosidis - Sokratis - A.Papadopoulos -Holebas
K. Papadopoulos - Katsouranis - Karagounis
Salpingidis - Samaras
Gekas
His stint with Greece

His great stint with PAOK meant he had the attention of the Hellenic Football Federation who appointed him as national coach on the 1st July, 2010 for 2 years. And atleast by his tremendous qualification campaign, his selection was more than justified. Greece went undefeated in their Qualifiers and in his entire stint as coach he just lost one match, a friendly encounter against Romania. He also led Greece to their highest Fifa ranking of 8.

His style of coaching

Santos plays a narrow and unconventional 4-3-2-1 formation with three central midfielders and two attacking midfielders who may drift out wide supporting one main target man upfront. With this tactic, the central striker should not only have an eye for goal but needs to be a tireless worker as he needs to hold up the ball as Greece rely on long balls and then bring the other midfielders into play by freeing up space. However unlike Rehhagel's ultra defensive tactics, Santos has increased Greece's attacking prowess to an extent,

Key Personnel

Torosidis who led Olympiakos to a domestic double is a key player to Greece's chances. Wonderkid Papadopoulos who had a brilliant season with Schalke 04 is a mainstay of the team, equally adept at playing centre-back as well as holding midfielder. Sokratis too has impressed with Werder Bremen. Samaras continues to impress at Celtic having won yet another league title this season.

What makes Greece a contender?

The mainstay of the Greece team is of course their defense which was the primary reason that they remained unbeaten throughout their qualification campaign. With Avram Papadopoulos and Sokratis partnering a formidable defense which conceded only 5 goals in 10 matches in qualification. Moreover with the versatile Kyriakos he has a man who is equally competent at CB as well as CDM, and he is all of 20.

What are Greece's weaknesses?

Just as their defence is formidable as well as youthful their midfield led by stalwarts Katsouranis and Karagounis are on the wrong side of 30. Moreover Karagounis has lost his place in the starting XI of his club and is not the tireless worker he was, now at 35. In attack too Santos has had to recall Gekas after he had announced his retirement as the rest of the strikers were certainly not upto the mark.
| | |
| --- | --- |
| | |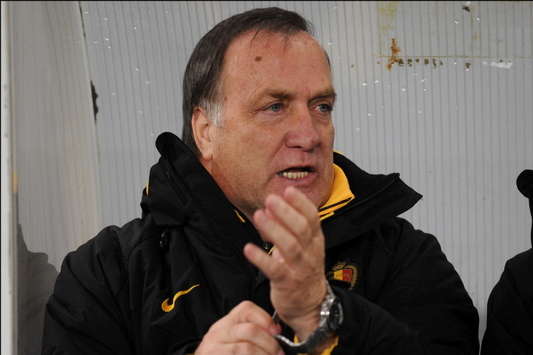 LAST FIVE

KEY STATISTICS


| | | | |
| --- | --- | --- | --- |
| 25 May 12 | Russia | 1-1 | Uruguay |
| 29 Feb 12 | Denmark | 0-2 | Russia |
| 11 Nov 11 | Greece | 1-1 | Russia |
| 11 Oct 11 | Russia | 6-0 | Andorra |
| 07 Oct 11 | Slovakia | 0-1 | Russia |

Matches in Charge - 18
Matches WON 10 LOST 3 DREW 5
Win Percentage - 55.556%

Goals SCORED 24 CONCEDED 10
Goal DIFFERENCE 14

How did he start his coaching career?


As well as playing football, Advocaat was a PE teacher and became involved in coaching in 1981 (aged 32) a job running amateur Saturday football side Door Samenwerking Verkregen Pijnacker (DSVP).
Then surprisingly he was the assistant to the legendary Rinus Michels for the Dutch national team in 1984 where he learnt his trade. He also had two stints of being the Head coach of Netherlands although he could not win any major trophies with the Oranje. At club level though his trophy cabinet is overflowing winning league and cup doubles in three countries, PSV in Netherlands, Rangers in Scotland as well as Zenit St. Petersburg in Russia where he also led them to an UEFA Cup and Super Cup double. He was thus awarded the sobriquet of an Honorary citizen of St. Petersburg.
Stint as Russian national coach

Preferred Formation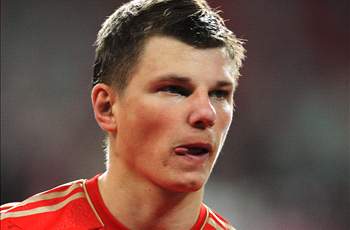 4-3-3
Akinfeev;
Anyukov - A Berezutsky - Burlak - Zhirkov
Shirokov - Semshov - Zyryanov
Dzagoev - Kerzhakov - Arshavin
Russian opinions sway between pessimism after a stuttering qualification campaign under Advocaat who took charge on 1st July 2010, after Guus Hiddink. He did lead Russia to an automatic qualification from a relatively easy group where they lost only once against Slovakia. However Russia's performance in the friendlies with stronger nations was nothing to write home about as out of 8 matches they won only 3. Meanwhile no matter what Russia does in Euro 2012, Advocaat has already announced he will quit after the tournament taking charge of PSV.
His style of coaching

Advocaat plays a much more open and attacking game as compared to the other cagey European formations. He prefers a 4 3 3 with two wide men supporting a central striker in front but all three of them may also prefer drifting in the centre to allow the rampaging wing backs to make overlapping runs to take up the space and put more bodies into the box to make a target for the crosses.
Key Personnel

Andrei Arshavin who has found form after moving on loan to Zenit will delight Advocaat as well as his team mate Kerzhakov who is firing in the goals at will, being the highest scorer in the Russian League. Igor Akinfeev who has returned from injury and made some stunning saves will also play a key role. Highly rated Alan Dzagoev will also partner the two Zenit men upfront.
What makes Russia contenders?

Kerzhakov's tremendous goal scoring form as well as talisman Arshavin's late return to form have come as a boon to Advocaat whose other strikers did not get much game time, Pogrebnyak in Fulham and Pavlyuchenko at Lokomotiv. Moreover the highly rated goalkeeper, Igor Akinfeev has returned from injury and has already showed why he is up there among the best. In the midfield although aged, the Zenit duo of Shirokov and Semshov are seasoned customers and have a great understanding between them.
What are the weaknesses?

Advocaat needs to galvanise and instill confidence in the players and, above all, convince them that his heart is in the job. This may be difficult having turned down a contract extension to take him beyond Euro 2012 in a long-running saga. Moreover the CSKA Moscow backline of Igansevich and Berezutsky have been plagued by injuries and although expected to return, will not have much time for preparation. The 22 year old Burlak who is touted as a great prospect might not be utilised as Advocaat is known to prefer the old guard. That goes in midfield too where he prefers a trio of 30+ players instead of going for fresh faces. Alan Dzagoev too is recovering from toe injuries and will hopefullly recover on time.


| | |
| --- | --- |
| | Michal Bilek - CZECH REPUBLIC |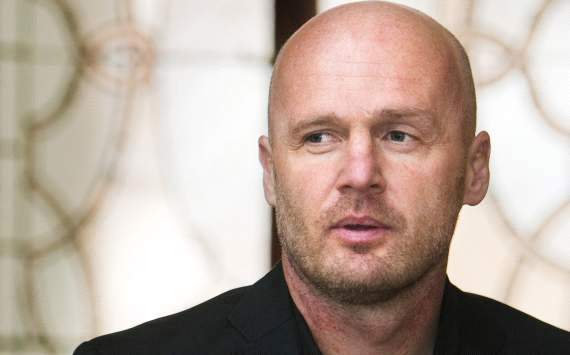 LAST FIVE

KEY STATISTICS


| | | | |
| --- | --- | --- | --- |
| 26 May 12 | Czech Rep. | 2-1 | Israel |
| 29 Feb 12 | Ireland | 1-1 | Czech Rep. |
| 15 Nov 11 | Montenegro | 0-1 | Czech Rep. |
| 11 Nov 11 | Czech Rep. | 2-0 | Montenegro |
| 11 Oct 11 | Lithuania | 1-4 | Czech Rep. |

Matches in Charge - 23
Matches WON 10 LOST 8 DREW 5
Win Percentage - 43.478%

Goals SCORED 32 CONCEDED 21
Goal DIFFERENCE 11

How did he start his coaching career?

Former Czech International midfielder, Bilek started his coaching career in his native country in 2001 with FK Teplice. He was also in charge of the Czech U-19 team for an one year period between 2002-03. However his crowning glory came with coaching Sparta Prague to a domestic double in 2006-07 season. Strangely he was sacked the following season itself for below par performances and after another year with Ruzemberok he was handed the national team job in late October, 2009.
Stint as Czech Republic Head Coach
Preferred Formation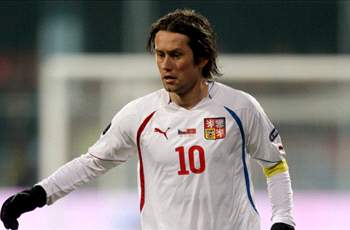 4-2-3-1
Cech
Selassie - Hubnik - Sivok - Kadlec
Plasil - Jiracek
Rezek - Rosicky - Pilar
Baros
Bilek has commandeered a stuttering qualification campaign as they were clubbed alongside Spain and Scotland, but has somehow edged past the latter as the 2nd placed team to advance to the playoffs where they eased aside Montenegro to secure their place in the finals. In qualification they managed to beat Spain twice and also went down against lowly Lithuania.
His style of coaching
Bilek usually employs the rather defensive looking 4-2-3-1 with two holding midfielders Plasil and Jiracek thwarting any opposition attacks and Rosicky providing the attacking thrust and the creativity playing as the ideal No. 10, just behind the towering frame of Milan Baros who is supposed to be the figurative target man that can not only use his height to put the crosses in the back of the net, but also hold up the ball to allow the midfielders to stream forward. The defensive formation can also change easily to a 4-3-3 with the widemen pushing forward, when the team needs goals.
Key Personnel

The two Premier League players in the guise of Petr Cech and Tomas Rosicky are the trumpcards for Bilek, especially with their late surge of form especially after a rather poor first half of the season. Cech who literally saved his side in match after match in the Champions League to crown Chelsea the eventual champions after penalty heroics in the final too and Rosicky who led Arsenal to an unlikely 3rd placed finish after a very poor start and made up for Wilshere's absence are the key figures in the team.
What makes Czech Republic contenders?

Although Milan Baros did not start the season too well, the veteran striker struck up a brilliant partnership with Galatasaray where they won the league. This will be a boon for Bilek espcially with Necid not having the best of seasons with CSKA Moscow, no matter how talented he is. Moreover with the 'Little Mozart' back at his musical best, there will be no dearth of creativity at the heart of the Czech midfield. Experienced campaigners,Plasil and Jiracek add the necessary steel in the midfield to allow Rosicky to be at his brilliant best while in Cech they have probably the best goalkeeper in the world as he has proved time and again, ending the season brilliantly with the Blues.
What are the weaknesses?

Bilek lacks a replacement for Baros, as Necid has been plagued by injuries this season and has hardly got game time and the other strikers are not just upto the mark. They also look slim in defense as the likes of Jankulovski and Grygera are retired and the likes of Hubnik and Sivok do not rank up there. So it will be again down to Petr Cech to keep them in the hunt with a fighting chance. Moreover Milan Baros feasts on inch perfect crosses and the lack of top class wingers might just hurt their prospects since Rosicky will then be too over burdened as he will have to provide the creativity. Ladislav Krejci could have been the Czechs' wildcard. Just 19 years he has dazzled with fast feet and great delivery from the wings. So Bilek missed a trick by leaving aside the Sparta Prague winger which might come back to haunt him.
Follow Kaustav Bera on

Which of these tacticians do you think will come out on top and lead their team to progress from the group. Let us KNOW...
How do you stay up to date with football when on the move? With http://m.goal.com – your best source for mobile coverage of the beautiful game.