WROCLAW, POLAND


Population: 632,996
(Metro: 1,030,000)
Motto:

Miasto spotkan


("The Meeting Place")

Welcome to Wroclaw for Euro 2012
Wroclaw - a city that has been shared more often than a tube of Pringles. Before 1945 it was part of Poland, Bohemia, Austria, Prussia and Germany before finally settling on Polish rule. Also know by its German name of Breslau it has, like most Polish cities, had to recover from years of war and destruction.
Local History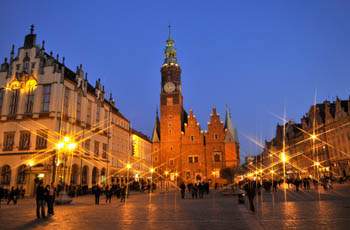 Adolf Hitler once called Wroclaw a "fortress city" as the red army moved west from the Soviet but that didn't stop it being obliterated and razed to the ground, meaning the rest of the century was spent rebuilding some of the city's fabulous buildings.
Prior to that it was the capital of the German province of Prussian Lower Silesia but is now, rather randomly, home to a large settling of Japanese and Korean businessmen.
If you're wondering why Wroclaw has the same stadium name as other Polish cities it's because Stadion Miejski translates as 'New Stadium'. So there you go.
Famous For...
A rather famous painting - The Panorama Raclawicka (below) is a panoramic painting wrapped around a viewing rotunda. It creates a 360 degree view of the Battle of Raclawice in 1794 between Russian troops and Polish insurrectionists.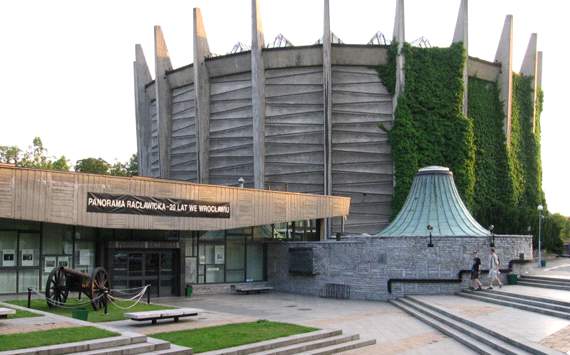 Places To Stay
Hostel Babel:

Just around the corner from the train station and

a stone's throw of the old city, this is the cheapo choice for those on a tight budget, but s

heets, lockers and internet are provided.

Hotel System: One of the newest hotels in Wroclaw and conveniently situated close to the city centre for those of you with a mid-range budget.
Hotel Monopol (right): Located right in the centre of the city this is your choice for something a bit pricier, but plusher. It is also located next door to the recently restored opera house, if you're into that kind of thing.
Places To Visit
Raclawice Panorama: The 360-degree painting mentioned above - Wroclaw's most famous tourist attraction, and a feat of engineering for 1794.
Ostrow Tumski (right): Island hopping? In Poland? You'd better believe it. A group of islands on the Oder River with beautiful cathedrals and a few-hundred-year-old buildings, with hand-lit oil lamp nightly walks through bricked streets past old oast houses.
Bed club: Not a furniture store, but a night club. And probably one of eastern Europe's most ostentatious - complete with swanky red furniture and mini buddahs. Oh and lots of music, obviously.
Did You Know?
Wroclaw has been selected as a European Capital of Culture for 2016. It will share the title with San Sebastián in northern Spain.
Famous Face from Wroclaw

Manfred von Richthofen - aka The Red Baron - was one of Germany's most celebrated fighter pilots and is credited with more than 80 air combat victories. He was born in Breslau in 1892 and is considered one of the most famous fighter pilots ever. He was shot down and killed near Amiens in 1918.