COMMENT
By Arkaprabha Chakraborty
Well, it's quite difficult to write all that the proud Indian heart is feeling at this point in time. Jubilation, euphoria, an urge to drive around the city with a friend waving the Tricolour out the window. On the night of the 1st of September 2012, we must have felt it all and then some.
Let's wrap our heads around this. We have won the Nehru Cup for a record third time. Whatever people say about it, it is an international tournament and we won it with sweat and tears. We won it without hoofball. We won it controlling and at times even outplaying a team ranked 110 places above us. Now the question is, what next?
The biggest thing to keep in mind now is that this should be a stepping stone. A springboard. Perhaps this is the best opportunity in the last two decades to really make something of this. Well, as Goldfinger said to James Bond, "Once is happenstance. Twice is coincidence. The third time it's enemy action."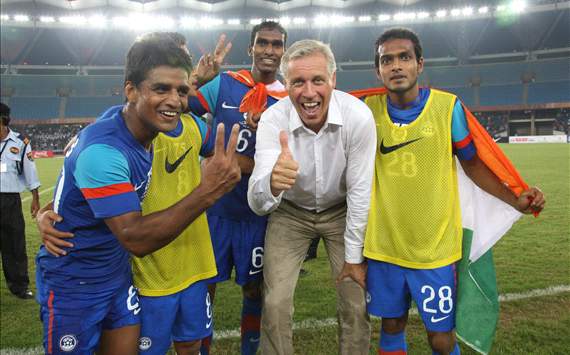 Euphoria|
But it needs to be channeled properly
To put that third bit into context, we cannot ignore ourselves anymore. We cannot have excuses saying that we have no talent, no system, no dedication. Because in a country so full of people and life as ours it is impossible.
It is impossible to not have talent. We have just shown how 20 supremely talented men took on the odds and beat them to boot. We have shown how dedicated we can be. Deep into the second half, with time running out, 11 dedicated men were fighting tooth and nail to equalize when it would have been so easy to let go. To think that there was no shame in the 2-1 loss, and really, there wouldn't have been for those who know the context of Indian football.
But they didn't. And now all we need is a system. For all those who have noticed, we have a bit of a Dutch revolution going on in the country's football. Technical director Rob Baan and coach Wim Koevermans are two men with a clearer vision of the country's footballing future than any we've seen in a long time. They need to be supported.
They cannot wade through bureaucratic muck to get things done simply because they owe us nothing. It is really easy to tire of minor (read: non-cricketing) sports in India. If the All India Football Federation (AIFF) is unwilling to change that system, they will simply unravel the best possible chance to have used success to their advantage.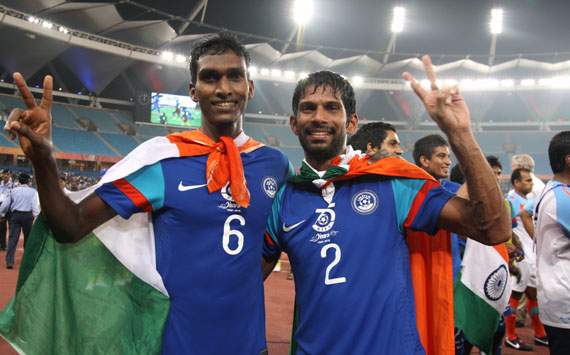 The kids are alright|
The current crop has an exciting mix of youth and experience
Logically, this should spark heightened interest in the game professionally, make sponsors take a second look, make the government itself want to financially support another game. In the Golden Age of the 60s and 70s, India really showed the world what they were about. This current crop of youngsters, led by a few older heads can really make it at the highest level and we just saw that happening. Logically, there should be enough of a feelgood factor to give us the resources to power into the Asian Cup maybe? Upgrade our decaying I-League maybe? Put India high on the Asian football map maybe?
But then that is logic and this India. All we can do is wait and see as to what will happen. But rest assured that if this success is not followed up, it won't be too long for someone schooled in the utterly dedicated system of Total Football to tire of the apathy. Let's hope that this is a good enough wake up call for the system to restructure itself. Let's hope that Lakshya 2022 does not become just another dealine for our country to pass by.
Follow Arkaprabha Chakraborty on

How do you stay up with football when on the move? With http://m.goal.com –your best source for mobile coverage of the beautiful game.