It's been a season of astonishing goals with brilliant efforts from Peter Crouch, Papiss Cisse and Luis Suarez leading the way. But Adam Bate thinks there's an outside bet too
There have been some remarkable goals this season but the bookmakers are convinced there are three candidates head and shoulders above the rest. Literally, in the case of the favourite …
Peter Crouch (STOKE v Man City) – Evens (2.0)
It's become something of a cliche to claim Stoke striker Peter Crouch has a good touch for a big man. Even so, you really don't expect the 2.01 metre-tall target man to be belting home 25-yard volleys to take the lead against Manchester City. Delightfully, this was both a classic and a classic Potters goal. The ball did not touch the turf until it was in Joe Hart's net after being launched long by Asmir Begovic. A sensational strike.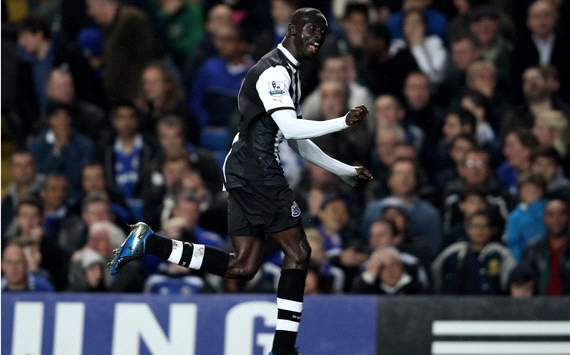 Papiss Cisse (Chelsea v NEWCASTLE) – 10/11 (1.91)
This stupendous swerving effort from the Senegal attacker was a true one-off.
As the game appeared to be petering out with Alan Pardew's men winding down the clock on the left-flank, Cisse had a brainwave – cutting across the ball with the outside of his right foot to completely outfox Petr Cech in the Chelsea goal.
A unique Premier League goal and one that's fresh in the mind's having been scored in May.
Luis Suarez – (Norwich v LIVERPOOL) – 6/1 (7.0)
Another recent effort was Luis Suarez's extraordinary 45-yard lob over Norwich keeper John Ruddy at the end of April. The Uruguayan stole the ball near the halfway line and spotted Ruddy out of position before executing a stunning chip. The fact that this goal capped a marvellous performance and earned Suarez the match ball for a classy hat-trick only strengthens the Liverpool man's claims.
Any Other – 16/1 (17.0)
There's more than one way to skin a cat, so perhaps mazy dribbles are your thing? Hatem Ben Arfa ran half the length of the field to score against Bolton. And for sheer technical excellence? Robin van Persie's beautiful volley against Everton showcased the very best that the Dutchman has to offer.
Tip: It may not be the most recent goal on the list but when people revisit Van Persie's inch-perfect finish against Everton it's a good outside bet to win at 16/1 (any goal other than Cisse, Crouch, Suarez)