EXCLUSIVE
By Liam Twomey
If
Arsenal
fans are troubled with dark imaginings of north London derby embarrassment at White Hart Lane on Sunday, one man will likely figure more prominently in their nightmares than any other.
Until recently, the jury remained very much out on Gareth Bale. A pair of sensational performances against reigning European champions Inter in 2010 appeared to herald the arrival of a genuine superstar, but the maddening inconsistency which followed reminded even the most readily convinced that this particular diamond remained a little rough around the edges.
Not any more though. Towards the end of 2012, Bale began to show signs of a world-class talent ready to bloom: a blistering run and finish against Manchester United at Old Trafford, a match-winning intervention for Wales against Scotland, a sublime hat-trick against Aston Villa.
And since the end of January, he has been unstoppable, scoring eight goals in his last six appearances to almost single-handedly fire Tottenham into the last 16 of the Europa League and pole position in the race for Champions League qualification.
GET THE LATEST AHEAD OF SPURS VS ARSENAL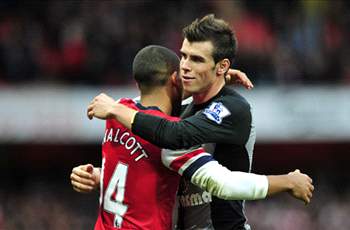 As he has matured, Bale has become more than a winger. Whether out wide or through the middle, dribbling for 60 yards or shooting from 30, he now finds a way to make the difference - and, in recent times, only Cristiano Ronaldo and Lionel Messi have done it quite so consistently.

Former Arsenal winger Marc Overmars knows firsthand how it feels to leave defenders floundering in the dust. He believes the lofty comparisons Bale has enjoyed in recent times are fully justified, and even offers another of his own. "He's an unbelievable talent," the Dutchman tells Goal.com. "I'd compare him with Thierry Henry.

"He's got such speed that even after 30 yards, he can still run faster. It makes a lot of difference when you have that kind of power.

"He's an athlete who can play good football and has great technique, so he can play anywhere in the world."

Bale has scored four times against Arsenal – more than he has against any other side – but Arsene Wenger insists he does not fear the flying Welshman. "We don't plan for anybody," he told reporters on Friday. "We have great players in our team and it would be a complete mistake to focus on any [one] player from Tottenham."

Overmars agrees with his former manager: "He's in good form, but it's not just Bale who plays. You've got 10 more players." But the Dutchman warns that, sitting four points behind their north London rivals, there is one thing the Gunners should fear - defeat.

"The match against Spurs will be crucial," he insists. "When Arsenal play Spurs, they should have only one thing in mind: they have to win.

"They can't afford to draw and they can't afford to lose. For the players, the pressure is high to perform. It will be a match of life and death.

"When I signed here, I knew that Arsenal-Spurs or Spurs-Arsenal was the game you have to win, so I was aware of its power. I also remember the matches, and it was always very difficult.

"But now the situation is different. When you look at the table, Arsenal don't have any choice. If Spurs draw it's not a big issue for them. But Arsenal have to win.

"And when you have to win, you perform at your best, so I think they are the favourites."



Follow Liam Twomey on