TIDYING UP ALL THE LOOSE STORIES IN FOOTBALL THIS WEEK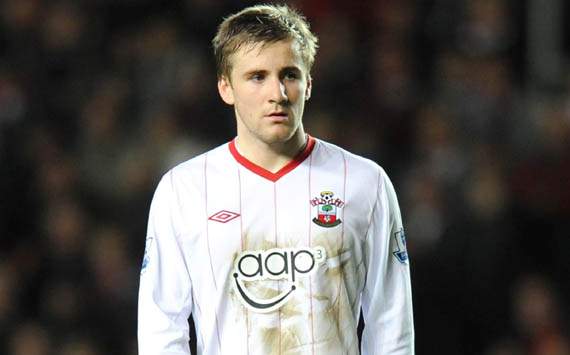 SHAW AGREED NEW SOUTHAMPTON DEAL BECAUSE OF ADKINS
The Saints became sinners when they sacked Nigel Adkins and the reverberations of his brutal dismissal are still being felt in the dressing room.
The Sweeper
has learned that Luke Shaw would not have committed to a new contract earlier this month had he any inclination that Southampton were preparing to dismiss the man who had blooded him in the first team.
The former manager, who was sacked eight days ago and replaced by Mauricio Pochettino only hours later, was extremely popular with the Saints squad, Shaw being among those who regarded him as a valuable mentor and key figure in his development.
Both the teenager and his father were close to Adkins, who handed Shaw his league debut in November and propelled him on a run of 14 consecutive senior starts.
Southampton released an interview on their website on January 10 in which Shaw, widely regarded within the game as the outstanding Englishman in his age group, explained that he had pledged his future to Southampton after chairman Nicola Cortese had explained the "long-term plan for me at the club".
The five-year contract, which will begin when Shaw turns 18 in July, temporarily halted the stampede of interest from the Premier League big-hitters, led by Chelsea and Arsenal.
Sources have said that Shaw had only agreed to the deal after being given assurances by senior club officials about the future of Adkins, who had also provided a pathway from the academy to first team for fellow home-grown players Adam Lallana and James Ward-Prowse.
Shortly after came the sacking of the man who guided Southampton to back-to-back promotions and steered them clear of the Premier League relegation zone following a five-match unbeaten run.
- Wayne Veysey | Chief Correspondent

SHERINGHAM TAKING COACHING BADGES
Former Manchester United and Tottenham star Teddy Sheringham was always known for his football brain as a player - and now he is ready to share his thoughts and knowledge with Premier League stars.
The 46-year-old is in the process of obtaining his coaching badges at Spurs' state-of-the-art training centre in Enfield with a view to becoming a coach or manager, having used his time since retirement with his family and playing high-stakes poker.
Sheringham travels to Tottenham's training ground every day before returning to his purpose-built mansion in Sewardstone, Essex, which he has named the Nou Camp (not the Camp Nou) in reference to his goal in United's historic 1999 Champions League triumph in Barcelona.
- Greg Stobart | Correspondent