EXCLUSIVE
By Luke Matthews
International football can be a fickle game which makes Slaven Bilic's achievements with Croatia all the more astonishing. The former defender took charge of the Balkan nation in 2006, following a two-year spell at the helm of the Under-21 side.
Since then Bilic has established Croatia as one of the top international sides in the world game, and in his first qualifying campaign the trainer sensationally masterminded two victories against England to leave Steve McClaren's men out of Euro 2008.
Three wins from three in a group consisting of Germany, Poland and Austria, ensured the Balkan side topped Group B and many had them as dark horses to go all the way to claim their first major international title.
It wasn't to be, however. After a 1-1 draw with Turkey in the quarter-finals, the Eurasian nation advanced to the last four, following a 3-1 penalty shoot-out victory.
Since then Croatia narrowly missed out on qualification for World Cup 2010. Still, Bilic remains one of the most respected coaches on the international scene, which is hardly surprising, considering his 67.8 per cent winning record, making him one of the most successful trainers around.
After revenging their defeat to Turkey four years ago with a 3-0 aggregate victory in the Euro 2012 qualifying playoffs, Bilic and his men will be heading to Ukraine and Poland this summer and are faced with the unenviable task of trying to get the better of Spain, Italy and the Republic of Ireland.
However, the coach is realistic and despite the difficulty his team face to reach the knockout stages of the competition, he knows there is no such thing as an easy route to the latter rounds.
"I think that the Euros is the cruelest tournament in sport. I'm not saying it's more difficult to win than the World Cup, but at least in the World Cup you can have a mixed standard of group. It's really hard this time around because apart from the hosts Poland and Ukraine, the other teams really are the best 15 sides in the Fifa rankings [in Europe]. You can't get an easy group," Bilic exclusively told Goal.com.
Bilic admits his biggest challenge during the group stages will be against Spain, the reigning World and European champions, but he believes there is hope for his team.
"I am quite optimistic. People talk about Spain but if you look at it, in Euro 2008 they only beat Italy in the quarters on penalties and in the World Cup [in 2010], they lost to Switzerland in the group, and struggled against Chile and Paraguay. If they play 20 per cent below their level, you have a chance even if they will still create chances. But the bottom line for me is that they're the best, the very best."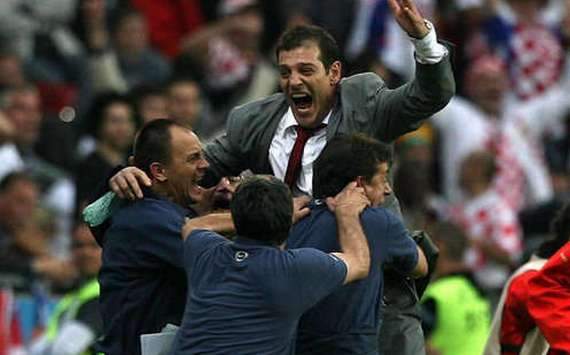 Euro Glory | Bilic has already successfully taken Croatia to the quarter-finals of Euro 2008
Croatia have also been drawn alongside another heavyweight of international football, Italy. Yet despite their illustrious history, Bilic believes we are currently seeing an Azzurri side who are different in style to their predecessors.
"Italy for me have made major changes. I didn't really watch them in qualifying but as soon as I found out we were in the same group as them, I watched all of their games two or three times, even the friendlies!
"They're unbelievable. They're different to the sides which competed in 2006, 2008 and 2010. They play high-energy football and it's the same in Serie A with AC Milan, Juventus, Napoli, Lazio and Udinese. Italy are a great side, not just good, they are great."
Many believe that if Croatia stand any chance of advancing to the last eight, they must bag the full three points against Republic of Ireland in their opening group game, and the 43-year-old is fully aware that Giovanni Trapattoni's side will be a difficult nut to crack.
"When you play against this Ireland side, there is a one per cent chance of a one-on-one with the keeper. You don't get the chance to create many chances and they are dangerous without having much of the ball."
When asked to pick out the dangermen for Ireland, there was only one player who sprung to mind for the Split native.
"If you have to pick just one then you have to say Robbie Keane. He drops in the hole, he's very clever and a great player in general. Keane is not only quality, he's a leader, he's the one."
Naturally, the conversation turned to his own side and the former West Ham United defender was open to talk about a dilemma he faces heading into this summer's European Championship.
"We have a very strange situation and not many teams have a situation like us. Modric, Srna and Mandzukic, they have all played a lot of games, but some of the players aren't getting much game time. Eight or nine have only started five or six matches this season - it's far from ideal."
"I have my own opinion that formation is not important, what is important is the movement of the whole team. Sometimes you can change the system during the game itself but usually it doesn't do much."
So how does the trainer think the Euros will go? Can Croatia realistically win the tournament? Can they even advance past the group stage?
"I've told you before, Italy and Spain are two of the favourites for the tournament but seriously, if you told me now 'you could get to the quarters but get knocked out' I'd say 'No, thank you' because we are preparing to win Euro 2012.
"In 2008 we were that close [to winning]. It's tough, no one got to the Euros through the wildcard. Every group now is very, very difficult. We have to believe. If we can stay fit and clear of injuries, we have a chance."
Whether Croatia win the Euros or go out at the first hurdle, one thing is for sure: Bilic is out of contract in the summer and admitted he is still unsure whether he will stay in his current role.
"I've never hidden the fact that I want to manage a club team. I said that four years ago but it is possible [that I'll leave]. I see myself more as a club coach. I've spoken to them [Croatian Football Federation] about it [a new deal] in January but I told them let's look at the situation and discuss after the Euros."
Bilic has been heavily linked with future moves to England and Germany, two countries he knows very well from his playing career, yet it seems the coach would be interested in a move to Besiktas, a club he has recently been linked with.
"Yes of course I'd be interested, it's a big club. Saying that, a lot of good managers have gone there and failed. Most of them are from Western Europe and there's a big difference with regards to mentality compared to the East.
"When I think about myself there, I would bring a different quality, quality that can add something. I've experienced England and Germany so I'm pretty much covered."
Whether he decides to stay with Croatia after the Euros or move into club coaching, one thing is for sure: there will be plenty of offers on the table.