EXCLUSIVE
By Maximilian Bensinger
Bayern Munich's Jerome Boateng spoke exclusively to Goal.com after the Bavarians' 2-0 win over Schalke on Sunday, and the 23-year-old offered his views on his club's recent slump in form and also had a word on title rivals Borussia Dortmund.
Mr. Boateng, your team performed much better against Schalke than in midweek. What made the difference?
Boateng: "It was a completely different game to the one against Basel. We finally played as a team."
What do you think was the reason for Bayern's loss to Basel?

Boateng: "The loss in Basel was very unfortunate. Of course we did not play well, but we did not deserve to be defeated."
However, the press thought otherwise. Does the criticism hurt?

Boateng: "No, it does not hurt. It has already become normal at Bayern Munich. The press is negative even if we play well. We all know the last [few] games were not good."
Is the win against Schalke the beginning of a surge for the top spot?

Boateng: "The victory against Schalke is a good sign. We must not think that everything will run smoothly by itself in the following games. We must work hard, and if we do then anything is possible."
Some people believe that the difficulties in attack for Bayern Munich were already visible in the game against Hoffenheim in the first part of the season. Do you think this is true?

Boateng: "The game against Hoffenheim was not an indication of these problems. One could easily see that the whole team was tired. However, I do agree that such games should be won."
Nevertheless, this problem occurred in the subsequent games after the Hoffenheim match ...

Boateng: "You cannot play spectacularly all the time, it is only natural."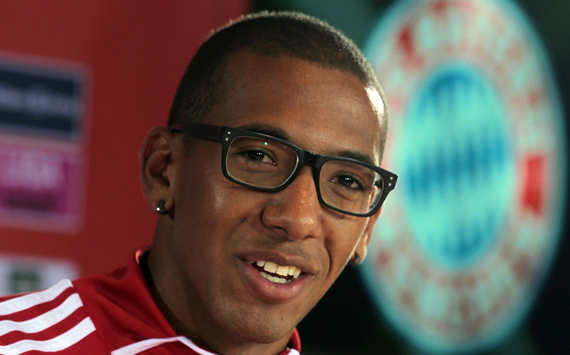 Borussia Dortmund also won on Sunday. What goes through your mind when you think of BVB?
Boateng: "I do not think about them. The season is so long and we even have a game against them. We must win our own games."
Do you think that the consistent Dortmund will suffer a dip in form?

Boateng: "No, I do not think so. I believe that Dortmund will not lose many more games."
Will Bayern Munich become champions?
Boateng: "If we win our own games, we would have a good chance."
How do you stay up to date with football when on the move? With http://m.goal.com – your best source for mobile coverage of the beautiful game.