The last half decade or so before 2013 has seen an absolute meteoric and awe-inspiring rise to greatness for Barcelona and Argentina's favourite son Lionel Messi. 2012 was arguably his best calendar year which saw him score a lion's share of his personal tally of a whopping 91 goals in a Blaugrana shirt.
But just when the world thought that this maestro from Rosario was an invincible superhuman disguised in his humble diminutive avatar who had no stopping, injuries and a host of other factors showed us just why the adage 'No man is infallible' applies to Messi too.
Mind you, the year started out with business as usual for Messi. On January 7th, he was the recipient of the prestigious Ballon D'Or for an astounding 4th consecutive time. As mentioned earlier, his 91 goals in 2012 went a long way in deciding the fate of who came out on tops as the best player in the world. With yet another achievement in his kitty, the world geared up for another customary year of Messi mania. And the signs were very much there for that kind of a show.
He was quick off the blocks, scoring 4 goals against Osasuna in a 5-1 victory at the end of January. Milestones kept tumbling as he recorded his 300th goal in a Barelonaa shirt against Granada on 16th February. The 25-year old goal machine got his club out of danger against AC Milan with his two second-leg goals and backed it up at the end of March with a goal in the 19th consecutive La Liga game at Celta Vigo, thus becoming the first footballer in La Liga history to score in consecutive matches against every team.
But as the first quarter of the year came to a close and we thought it could never go wrong, cracks started to show in the monument that is Messi, starting with the quarter-final match-up against Paris Saint-Germain on April 2nd. The wily Argentine suffered a hamstring problem that night, which was the beginning of a stop-start stint on the sidelines.
While one may deny, Barcelona and Argentina have been overly dependent on Messi for at least the last 3 seasons or so. While his contributions for country have taken a more inspiring tone than a tangible one, at club level he has been absolutely indispensable. So much so, that a below par Messi was called up from the bench in the second leg against PSG to set up the goal that salvaged a draw that took them to the next stage of the Champions League.
But it was to be a case of one too many, even for the high-flying Messi, who looked utterly fatigued and exhausted in whatever little he featured in the two legs against Bayern Munich, who thumped Barcelonaa in his absence to a 7-0 aggregate scoreline. That result brought an end to the outstanding ascension Barcelona had achieved in the last 3-to-4 years owing to Messi's uninterrupted masterclass in the same period.
Though Messi scored 60 goals in the 2012-13 season and assisted 16 for others, that end-of-season debacle culminated in him losing out the title of UEFA European Player of the Year Award to Franck Ribery, who was instrumental for an invincible Bayern side. Not letting it err his focus, a somewhat reinvigorated Messi began the 2013-14 season with 2 goals and an assist against Levante in a 7-0 romp. He went on to score an unbelievable 24th career hat-trick in the season's Champions League opener against Ajax at home but one got the feeling that Messi still wasn't at his supreme best.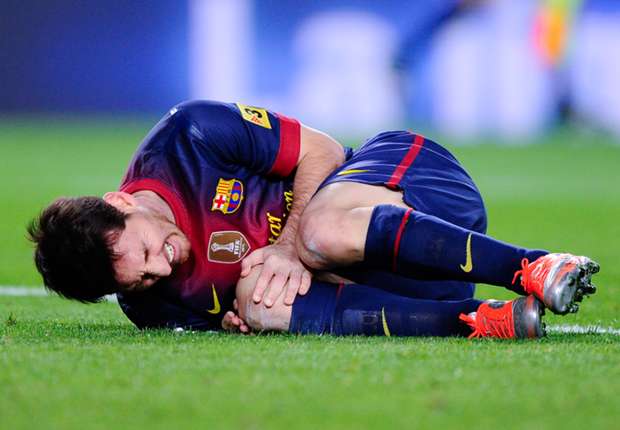 There was an uneasy feeling that he was being rushed back into action a bit too soon, even for his own liking. Even though the goals kept coming and the records kept toppling (Messi became the Champions League's 2nd highest goal-scorer with 62 goals), his fragility began to show again and this time an injury in a 4-1 win away to Real Betis ensured he celebrated the beginning of 2014 on the sidelines. This typically went on to show the kind of year Messi had. Lots of goals, lots of promise, but it all came at a cost. Not an entirely a heavy one, but one that should make Barcelona and the world realize that such superstars are human at the end of the day.
Off the field events also turned out to be a cause for concern for the Argentine as an alleged accusation of tax fraud loomed. On the whole, such events along with the unusually persistent injuries for Messi did its bit in piercing the aura of invincibility that surrounds this footballing magician, who has mesmerized us to no avail.
The officials at Barcelona and the Argentine national team as well as the critics and die-hard fans alike need to respect the period of recuperation Messi is undergoing. Already a veteran of sorts despite being just 26, if he is to perform at his majestic best in this crucial World Cup year, the rest he is being afforded due to injuries on the sidelines at the moment could be a blessing in disguise.
While the Messi moon has waned slightly this year, odds are it'll be shining blindingly same time next year. Better watch this space.
How do you stay up with football when on the move? With http://m.goal.com –your best source for mobile coverage of the beautiful game.