COMMENT: Supposedly the side's strongest sector, the Albiceleste attack disappointed again on Sunday and key misses by their strikers saw a wonderful chance slip by at Brazil 2014
Argentina's World Cup campaign kicked off last month amid doubts over their goalkeeper and their defence. Ultimately, however, it is their famed forwards who have cost the the Albiceleste the game's greatest prize.
Alejandro Sabella's side stayed solid in this tournament, conceding only four goals in their seven games and keeping clean sheets against Iran, Switzerland, Belgium and Netherlands. Goalkeeper Sergio Romero, previously questioned after spending last season on the bench with Monaco, impressed and was the hero with two penalty saves in the semi-final shootout against the Dutch. Against Germany, a team that had hit seven past hosts Brazil last Tuesday, the defence held firm for 113 minutes until Mario Gotze's extra-time winner.
Further forward, however, things didn't go quite as planned.
Of Argentina's six goals in the group games, Lionel Messi scored four, while the other two came courtesy of an own-goal by Bosnia-Herzegovina's Sead Kolasinac and a header by defender Marcos Rojo against Nigeria.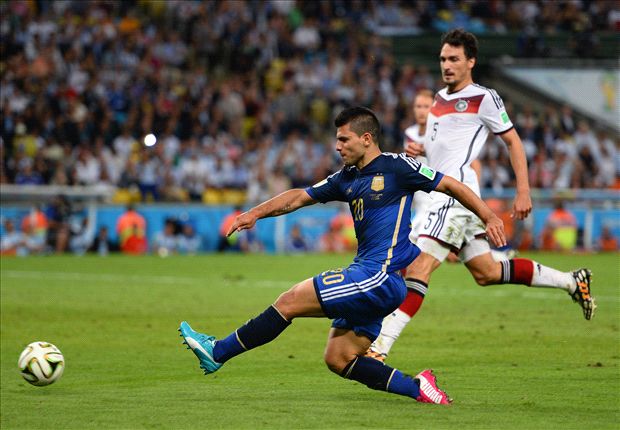 FRUSTRATING
| Aguero was disappointing again in the final
Sergio Aguero and Gonzalo Higuain both seemed to be showing the effects of their pre-tournament injuries and against Iran, the two were both withdrawn after missing good chances in a toothless display which required Messi's miraculous intervention in added time.

In the knockout stages, Argentina managed just two goals in four games. Angel Di Maria scored the winner right at the end of extra-time against Switzerland after latching on to a fine Messi pass, while Higuain netted a superb strike in the 1-0 win over Belgium. Overall, however, Argentina's forwards (excluding Messi) provided only two goals in seven games and a total of 720 minutes.

Higuain, who later saw an effort ruled out for offside, missed a glorious chance in the final as he dragged a shot badly wide when presented with the ball by Toni Kroos' careless header. And Aguero, who was injured against Nigeria and missed the Switzerland and Belgium games, made no real impact against Germany apart from striking Bastian Schweinsteiger in the face, while substitute striker Rodrigo Palacio wasted a wonderful opening when he tried to lob Manuel Neuer but saw his shot bounce horribly wide.

"We created the best chances, but we couldn't take them," said Messi - who also dragged a shot off target in the second half against Germany. And team-mate Pablo Zabaleta added: "We were defensively strong, we worked really well and we took advantage of our speed on the break, but unfortunately we couldn't take any of our chances."

Di Maria's departure with injury against Belgium deprived Argentina of their second-best player for the final two games of the tournament and without the Real Madrid winger, the Albiceleste failed to score.

That didn't help, while Higuain and Aguero may have hit top form without injury problems of their own. But in the end, what had been seen as Argentina's major strength turned out to be their Achilles heel and ultimately - in what was an extemely tight encounter on Sunday - their forwards' failure to convert chances cost them the World Cup.