If Germany's run to the final of World Cup 2014 has taught us anything, it's that the bigger the challenge, the better Joachim Low's men play.
It's fair to say that Philipp Lahm and Co. are no flat-track bullies. They have looked uncomfortable taking on the weakest kids in the class yet utterly ruthless when faced with one of the big boys.
They certainly laid down an early marker by routing Cristiano Ronaldo's Portugal 4-0 in their Group G opener, with Thomas Muller helping himself to a hat-trick in Salvador. Pepe's typically senseless dismissal no doubt aided their cause but the three-time champions were already 2-0 up at that point and well on their way to a convincing win.
However, they looked anything but assured in their next outing, against Ghana. Luckily, while Miroslav Klose is not as agile as he once was, he has not lost his predatory instincts and he netted from close range to not only earn his side a precious point, but also join Brazil icon Ronaldo on 15 World Cup goals. Muller, though, scored the winner in 1-0 defeat of United States to remind everyone that it seems only a matter of time before that particular record belongs to him.
However, another lacklustre team display against allegedly inferior opposition raised question marks over Germany's ability to go all the way, not least because of the continued deployment of Lahm, a full-back by trade, in midfield.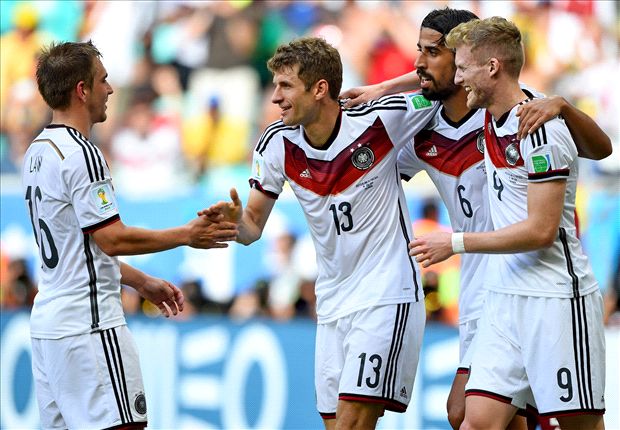 A nervy extra-time win over Algeria did nothing to dispel those doubts; indeed, they only intensified. However, spirits were finally lifted by an unspectacular but encouragingly solid and undeniably deserved 1-0 win over France that came courtesy of a goal from Mats Hummels but was more notable for the return of Lahm to his regular right-back berth.
And then came Belo Horizonte. Irrespective of the outcome of Sunday's final, July 8, 2014 will forever be remembered as one of the most significant dates in Germany's sporting history. In what must go down as the single biggest shock the World Cup has ever seen, Low's team inflicted a humiliating and record-breaking 7-1 defeat upon their hosts, the five-time champions of the world.
After striking early through Muller, Germany ended the game as a meaningful contest by netting four times in the space of six minutes before the half-hour mark, with Klose's effort allowing him to take outright possession of the all-time goals record.
A Lionel Messi-led Argentina now lie in wait in Rio but Germany already know full well that the bigger they are, the harder they fall.