SPECIAL
By Kaustav Bera
| | |
| --- | --- |
| | |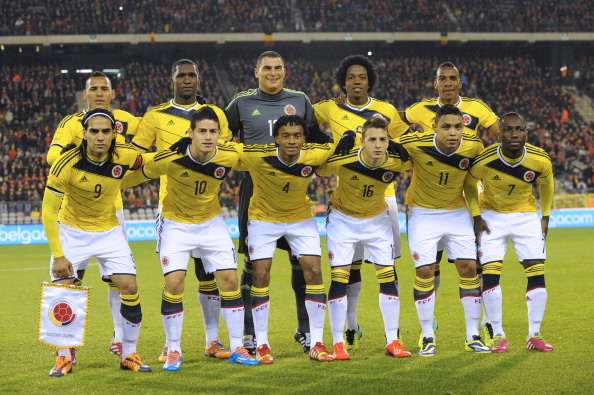 ProfileTitles:
Copa America (2010)
Top Scorer:
Arnoldo Iguarán (25)
Most Appearances:
Carlos Valderrama (111)
FIFA Ranking
: 8th
Star Man: James Rodriguez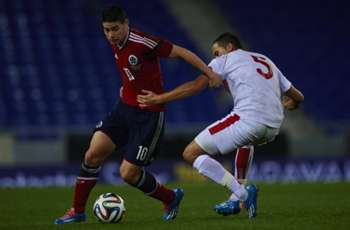 Appearances: 22
Goals: 5
Formation
4-2-3-1
Coach
Argentinian Jose Pekerman had led his native side to a quarter final exit at the hands of Germany in the 2006 World Cup. After a short stint with club side Tigres, Pekerman took charge of Colombia and was widely credited with renewing the Golden era for the
Los Cafeteros
and was dubbed the 'Superman' for his attacking style of play.
How they set up
During the qualifying stage, the
Tricolor
had set up in a very attacking 4-4-2 formation with the rampaging Radamel Falcao supported by Teofilo Gutierrez. However with Falcao out injured, Pekerman looks set to go with a lone striker up front as seen in their latest friendlies. While Gutierrez is expected to make the cut, Carlos Bacca who had a sterling season for Sevilla will add to the bench strength. With pace and guile in the wings courtesy Juan Cuardado and Victor Ibarbo and raw strength in Freddy Guarin they have all their bases covered. Add to that the creativity by the talented James Rodriguez who had a brilliant debut season for Monaco and you have a winning recipe.
In Pablo Armero and Juan Zuniga, they also boast two of the most attack minded fullbacks among all sides who will be ready to support the wide players from the word go.
Key Players
With Radamel Falcao missing the World Cup due to injury, the responsibility of taking his team forward will fall on the shoulders of 22 year old, James Rodriguez. The Monaco superstar can cut in from wide as well as play in the hole. He will look to link up with Teofilo or Bacca to allow Colombia to push forward even without their talisman.
Strengths and Weaknesses
The front four are a terrific bunch for the
Tricolor
and can unlock any defenses at will. Pekerman also boasts amazing bench strength as the likes of Cuardado can come on and wreak havoc among tired defenders. Colombia also have three top strikers in Bacca, Teofilo and Jackson Martinez. The width in the team is further complimented by their marauding full-backs. Both Armero and Zuniga have a penchant for going forward at will.
It is obvious that the Colombia's weakness lies in their defense. Captain Mario Yepes is 38 years old and will be given a run around by a player with any decent amount of pace. Goalkeeper Ospina is also known to commit some silly fumbles. For all their attacking talents, Armero and Zuniga would often be found high up in the pitch and out of position.
Expectation
Colombia are expected to come out unscathed of their group in spite of having lost Radamel Falcao. However progressing beyond the Round of 16 looks to be an almost herculean task as they would face either of England, Italy or Uruguay. A 2-0 defeat to Uruguay in the qualification stages will be fresh in their minds.
| | |
| --- | --- |
| | |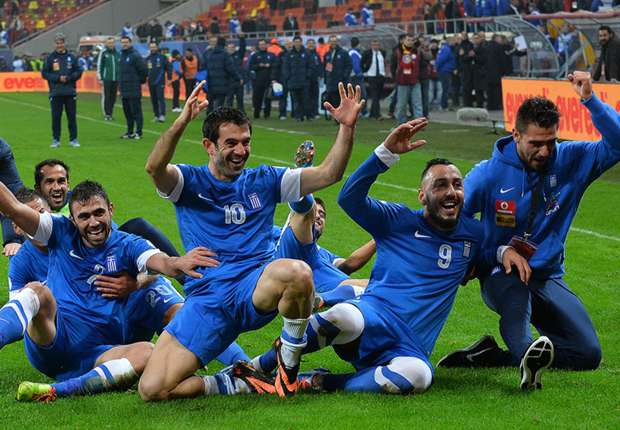 ProfileTitles:
European Championship (2004)
Top Scorer:
Nikos Anastapoulos (29)
Most Appearances:
Giorgos Karagounis (135)
FIFA Ranking:
12th
Star Man: Kostas Mitroglou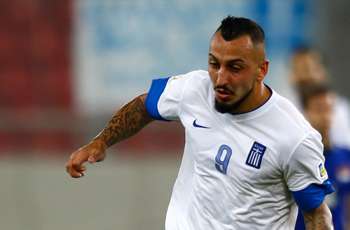 Appearances: 32
Goals: 8
Formation
4-3-3
Coach
Fernando Santos would like to follow in the footsteps of Otto Rehhagel who led Greece to their only trophy on the world stage. A championship winning manager with Porto, Santos was also named the Greek manager of the decade. His recent achievements include reviving the fortunes of Greek giants PAOK. Under Santos, Greece are more expressive as compared to the rigid defensive football under Rehhagel.
How they set up
Santos will set up in a 4-3-3 with veteran Katsouranis as the anchorman in midfield. With Kyriakos Papadopoulos out injured, the responsibility of helming the defense will fall on Sokratis Papasthopoulos who did a great job in his first season for Borussia Dortmund. Jose Holebas who was out of favour as left back certainly redeemed himself with a brilliant performance against Bolivia. Vasillas Torosidis who was part of the Roma group who finished second in Serie A will be right back.
In attack, Kostas Mitroglou who was Greece's shining light during their qualification campaign will look to start in spite of his poor form and injuries after joining English side Fulham. He will be ably supported by Georgios Samaras who does not get many goals but is a tireless worker for the team.
They also have the opportunity to call on some players who could make a difference from the bench like Fetfatzidis and Kone. The old hand and Greece's most capped player, Giorgios Karagounis is also at hand if Santos wants to shut the game down.
Key Players
Mitroglou will have to recover his form as no matter how much Greece can shut down sides, goals win matches. Gekas does not score much and it was only because of the former Olympiakos striker's goalscoring prowess that Greece sailed out of the qualifying stages.
With Karagounis looking to make an impact from the bench, it will be upto another veteran Katsouranis to provide leadership on the pitch.
Strengths and Weaknesses
Defensive solidity and organization have always been the strength of Greece and it's not about to change. Santos to his credit though has introduced some amount of fluidity and creativity to the Greek side.
Mitroglou's poor form might be a cause for concern for Greece as he was their only potent goal scorer. The need to rely on veterans like Karagounis, Gekas and Katsouranis is also an issue for Santos who would look to at least get out of his group stage.
Expectation
It will be difficult for Greece to get out of this group unless Mitroglou fires on all cylinders. In all probability they are expected to end rock bottom.
| | |
| --- | --- |
| | |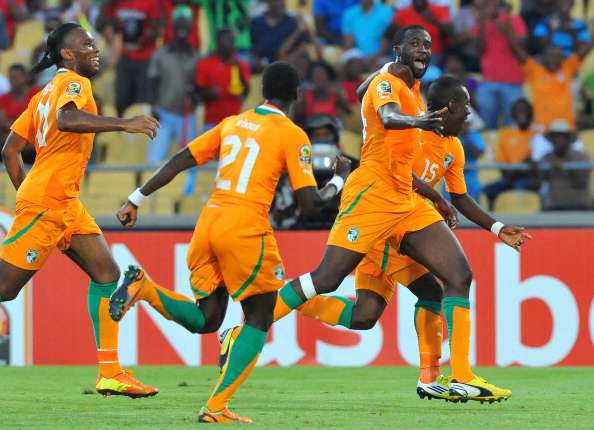 ProfileTitles:
African Cup of Nations (1992)
Top Scorer:
Didier Drogba (62)
Most Apearances:
Didier Zokora(120)
FIFA Rankings:
21st
Star Man: Yaya Toure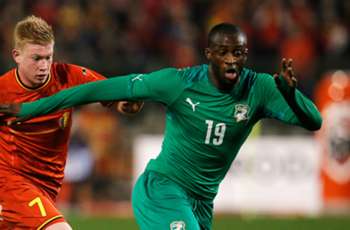 Appearances: 82
Goals: 16
Formation
4-2-3-1/4-3-3
Coach
Sabri Lamouchi was part of the 1998 France preliminary squad for the World Cup but unfortunately he was axed from the final squad and
Les Bleus
went on to win the Cup. His first managerial job is for the
Elephants
.
How they set up
Lamouchi will set up his team in a customary 4-2-3-1 or a 4-3-3 formation with Didier Drogba leading the attack and Gervinho and Kalou flanking him. The explosive Yaya Toure will operate just behind with Zokora and Tiote expected to play the anchormen in midfield.
Key Players
The explosive Yaya Toure will be the one who everyone will look forward to, for setting up his country on the path to glory especially with Didier Drogba in inconsistent form. Gervinho who after a torrid time in England, was a star of the Roma team which finished second in Italy and will also be key to the national side.
Eyes will also be on young full-back, Sergio Aurier who is a hot prospect and has kept Emmanuel Eboue out of the squad. The 20 year-old is at ease, while defending as well as going forward.
Strengths and Weaknesses
Cote d'Ivoire are blessed with explosive firepower upfront with the likes of Wilfried Bony, Drogba, Kalou, Gradel to name a few. And then there is the beast that is Yaya Toure who can power down any defense with raw strength and desire.
However the lack of success at major tournaments is a huge negative for the talented bunch as they have even been second and third best in Africa itself. Moreover, this will probably be the final curtain call for the 'Golden Generation' and the lack of quality youngsters besides Aurier is a huge negative. Add to that, the porous defense where Lamouchi even had to deputize veteran Zokora as a centre back to stop the goals from leaking in.
Expectation
While Cote d'Ivoire will indeed give a tough fight to qualify, their shambolic defense might mean Japan and Colombia pip them to the round of sixteen. Even if they do cross the first hurdle it's unlikely for them to go any further against England, Italy or Uruguay.
| | |
| --- | --- |
| | |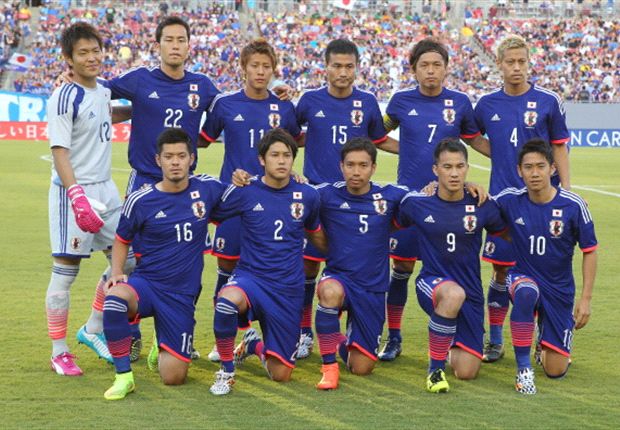 ProfileTitles:
AFC Asian Cup (1992,2000,2004,2011)
Top Scorer:
Kunishige Kamamoto (80)
Most Apearances:
Yasuhito Endo (144)
FIFA Rankings
: 46th
Star Man: Keisuke Honda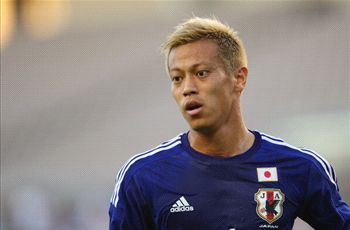 Appearances: 56
Goals: 22
Formation
4-2-3-1
Coach
Alberto Zaccheroni had managed a whole lot of Italian clubs but taking charge of the Samurai Blues was his first job on the International stage. Winning a Scudetto with AC Milan in 1998-99, Zaccheroni had also taken Japan to the summit of Asia winning the AFC Asian Cup in 2011.
How they set up
A firm believer in the 3-4-3 formation during his club years, Zaccheroni seems to have settled for the versatile 4-2-3-1 to accomodate all of Japan's technically brilliant players. While Kawasaki Frontale player, Yoshito Okubo looks to play the role of lone striker upfront, the actual threat is in the 3 men playing behind him. The European based trio of Honda, Kagawa and Okazaki can unravel any defense and also has a knack of scoring goals from midfield.
They are ably supported behind by Hasebe and Endo, two no nonsense players who play the classical double pivot and break down plays.
Key Players
Keisuke Honda might not have made a dazzling start at struggling AC Milan but the Japanese playmaker has been on fire for the national team. Operating from behind the main striker, he would look to link up with Shinji Kagawa and Shinji Okazaki and among the trio would rely Japan's chances.
Strengths and Weaknesses
Japan are a side filled with technically brilliant players and Zaccheroni loves his side to keep the ball and work it around rather than hoof it forward. Shinji Okazaki who has been in blistering form in Germany will be a big plus for the side as well as the attacking fullbacks with a nose for scoring in Nagatomo and Uchida. The recent call up of 31 year old Okubo too will suit the side as Zaccheroni said the striker has a 'nose for the goal'
Makoto Hasebe who is the long time captain for the
Samurai Blues
looks set to miss out on the first match atleast as he is recovering from a lateral meniscus tear and thus Japan will miss his massive presence in midfield. The lack of game time for Kagawa at Manchester United and Honda's poor form at Milan might be a concern although they have been firing at all cylinders for their national side.
Expectation
Japan are expected to make it out of the group stage though further progress is under major doubt. They are no longer the inexperienced side of 2010 and under Zaccheroni they are expected to go all guns blazing.
PREDICTION: 1. Colombia 2. Japan 3. Cote d'Ivoire 4. Greece