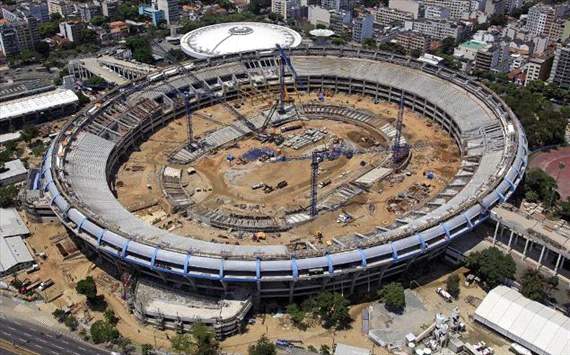 EXCLUSIVE
By Greg Stobart
Reality has started to hit home for the Brazil 2014 organisers this week. First Fifa undertook its latest inspection of the country's preparations amid ongoing concerns over delays in stadiums and infrastructure projects; and on Friday the first round of qualifying matches takes place for the European nations.
Brazil has just under two years to put all of the nuts and bolts together - quite literally - to host a tournament that will spread across 12 cities stretching up to 2,000 miles apart, with such grand changes in climate and culture that will make World Cup 2014 feel as though its being hosted across a whole continent.
The Brazilian government has invested around $14 billion towards the infrastructure surrounding the World Cup, not including the stadia, as the country looks to use the greatest sporting events on earth - Rio de Janeiro will also host the Olympics in 2016 - to boost its developing economy.
Fifa has been concerned about Brazil 2014, worried that transport infrastructure and even stadia might not be ready for the start of the tournament in two years' time. Or at least world football's governing body was worried, until the appointment of Luis Fernandes, Brazil's executive secretary of the ministry of sport, to the local organising committee.
Fernandes, who spent time in London during the Olympics, admits that there have previously been concerns that Brazil's plans are behind schedule, but says everything is now on track for a tournament he believes can be the catalyst for huge economic development.
"I would say we are on schedule," Fernandes tells
Goal.com
. "It is very complex works that have to be done so it's not a simple task to co-ordinate. Of course, some aspects go ahead of schedule, some are a little bit behind but in general, we are on track.
"There's a basic difference between having it in Brazil and in London. The difference is that we are still a developing country and we need massive investments in infrastructure to furnish services that already exist here in the UK.
"Legacy was the reason we fought so hard to have the World Cup and the Olympic Games.
"Our focus is to use the two sporting events as a platform for stimulating and fermenting national development, so we have channeled a massive programme of public investments in infrastructure.
"For the World Cup, it's around $14bn of public investment in infrastructures besides the stadiums. So things like underground, overrail, busses, modernisation of airports, ports and telecommunications infrastructure.
"One of the basic decisions taken by us was to decide how many host cities to have at the World Cup, because you could have a World Cup with less than 12 host cities in Brazil. You could probably have it with eight or ten, but our concern was to stimulate development via the World Cup.
"The 12 host cities go from the Amazon jungle in the north of Brazil, down to the southernmost state of Brazil, and also from east to west. Brazil is a huge nation and we will have 12 poles of development spread around Brazil.
"The numbers have stuck to what was originally planned. The investment in the World Cup is currently around $14bn, originally the plan was for $15-16bn. We still have incremental changes to be made but we're pretty confident the investment for essential works for the World Cup will stay within that limit. Everything is going as planned, we don't expect to overspend."
The clock is ticking and Fernandes is keen to learn from, and improve upon, other great sporting events.
So he is not being overtly negative about London 2012 when he addresses the question of security, particularly in light of the safety concerns in Brazil, a country scarred by poverty and violence in the favelas.
"Generally, we learn more from the mistakes that what is done right," Fernandes says. "Almost everything at London 2012 was done positively with a lot of success, but some problems did exist and we want to learn from them. We will incorporate the lessons from those mistakes both to the World Cup and the Olympic Games.
"One is rather obvious but it's important: the question of security. The system that was set up for the security of the Olympic Games almost collapsed immediately before the Games started and the armed forces had to come in, fill in the gap, and guarantee security.
"The concerns with security are those to do with a basic democrat right to safety. It's not just for tourists coming to the World Cup, it's a basic right of Brazilian citizens. So the structures that are being set up to deal with security issues are structures that will serve the World Cup but they will stay on as a legacy for the Brazilian people.
I would say the issue is how to guarantee effective control by public security officials and, in our case, in partnership with the armed forces."
Lessons will also be learned from the last World Cup, in South africa two years ago, where many of the locals were priced out of attending matches by the high ticket prices, meaning a number of games were played in stadia with thousands of empty seats.
Fernandes refuses to reveal the price of the cheapest ticket for Brazil 2014, but when pushed he claims that the cost of attending a World Cup match will be similar to a Brazilian club fixture.
"Brazil is a football national and there is a huge fervour for football," he continues. "We don't think there should be any problems in having the stadiums to full capacity to see the games.
"Of course, one problem we have is that we are a developing country, and therefore the price of the tickets might be very expensive or too expensive for part of the population that normally attend football matches in Brazil.
"We have a sociological difference in Brazil between to type of person who goes to national team matches and the type who goes to club matches. Club matches tend to be more popular, with a greater percentage of lower class attendants, whereas the national team is a bit more upper class.
"With Fifa, we have agreed to have a category 4 ticket, the cheapest tickets, for residents of Brazil. And within that category, a number of social programmes that exist in Brazil are fully guaranteed by the 12 host cities, for example one that provides half-price tickets for students.
"That will guarantee, I believe, that all tickets available to Brazilians will be bought and used, and we will have a lot of Brazilians in the stadiums. I'm pretty confident we will have full stadiums in Brazil during the World Cup.
"I can't put a price on it because that hasn't been announced yet by the organisers. I would say the cheapest tickets will not be very different from prices practiced in general in Brazilian club matches. It's more or less on the same level, so that's a good price."
When Neymar and his team-mates step into the revamped Maracana stadium in Rio in two years time, it will be in front of a full house and Brazil will be gripped by World Cup fever.
They are confident that everything will go to plan as the road to Brazil starts in earnest.
Luis

Fernandes

was speaking from the Brazil At Heart exhibition at the Brazilian Embassy in London. See www.brazil.org.uk for details.
Follow Greg Stobart on