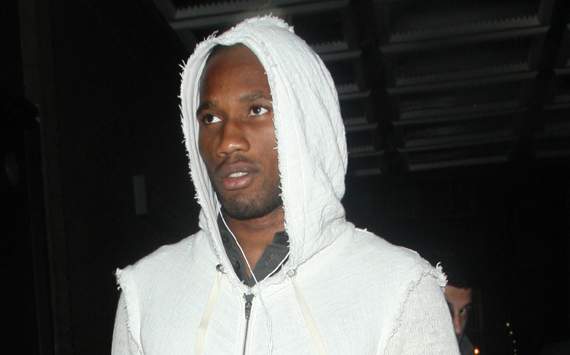 Goal.com
India
Special:
An
open
letter
to
Didier
Drogba
Goal.com receives a letter from a Chelsea fanatic eulogizing Didier Drogba and his achievements in a Blue shirt...
Dear Drogba,
I won't say it is wrong when people tell you that you'll soon reach the twilight of your career. For me, you shall stay forever as a superhero, the man who stands next to God not only on the weekends but all the while just as my heart beats. Not many have taken on the Germans in a penalty shootout and have lived to tell the tale, but then you are not one of those. There aren't many sportsmen who can claim to have helped end their country's Civil War with a speech. Didier Drogba, you are not our average sportsman. No wonder, you were destined for Chelsea.
Ever since 2004, Didier Yves Drogba Tébily, you are the heartbeat of all the Chelsea fans. The reason why many started following the team, it would be very less justified when we say: You make the team. Your presence solely can pump up the performances. More than 300 appearances, a man who has scared almost every opponent over all these years, an epitome of loyalty, you are our KING -- Didier!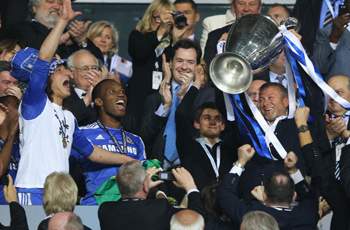 Now that we are crowned the Champions of Europe, thanks to your beautiful header in the 89th minute, I wonder how destiny plays its part. Burying the ghost of Moscow, the penalties were haunting anyway. And more than just the other part of London must have prayed for a miss but then, the fruit of waiting is always sweet. And sweet would be an understatement for the Silver Piece in the Trophy Cabinet. Words won't be enough to tell you how thankful all the Blues are to have our King with us. A man who has gone past all the hurdles to be who he is.
Penalties. The Germans. In their home. At their end. As you went to kick the ball, years of drama and heartache in the most flirtatious of competitions flashed in front of my eyes. Many would have suspected history repeating itself. Not their fault but despair was then the norm in Chelsea's history especially in the Champions League. And don't take me wrong, it is not any lack of support or trust but the past experiences which clearly worked at the back of our heads. For Chelsea fans, Champions League is equal to inevitable heartbreaks.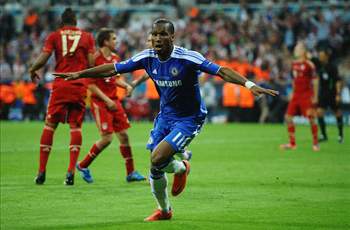 Not anymore, we have written all of it off our head. The fortress stands tall, the fortress shall never fall. But this season was special. If we look at this season, destiny had indeed laid out a special plan for Chelsea. From the comeback against Napoli to the fighting performance against the so-called "best team in the world", I began to believe it was written in the stars.
12 goals, 4 assists and all in just 31 appearances; I am amazed how you are rewarded for all your work. 100th Premier League goal for Chelsea on 10 March 2012, in a 1–0 win over Stoke City, as you became the first African player to reach the landmark, to being the match winner in Munich, I am short of words when I write to you. You don't look out for all the light, it follows you. I always wonder how you have managed to lead such a simple life in spite of so many glittering achievements. You are not only a family man but an epitome of loyalty. Sir, I owe you all my love for what you gave to my love: Chelsea Football Club.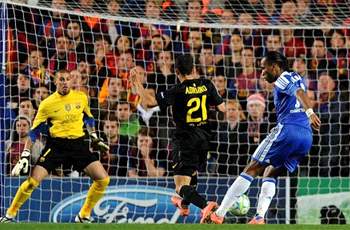 Nevertheless, there are rumours of you leaving for China. At first I would cry and feel like banging my head against the wall. On the next thought, this is the sign of the human in you. Giving all what you have to help those who have nothing, I won't mind bowing down to you or salute you as long as you want. When the next time they say, "you don't have History", I would give them a smile and say, "we do", and we made it.
We did not believe we will score out of the 'Blue', we did not believe the referee will finally be fair. We needed no blunder but we needed the team to believe. We are the Champions of Europe because of our excellent strategy, near-perfect implementation and a reluctance to accept defeat.
How do I thank you, I lack words. But for twice you netted the ball in Munich, I am in love with you all over again. In love with your geniuses and game. In your love, for my love; Chelsea Football Club. Stay with us, don't leave. Drogba, Drogba, as we breathe. Keep the Blue Flag Flying High.


Yours sincerely,
A Chelsea Fan.
How do you stay up with football when on the move? With http://m.goal.com –your best source for mobile coverage of the beautiful game.
Make Your Prediction
Manchester City - Chelsea FC
Manchester City
Chelsea FC
Prediction Submitted
Most Popular Predictions
Manchester City 1-3 Chelsea FC

15.2 %

Manchester City 3-1 Chelsea FC

12.62 %

Manchester City 1-2 Chelsea FC

10.72 %
Inside Goal.Com
/* empty because this one does not have controls */?>
Goal.com English - India
Goal.Com Editions
More
Copyright © 2013 Goal.com All rights reserved. The information contained in Goal.com may not be published, broadcast, rewritten, or redistributed without the prior written authority of Goal.com