Goal.com looks at some interesting facts about Brazil's new wonderkid Neymar ...
1. When Real Madrid showed interest in the 19 year old during the summer transfer window, Real vice-president Jose Angel Sanchez himself flew to Brazil to meet with Neymar's family and relatives about the player's image and how they should change it. One of the first things Real wanted done was for the midfielder to drop his gaudy hairstyle and also to leave the bad influences among his followers and friends.
2. Santos owns 50 percent of his rights. On 30 November 2010, Santos sold 5 percent shares on future transfer fees received to an investment group, Terceira Estrela Investimentos S.A. (TEISA), for $ 3,549,900 (€1.5 million). DIS Group (subsidiary of Sonda Group, a Brazil supermarket chain), investment partner of Santos in recent years, bought 40% sporting rights from Neymar's family in 2009.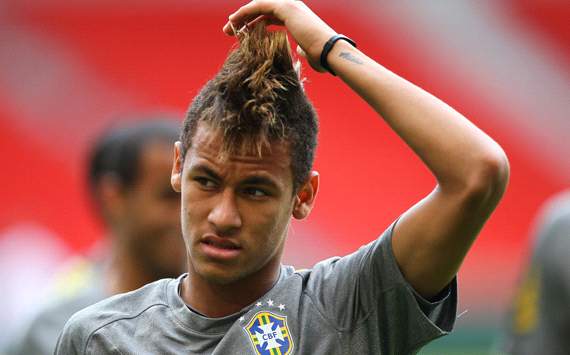 Neymar Is Hugely Popular In His Homeland....
3. Over 14,000 Brazil fans signed a petition demanding that Neymar be called up by Dunga for the 2010 World Cup finals.
4. At 19, Neymar became a father to a baby boy. He was named 'David Lucca'. Neymar's friends were there at the time of a the delivery and his family was very pleased with the new addition. Neymar has refused to reveal the name of the mother to 'protect her and the child'. However, the media has pegged her to be a 17 year old Brazilian.
5. In June 2010, West Ham United made a £12 million bid for Neymar. The bid was rejected because Neymar felt that he wasn't 'ready' for English football.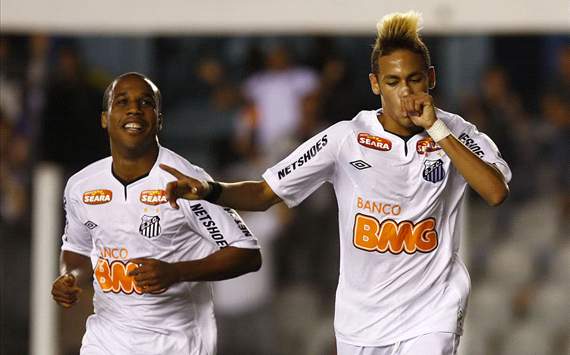 Neymar's Attitude Has Been Under Intense Media Scrutiny....
6. There were bad days for Neymar and his family. There were times when one turned on the television and watch a sports program, he only saw Neymar being criticised. People questioned the education given to him by his parents. People who never even talked to his father or mother came in bunches to condemn them. Neymar has not forgotten this phase of his family. Instead, he regards it as something important as he learnt two important things: meaning of 'friendship'- he who was earlier surrounded by friends, suddenly found himself alone - and 'family'- he gave more value to your family. There were times when he only had the support of the family. It was there that Neymar took refuge during that period.
7. He maintains his own blog http://www.neymaroficial.com/Blog.
8. Pele, a former Santos player himself has given Neymar some 'advice' when speculations were up for his transfer to Europe. The advice? 'Stay at Santos a little longer, at least through the Club World Cup in December.' Seems like Pele got his desired result!
9. The list of his individual award just doesn't seem to end:
Best Young Player of Campeonato Paulista (2009), Best Forward of Campeonato Paulista (2010, 2011) Best player of Campeonato Paulista (2010, 2011), Best player of Copa Santander Libertadores (2011), Prêmio Craque do Brasileirão Championship Squad (2010), Arthur Friedenreich Award (2010), Silver Ball (2010) – Best Forward in Brazilian League by magazine Placar, Golden Boot (2010)– Most goals in all competition in Brazil, Copa do Brasil Top scorer (2010), South American Youth Championship Top scorer 2011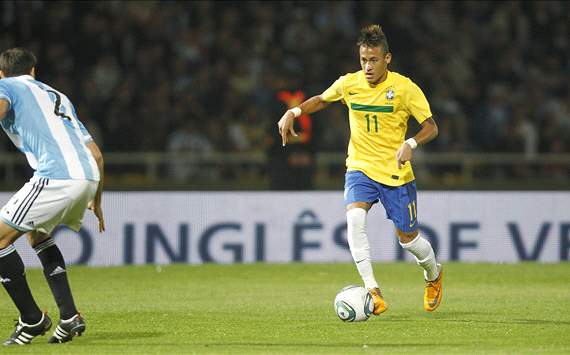 The Brazilian Is A Great Talent....
10. Neymar played with the youth team from 2003-09 and made his full debut as a 17-year-old in 2009. He is a true mastermind with the ball at his feet. Neymar's pace, dribbling , expert finishing and impeccable technique make him a fearsome opponent. He signed another new contract at Santos at the end of 2011, keeping him at the club until after the 2014 World Cup in Brazil. That however, seems highly doubtful!
How do you stay up with football when on the move? With http://m.goal.com –your best source for mobile coverage of the beautiful game.