URUGUAY
Muslera: 7 – Could do nothing about Muntari's goal as the Jabulani swerved into the bottom corner after impact. Saved two penalties.
Fucile: 7 – Got forward wonderfully throughout, always looking to offer options on the left. Won the free kick that led to Forlan's goal.
Victorino: 6 – Did well enough to keep Gyan from aiming a shot on target.
Lugano: 6 – Hooked in the first half after picking up a knock. Dealt with Gyan well until then.
M. Pereira: 6 – Brilliant all night, but opted for power over placement with his penalty and could have cost his side a place in the semis as a result.
Arevalo Rios: 5 – Picked up a yellow and almost gave the game away when he allowed Gyan a free shot in extra time.
Perez: 5 – Heavyhanded in his tackles and picked a yellow for his troubles. This will be a night to remember, but a performance to forget for Perez.
A. Fernandez: 5 – Practically anonymous. Subbed at the break.
Forlan: 8 – Led by example in scoring an equalising free kick. Tenacious as ever, Forlan's performances are fast making him one of the biggest personalities in the tournament.
Cavani: 5 – Started off well, but faded into the background and was hooked for Abreu.
Suarez: 8 – Could be rated much lower had he cost his side the game having hand-balled on the line to keep Ghana from scoring. However, his kamikaze goal-line clearance saved the day as Gyan missed the penalty that could have spelled the end for the South Americans. Ran himself ragged all night – brilliant player.
Subs
Abreu: 7 – Should have been awarded a penalty after Pantsil brought him to the ground in the Ghana box. Finally got his chance from the spot after extra-time and finished coolly with a centrally chipped strike.
Lodeiro: 6 – Nearly gave away a penalty after coming on when he covered his face with his hands during a Ghana free-kick. Average otherwise.
Scotti: 6 – Looked shaky to start with, but warmed to the game appropriately.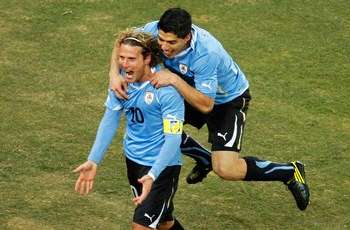 GHANA
Kingson: 5 – Was spectacular for a long time, but somehow lost his bottle in the second half. Couldn't do much about Forlan's free-kick as the Jabulani worked its magic, but his handling was suspect on other occasions.
Sarpei: 5 - Didn't really put in a bad performance, per se, but didn't offer much down the left and ended up in the book.
Mensah: 5 – Looked good to start with, but quickly turned caution to the wind, committing several needless fouls.
Vorsah: 6 – Originally looked the poorest of the backline, but did well to warm to the occasion. Nearly scored from a corner with a great header.
Pantsil: 4 – Had it not been for Pantsil, there would have been no Forlan free kick to equalise from. Committed a few needless fouls like his defensive mate Mensah and also landed himself in the book.
Muntari: 7 – Scored an absolute screamer of a goal from long range, but faded into the background for long spells. Cut inside a tad too much for someone deployed as a left winger.
Prince: 8 – What a performance from a man who will surely be looking to move on from Portsmouth. The midfield link between defence and attack, Boateng put in a playmaking display that many could only dream of producing.
K. Asamoah: 5 – Did his job in that he played a game of football. Nothing spectacular, Asamoah was overshadowed by Kevin-Prince Boateng.
Inkoom: 5 – Hooked for Stephen Appiah, who played infinitely better.
A. Gyan: 6 – It wasn't a great night for the man with the biggest heart on the pitch. Chased down lost causes all evening long and bore his soul for his country throughout. His good work just didn't pay off though, as he missed the penalty that would have made Ghanaian history and failed to convert several good chances.
Subs
Appiah: 7 – The on-off Ghana skipper brought life back in to the side when he was introduced. Delivered several great crosses and proved a magnificent motivator.
Adiyiah: 5 – Missed a penalty and generally didn't live up to the expectations of an AC Milan player.