The Chollima were overrun by the Elephants...
NORTH KOREA

Ri Myong-Guk – 5.5 - Called into action after only 50 seconds to kick away a dangerous chance for Kader Keita, and that set the tone for another testing afternoon. Was left battered and bruised as he was down for treatment on three separate occasions.

Cha Jong-Hyok – 5 - The right-back looked impressive in the opening couple of games but had little answer to the flair and pace of the Ivorian attack down his flank. Never got a chance to showcase his attacking talents.

Pak Chol-Jin – 5 - All of the North Korean central defenders would make calamitous errors at one stage or another, and after being robbed by Gervinho in the first half he was lucky not to concede a simple goal. Like his team-mates, he improved after the break.

Ri Jun-Il – 5 - Typified North Korea's defending with his standoffish nature, and that allowed him to have rings ran round him by the Ivorians. Caught for pace in the first minute and it wasn't to get much better until the second half, when he still looked unsteady.

Ji Yun-Nam – 5.5 - Allowed Drogba to turn and shoot from a seemingly impossible angle that led to the Africans' second goal. Like his counterparts at the back, he was made to look very average indeed.

Ri Kwang-Chon – 4.5 - Stood out as the poorest player in a very mediocre back line. Repeatedly beaten by the skills of Keita and Gervinho, and even when he was seemingly well positioned he managed to make a meal of defending much too frequently.

An Yong-Hak – 5.5 - Actually managed to make a rare forward burst into the opposition box to get his head on the end of a Jong Tae-Se cross. Totally overawed in the middle of the park otherwise.

Pak Nam-Chol – 6.5 - Showed some good touches for the Chollima, getting forward effectively on a couple of occasions to threaten the Ivorian defence. Shot just wide of target and had another fine run but was inadequate defensively, choosing to stand off the Elephants too often.

Mun In-Guk – 5 - Was handed a defensive midfield role but barely managed to get himself in the game. Too often wasteful in possession, it was little surprise he was ultimately substituted midway through the second period.

Hong Yong-Jo – 6 - His set pieces also caused the Ivory Coast worry as he bent a couple of good efforts just off target. Pushed into a more advanced area after the break but never really had enough influence when he was further forward.

Jong Tae-Se – 7 - Clearly a player who is well ahead of the vast majority of his team-mates. When in possession he showed a fair degree of technique and poise, yet he was afforded too few chances to shine by those around him. Shot on sight after the break and was unlucky not to pull a goal back.

Substitutes

Choe Kum-Chol – 6 – Striker was added to the team midway through the second half and provided another target at least.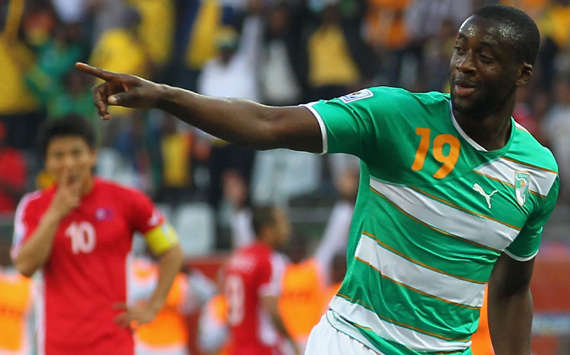 Scores on the doors |
Even Yaya Toure's early strike couldn't propel Elephants

IVORY COAST

Barry – 7 - Only seriously tested on one or two occasions, and he was not found wanting. Made a particularly good block from Jong Tae-Se just before the Ivorians broke to score their third.

Eboue – 7 - Most prominent going forward as the Chollima struggled to get down his flank. Showed a couple of neat touches as he broke into the opposing box, and delivered dangerously when given the chance.

K. Toure – 7 - Got a great block on Jong Tae-Se in the second half but was otherwise largely redundant as a defensive force. Tried to push himself into a more advanced role more often in the second half but had little impact.

Zokora – 6.5 - Utilised in the centre of the defence, the Sevilla player was clearly left frustrated that he was not given more liberty to really attack the North Koreans. Barked and organised throughout, but wasn't given the chance to bite.

Boka – 8.5 - Played a major hand in the opening goal as he provided width with an overlapping run down the left flank. Cut the ball back intelligently instead of crossing, allowing Yaya Toure a decisive sight of the target. Very attack-minded and very good.

Romaric – 8 - Is frequently used as a more defensive midfielder, but showed that he is also capable of good moments going forward too. Tested the goalkeeper with a powerful long-range free kick before scoring the Elephants' second with a header he did well to get up for. Replaced after the break, but can be pleased with his efforts.

Y. Toure – 7.5 - The Barcelona man was calmness personified as he cleverly rolled the opening goal into the net from 18 yards after a host of chances had been squandered by the African side. Dominated the midfield in the first half but faded after the break. Showed some astute passing, releasing Keita in the first minute brilliantly.

Tiote – 6.5 - Despite wearing the No. 9 jersey, Tiote was the least active of the three midfielders in an offensive sense, though he could not be accused of inertness. His range of passing was good and largely accurate but a little more thrust might have been appreciated.

Keita – 7 - Had too much skill for his opponents to handle. Great close control, sharp feet and plenty of confidence made the Galatasaray winger a real threat. Nearly scored a blockbuster of a volley. Replaced after allowing his level to dip after half-time.

Drogba – 7.5 - Showed some outstanding control to turn and thump against the underside of the bar to inadvertently create the second goal. The strong forward bullied his markers easily, though he was allowed an easy ride of it by his markers. Less effective after the interval and grew a little frustrated towards the end.

Gervinho – 7.5 - Much too slippery for his opponents, the Lille attacker showed why he is likely to be one of Europe's hottest properties over the course of the next couple of seasons. Perhaps just lacking a little cutting edge; he was frustrated by the post in the first half. Ultimately replaced by Dindane.

Substitutes

Kalou – 7 – Came on and made a goalscoring impact, though he also missed a handful of chances.

Dindane – 6 – Stuck out wide, it was difficult to see what he offered that Gervinho did not.

Doumbia – n/a – Given only ten minutes at the end.