PORTUGAL
Eduardo: 7.5 – Did superbly to get a hand to Nilmar's near post effort in the first half and looked generally stable before producing a marvellous late save to deny Ramires.
Costa: 6 – Lost Nilmar on occasion but appeared reasonably steady on the ball and gradually proved to have the better of the winger.
Carvalho: 7 – Was commanding at the back as Luis Fabiano rarely got a sniff.
Alves: 7 – Excellent showing as he adapted his position time and again to foil Brazil's would-be attacks.
Coentrao: 8 – Looked very lively on the ball and dealt largely very well with the dual threat of Maicon and Dani Alves down Brazil's right.
Pepe: 6.5 – Never out of the action early on as he proved a target for many Brazilians, before himself being booked. A great effort as his recovery continues.
Meireles: 7.5 – Was all action in midfield as he showed up at dangerous moments in both boxes, but will probably wish he had taken that far post chance on his left foot.
Tiago: 6 – Another good display by the midfield man, but failed to show quite the dominance he was able to against North Korea.
Duda: 6 – Battled well enough, but didn't ever really settle into the game and was replaced by Simao early in the second half.
Danny: 6 – At no point was he heavily involved on the ball, but was regularly a concern with his dangerous runs at the full-backs into space and came into the game more as the match progressed.
Cristiano Ronaldo: 7 – Always an outlet for Portugal and gave Juan and particularly Lucio a tough evening.
Substitutes:
Simao: 6 – Came on and provided the extra width Carlos Queiroz had asked of him.
Mendes: 6 – A steady presence after being introduced to spell the returning Pepe.
Veloso: NA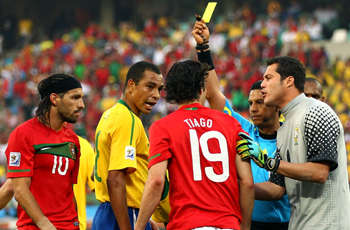 BRAZIL
Julio Cesar: 7 – Made a very brave fingertip stop from Meireles which resulted in a knock to his back. As ever he was in control for the most part.
Maicon: 6.5 – The usual marauding display back and forth by the full-back, though he left Lucio somewhat exposed against Ronaldo once or twice.
Lucio: 7 – Excellent performance but for a momentary struggle up against Ronaldo. He remains the rock around which this side is built.
Juan: 7 – Made a couple of very important last minute interventions as he was able to on the rare occasions Lucio was left wanting.
Bastos: 6.5 – Drifted in and out of the game, but still managed to get on top of Danny for the majority.
Felipe Melo: 5 – Not as dominant as in games previous and he was showing signs of losing his head, prompting Dunga to replace him before the break.
Gilberto Silva: 6 – Another strong display in midfield, he largely refused to get caught up in the push and shove of the first half and delivered a composed performance.
Dani Alves: 6 – It was largely a performance summed up by long range shots for the wide man, and he will not be convinced he's done enough to replace Elano when he returns from injury.
Baptista: 5 – A poor performance filling in for Kaka, being no real danger before eventually being replaced by Ramires.
Nilmar: 6 – Looked lively early on and forced Eduardo to push an effort onto the frame of the goal, but he drifted out of the game late on.
Fabiano: 5.5 – Marked out of the game for the most part by Carvalho and Alves as he failed to continue the scoring run he started against Ivory Coast on Monday.
Substitutes:
Josue: 6 – Replaced the hot-headed Felipe Melo and provided a very cool performance as Brazil held out reasonably well in midfield in the second half.
Ramires: NA
Grafite: NA