The Celeste hold a marginal advantage over the Taegeuk Warriors...
Uruguay stand 45 minutes away from a first World Cup quarter-final appearance in 40 years as they lead South Korea 1-0 at the interval thanks to an early Luis Suarez goal.
Both sides started the game brightly, looking to push forward when in possession of the ball. It was the South Koreans who were a little more adept in the early stages of the game and after only five minutes came six inches from taking the lead. Hovering over a free kick on the left side of the box, Park Chu-Young delivered a fine shot up and over the wall only to watch the ball rebound off the post and away from danger.
Diego Forlan quickly replied with a relatively tame effort that was direct straight at Jung Sung-Ryong, though the Atletico Madrid striker would moments later have a significant hand in the opening goal.
Having hared onto a clever cross-field pass from the active Edison Cavani, Forlan created space to roll a low cross across the face of the six yard box. Almost in slow motion, the defence and goalkeeper left the ball for each other, but Suarez wasn't having any of the niceties, slamming unchecked into the net from an awkward angle at the back post.
Early defensive nerves on either side seemed to be dissipated by the opening goal, and though both sides passed the ball about in a largely cohesive manner, their play started to break down in the final third.
Suarez was denied a clear run on goal when Lee Jung-Soo coughed up possession as the last man and was lucky to see the assistant referee's flag raise when the decision was marginal.
Park Chu-Young remained the main threat but his radar was marginally out when he tried his luck from 25 yards. His drive drifted by the post with Fernando Muslera scrambling a little.
South Korea were largely on the front foot, but they didn't have the guile to break down the South Americans, with the decision making of Lee Chung-Yong especially questionable. Cha Du-Ri had a speculative effort as he advanced from his right-back position, but his strike dipped viciously over the bar.
On the break Uruguay looked a threat, though they were employing a rather sedate tempo to much of their play. Suarez nodded a Forlan free kick into the arms of Jung Sung-Ryong when he probably should have been a little more forceful as he had escaped all hints of marking. Great play from Maxi Pereira might have resulted in his penalty as his shot after a great piece of skill seemed to be blocked inadvertently by the arms of Ki Sung-Yong.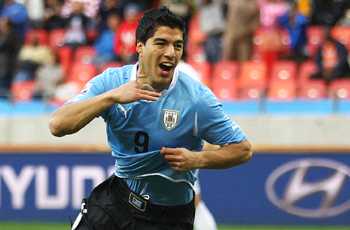 Though Uruguay are ahead, the South Koreans have shown enough endeavour to suggest they can still get back into the game.