Uninspiring
It's not been the dream start to Jose Mourinho's tenure with Real Madrid, but though the Portuguese hasn't overseen a spectacular opening to the campaign, los Blancos are still (for the most part) winning games.
Mourinho's sides have always been characterised by an ability to win narrowly when it really matters, and so far los Merengues have yet to lose under their new trainer, who boasts an incredible unbeaten record in home league matches.
If los Blancos are not losing, they're not exactly playing in the style their fans demand, and neither have they especially impressed in front of goal. Mourinho's first move has been to tighten up the defence, which has worked brilliantly as his side have conceded only one goal in seven games, but this has come to the detriment of the attack, with only six scored in six Liga matches.
The form of Madrid's forwards is also questionable. Cristiano Ronaldo has yet to ignite this season, while Karim Benzema has never really found his feet in the Spanish capital. Gonzalo Higuain scored with regularity last term but is increasingly lacking in confidence, while Pedro Leon is already growing restless on the bench.
Only Angel Di Maria is really working for the offensive unit at present, and it was he, after coming on as a midweek substitute, who shot Mourinho's men past Auxerre 1-0 in the Champions League. It was largely a frustrating evening for fans of the Spanish giants, and there have been too many of those early this season to allow them to be comfortable going into Sunday night's fixture.

Not So Badly Off?

Though not known for their flair and offensive ability, the sluggish start Deportivo La Coruna have made to the present season has contrived to take many pundits by surprise by their sheer inability to find the net. Going into a tough trip to the Bernabeu, Depor have yet to find the net from open play, having scored only through a couple of Andres Guardado penalty kicks.
When the goals aren't flowing, it's impossible to win games, so it's little surprise to see the Galicians stranded on three points, second from bottom and without a win to their credit. Three draws at the beginning of the campaign have given way to defeats against Villarreal and, surprisingly, Almeria. Shut out four times from five matches, it's already starting to look bleak at the Riazor.
"We are no worse than 10 or 12 other teams in the division, and we must fight. There are a lot of games to play and it is a great time to emerge stronger," coach Miguel Angel Lotina told the media earlier this week, trying to put a positive spin on his side's predicament. "I am very hopeful for this team. The players work hard and we will show this on the field sooner or later."
At the best of times points at the Bernabeu seem like a bonus, but for Depor right now just one would seem like a miracle.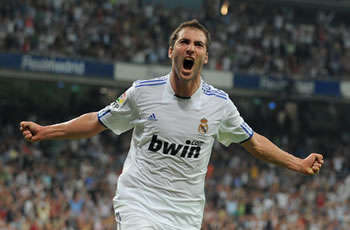 TEAM NEWS

Real Madrid

Jose Mourinho kept Thursday's training session closed in light of the recent problems reported in the media between the coach and Pedro Leon. Additionally, he did not hold his usual press conference to give the press an update on his squad.
Ezequiel Garay, Fernando Gago, Kaka, Raul Albiol and Sergio Canales are the known worries for the Portuguese boss.

Deportivo
Manuel Pablo is recovering from tonsillitis and should be able to take his place in Miguel Angel Lotina's weekend squad. Pablo Alvarez has almost recovered from his hamstring problem and has been taking part in light exercises with the main squad this week.
Riki will be on the sidelines for at least another couple of weeks.
Dismissed against Almeria, Diego Colotto will be suspended.
Goal.com is proud to be a premier partner of

Digg

.com and as such is pleased to offer exclusive invitations to our users to become a participant in the Alpha launch of the new

Digg

.com. Click here for your access code for the alpha site - act now as invitations are limited!