Kick Off: Monday, June 27, 2010. 20:30 CET
Ellis Park, Johannesburg
Getting The Job Done
The South American sides at the World Cup have been much lauded because of their consistent progression in the tournament, and the two sides who finished top of the continent's qualifying table, Brazil and Chile, will play off for a spot in the quarter-finals on Monday.
These sides play in contrasting styles, but somewhat surprisingly it's the Brazilians who turn out in a cautious manner, largely looking to counter-attack their opponents rather than impose their own skills on the game from the outset. As a result, coach Dunga has been the subject of criticism, but the Selecao's progress to the last 16 cannot be quibbled about.
After winning their CONMEBOL qualifying section, losing fewer games than any other side (though winning less than Chile), this pragmatic Brazilian outfit began their World Cup campaign proper with a workmanlike 2-1 success over little fancied North Korea. A far more impressive success over Cote d'Ivoire followed, before a scoreless draw against Portugal in an encounter that promised more.
Despite disappointing fans with their lack of flair, there can be little doubt that the all-round play of the Brazilians has been some of the most impressive in the tournament thus far. The comfortable manner in which they dispatched the Elephants was a real warning shot to their opponents as it was the only time they've really needed to get into top gear so far.
A whole new phase of the competition now begins, and Brazil's pragmatic approach would appear ideally suited to knockout football, though Monday's opponents have proven slippery customers thus far and should be closely policed.
Innovative And Exciting
If Brazil have been rather dull, Chile have brought undoubted colour to the competition. It's not just the red shirts worn by the South American nation that have excited pundits. Argentine coach Marcelo Bielsa has his side playing slick, attacking football in an innovative 3-3-1-3 formation that has proven a breath of fresh air in what has been a rather stodgy tournament at times.
Incredibly, la Roja are somewhat fortuitously at this stage. After defeating Honduras and Switzerland in their opening two matches, it seemed that Chile would need at least a point against Spain in their final group encounter to progress, simply because the Swiss had already shocked their fellow Europeans. Bielsa's side matched la Furia Roja impressively, playing much of the match with 10 men, yet went down 2-1. This proved sufficient as Switzerland failed to break down Honduras, stranding them on four points.
Chile's extra life will see them line up against Brazil, a side they have a dreadful record against historically. In 65 previous meetings against the Selecao, the Chileans have recorded just seven successes, scoring nearly 100 goals less than their more illustrious opponents during those fixtures.
Bielsa's side will not fear their South American cousins, though two heavy qualifying defeats certainly give them food for thought. In Santiago, Luis Fabiano scored a brace to help Brazil to a 3-0 victory, and in the return leg Nilmar scored a hat-trick in a 4-2 Selecao rout.
"We know we're making the people in Chile happy with what we're doing here," Rodrigo Millar told the press after the Spain clash. Any further progress will leave the inhabitants of the South American nation positively ecstatic, and it would also be a blow for those who favour exciting attacking football over a more cautious approach.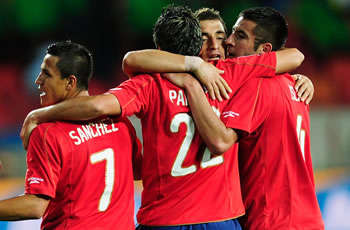 FORM GUIDE

Brazil

DREW 0-0 (n) Portugal (World Cup, June 25)
WON 3-1 (n) Cote d'Ivoire (World Cup, June 21)
WON 2-1 (n) North Korea (World Cup, June 15)
WON 5-1 (a) Tanzania (Friendly, June 7)
WON 3-0 (a) Zimbabwe (Friendly, June 2)
Chile
LOST 2-1 (n) Spain (World Cup, June 25)
WON 1-0 (n) Switzerland (World Cup, June 21)
WON 1-0 (n) Honduras (World Cup, June 16)
WON 3-0 (h) Israel (Friendly, June 30)
WON 1-0 (h) Northern Ireland (Friendly, June 30)
TEAM NEWS

Brazil
Dunga will welcome Kaka back into the fold after he was suspended for the Portugal encounter due to his dismissal in the clash against Cote d'Ivoire. It is also anticipated that Elano will be fit enough to take up a station in the starting XI once again. Robinho will surely be drafted back into the team too.

Probable Starting XI:
Julio Cesar; Maicon, Lucio, Juan, Michel Bastos; Gilberto Silva, Felipe Melo; Elano, Kaka, Robinho; Luis Fabiano

Chile
Suspension problems will hit Chile hard in this encounter. Gary Medel, nicknamed 'Pitbull', was shown his second yellow card of the tournament against Spain and is therefore ruled out of this encounter. Waldo Ponce is in a similar position. Finally, Marco Estrada was dismissed against Spain and is the third player banned.
Top striker Humberto Suazo was injured towards the tail end of last season and has managed only 45 minutes of football at the World Cup, adding to Marcelo Bielsa's problems. If he is fit, he may well be deemed worthy of the gamble.

Probable Starting XI:
Bravo; Jara, Ponce, Medel; Vidal, Carmona, Isla; Fernandez; Sanchez, Suazo, Beausejour
PLAYERS TO WATCH

Brazil

Lucio
has been one of Brazil's star players thus far, perhaps saying something about the set-up of the Selecao that a centre-back has shone quite so brightly for them of late. Nevertheless, the Inter man has been a rock, though Chile bring a completely new style of attacking football to the table. It will be interesting to see how Dunga's side cope.

Chile

Alexis Sanchez
has caught the eye in every match the Chileans have played to date in the tournament, displaying just why so many top European teams are after him. With the defence depleted, Chile may well feel that their best hope to win this game is to attack effectively, and the Udinese ace will provide them with plenty of trickery in the advanced areas.

PREDICTION
The Castrol World Cup Match Predictor gives Brazil a 78 per cent chance of winning this tie, but that would seem to weigh a little too heavily on the Selecao as Chile have shown themselves to be capable of meeting the best head on. While this is by no means a coin flip as to who progresses, la Roja are certainly capable of worrying their grander neighbours. Chile looked a little nervous against Spain at times, and they will have to get over that stage fright if they are to seriously challenge in this match. This, combined with their selection problems, could mean a difficult evening for la Roja.

Brazil 3-1 Chile