In our World Cup Comment series, individual writers at Goal.com offer their views on the hot World Cup topics of the day with local expertise and a global outlook...
After Germany's loss to Spain in the World Cup semifinal, Philipp Lahm announced that the team would not celebrate with fans even if they were to finish third. His rationale was that Germany had already celebrated taking third place in 2006 and second at Euro 2008, and that there was little point in repeating the pomp and circumstance over what ultimately was a dream deferred. He was frustrated, and understandably so.
Many in Lahm's position might have questioned the point in playing hard in tonight's match. After all, the prize was little consolation, especially for a team that has finished in the top three in four of their last five major tournaments, yet never managed to lift a trophy.
Nonetheless, tonight's victory over Uruguay was absolutely vital for the team's soul. Historically, Germany's consistency in translating talent into results can be largely attributed to a winning attitude. That attitude has been especially evident in the last three World Cups, during each of which, Jogi Loew's men found themselves facing difficult odds. It was their lifeline in 2010, and as soon as it was severed - refer to the Spain match - Germany failed.
A loss tonight would have sent
die Mannschaft
home having lost in consecutive matches, and in doing so, stifled the team spirit - the
teamgeist
- that keeps it together. Just as it was vital for the 2009 U-21 team to put their best foot forward in the European Championship, so was it important that the senior side do their very best to win today's third place match.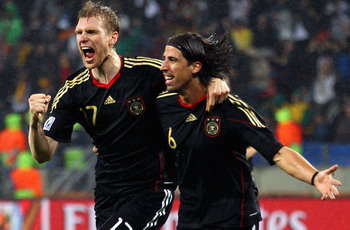 Any doubters should simply look to Arsenal, who under Arsene Wenger's watch, have effectively forfeited the FA and Carling Cups as well as the FA Community Shield for several years. Rather than use a first team in those tournaments, Wenger has used them as opportunities to use his youngsters. It may seem like a good plan for his rising stars to gain experience, but they are always overrun at some point in the tournament, and Wenger's casual approach to such games can only create a negative atmosphere in the dressing room. For proof, note that the Gunners, for all their talent, have gone trophyless for five years.
If a team plays to win every single match, regardless of its scale, that team will always have confidence. It may be difficult to rouse a team's motivation to such high levels, but if done successfully, a team will have the attitude of champions. Spain, perennial underachievers until their triumph at Euro 2008, have such a demeanor and are now likely to win the World Cup.
Having earned bronze medals in tonight's bittersweet match, Germany's young stars have had a taste of glory. In 2014, the backbone of their 2010 squad - Miroslav Klose and Arne Friedrich aside - will return hungrier than ever. And maybe then, the dream will be fulfilled.