It's the match everyone has been waiting for: the
World Cup 2010
final between
Netherlands
and
Spain
. The two teams will face one another for the greatest prize in football at a packed Soccer City.
La Furia Roja's ball control has delighted fans across the world, with their possession play proving a success. Meanwhile a pragmatic Oranje have looked brilliant at times. After making it this far and taking out heavyweights such as Brazil and Germany along the the way, it's the decisive game for both nations and there are several key match-ups to be highlighted.
Note: Castrol Rankings based on World Cup performances are in brackets.
Wesley Sneijder (7)/Mark van Bommel (25) v Sergio Busquets (17)/Xavi (58)
Let's start off with a bonus two-for-one, as these confrontations will indeed be quite similar to one another. Sergio Busquets and Mark van Bommel, arguably the best defensive midfielder in the tournament, have the same task in trying to defend against the men who make their teams tick in Xavi and Sneijder.
It's surely an impossible dream to keep the ball from these two when their sides are in possession, as their movement on and off the ball are second to none, but Busquets believes he has figured out a way to stop the Inter playmaker:
"We must try to stop him all together, denying him time and space as we did to [Mesut] Oezil in the semi-finals against Germany," he told the press on Friday.
"The Netherlands are counting on players like Sneijder and [Arjen] Robben and the way they affect the play. Once the right measures are taken, these players will be easier to deal with. The attackers also play defensively, as we have done through this whole World Cup, is the only way to win."
John Heitinga (48) v David Villa (6)
The best striker in South Africa along with Diego Forlan, Villa is capable of anything on the pitch and his goal-scoring exploits speak for themselves. Notching five of them so far, it's not only his lethal finishing that Heitinga will have to worry about. Heitinga has had a good tournament, but this will be his most important match to dispel those who claimed the Dutch central defence was the weak link.
The movement, pace, and tenacity of 'El Guaje' will give Heitinga plenty of headaches, especially if Villa starts to link up with the midfield in quick passing moves on the edge of the area, as was eveident in the goal versus Portugal. Spain are sure to have spells of pressure in this match and during those Heitinga will have to keep a close eye on Villa. Man-marking is rare these days, but don't expect the Everton defender to hold back when the Barcelona man is in his range.

Arjen Robben (144) v Joan Capdevila (4)
Robben had plenty of joy against Brazil's Michel Bastos and you might expect he could find some of the same weaknesses in the play of Villarreal veteran Joan Capdevila. Despite the discrepancy in the Castrol Rankings, it will be a matchup that the Bayern Munich star will be confident he can exploit in one-on-one situations. Can the 32-year-old left-back keep his composure against the flying Dutchman?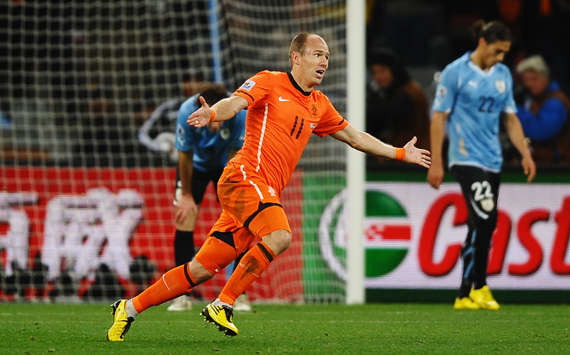 Maarten Stekelenburg (61) v Iker Casillas (44)

Stekelenburg put in a great performance versus Brazil, only to follow it up with an erratic one against Uruguay. Originally affected by a hip injury, the Ajax 'keeper should recover to play in Johanessburg. He's shown to be capable during this World Cup, but doubts over his ability in big games remain despite making it all the way to the final.
On the other hand, Casillas' error against Switzerland in the first group match seems like a lifetime ago as he has turned into an immovable object since, keeping clean sheets against Portugal, Paraguay, and Germany. For someone maligned for a "poor" club season, he's proving to be amongst the best in the world on the biggest stage. Obviously having Sara Carbonero in your corner is more good luck than a distraction.
Bert van Marwijk v Vicente del Bosque
Two men who have the chance to engineer history. No matter which man leads his side to glory he will have written a new chapter for the country as neither have been crowned World champions before.
Tactically, these teams have very similar formations, but while Del Bosque's Spain have relied on possession and three 1-0 wins in the knock-out rounds, Van Marwijk has built a side that has more determination than Dutch sides in the past and is less flashy. The two coaches have shown they can adapt to nearly any type of match in this tournament, whether it be free flowing or a grind to the finish. The question on Sunday will be who has the ace up their sleeve and can offer something as unexpected as it is effective.
Who will come out on top? Check out Castrol Football's 2010 FIFA World Cup Match Predictor.


Think you can do better than our expert? Place a bet now on the match with Goal.com's official betting partner Titanbet.