In our World Cup Comment series, individual writers at Goal.com offer their views on the hot World Cup topics of the day with local expertise and a global outlook...
Paul the Octopus
may have foreseen
Germany's
demise, but it took the best
Spanish
display of the tournament so far to confirm it. And looking forward to the World Cup final on Sunday there will be very few who will bet against the Furia Roja, psychic molluscs or otherwise.
The result, which was far more impressive and assured than the slim 1-0 scoreline suggested, is a vindication of Spain coach Vincent del Bosque and his brave decision to bench misfiring striker Fernando Torres. Del Bosque bet on winning the midfield battle, seeing how the seeds of first England and then Argentina's defeats were sown in a capitulation in the centre of the pitch.
Germany must have thought stepping onto the pitch that they were going from the sublime to the ridiculous as they saw who lined up against them. After being confronted with just the solitary figure of Javier Mascherano to contend with on Saturday, latest foes Spain boasted a five man all-star midfield of Andres Iniesta, Sergio Busquets, Xabi Alonso, Xavi and new boy Pedro. And with all five having excellent games the team in white could barely get a touch, let alone take the ball into the opposition's half.
Every member of the quintet played out of their socks, continually pressing, passing and moving to receive the ball in such a fashion that Mesut Oezil and company must have felt engulfed by a red tsunami. Every freeze frame showed five or six red shirts in the picture, whether it was on the edge of the German penalty area or down by a Spanish corner flag. This constant harassment proved to be the difference, as the Germans were gradually worn down by sheer pressure and allowed the Roja to cut loose.
And when you have two creative talents in the shape of Xavi and Pedro in attack, the Spain side can score goals against anyone. Pedro was a constant thorn in the side of the German back four, constantly roving, probing and generally running, giving the defence all manner of problems- although a piece of glory-hunting late on somewhat tarnished an otherwise excellent performance.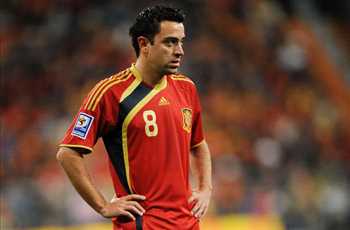 Xavi on the other hand was flawless as ever in the heart of the midfield, barely missing a pass and with the incredible knack of never getting caught in possession no matter what the situation. Not as flashy as the Ronaldos, Messis and Rooneys of the world, in terms of effectiveness and class there are few who wouldn't prefer this softly-spoken dynamo driving their team forward.
Despite the accomplished performance however there were certain worrying areas for the Spanish side going into Sunday's final that need to be addressed. For all their midfield dominance, control of possession and penalty area pressure there were comparatively few real chances against a predictably stout German backline.
What did materialise was more often than not from distance or a half chance, with previously talismanic David Villa having a rare off-day by his high standards. It is telling of the lack of penetration that the deciding goal - only the Roja's sixth of the tournament - came from a set-piece and a towering header from Carles Puyol. There were also a few wobbles from a defence that has looked less than unbreakable over its time in South Africa as Germany pushed for an equaliser.
There will be few neutrals however that will argue with this result, and as Spain look forward to Sunday they can feel confident against a Netherlands side constructed in much the same vein as their Teutonic neighbours. With Xavi, Iniesta and the other midfield maestros hitting top form, you do not need to be an eight-legged Nostradamus to see Madrid erupting in celebration come July 11th.