For the first time in two years, Spain will enter a football match not as a favourite or the form team when they take on Germany in the second semi-finals of the 2010 World Cup.
Having flown to South Africa as one of the overwhelming front-runners to lift the trophy, with all their impressive records and statistics over the past two years and their much-hyped, much-feared midfield and attacking line-up, Spain have barely been given an inch of the field to play in in their five World Cup matches thus far. 40 wins in 43 consecutive games tend to make one stick out even amongst the giants of world football.
Being installed as hot favourites to win every one of their games, Vicente del Bosque's Spanish Armada have been made to work extremely hard for their goals and their victories. All their opponents have carried this 'nothing to lose' attitude when stepping out onto the pitch against the European champions and it seems more often than not that their main goal wasn't to beat Spain, but simply to prevent them from playing. If they were rewarded with a positive result, all the better.
In turn, La Furia Roja, after losing to Switzerland in their opening game, have looked like a side whose main goal was not to win the World Cup, but merely to avoid another embarrassing disappointment of going home early from a major international tournament.
And it is that pressure and tension which have forced Spain to shriek away from their usual brand of bravado football and instead opt for a more measured and patient approach in their attacking ventures.
The Swiss and the Portuguese took a leaf out of Jose Mourinho's 'park the bus' guidebook and confronted the La Roja with wall upon wall of defenders, while Chile and Paraguay used their explosive, ultra-physical strength to harass the tiny Spaniards off the ball. Against minnows Honduras, Spain were given a chance to express themselves, but they were caught far too often trying to waltz the ball into the back of the net.
But that psychology will change when they take to the pitch against Germany, by far the most impressive team in the 2010 World Cup.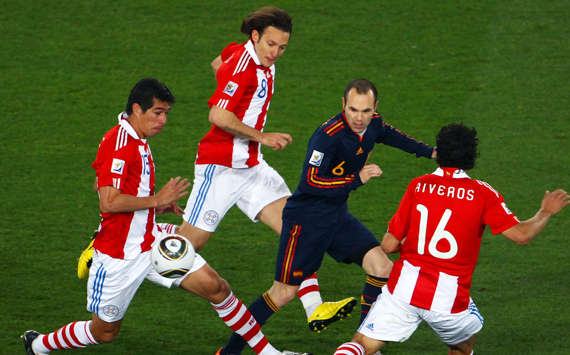 Die Mannschaft are now probably everyone's tip to win the tournament and they will be deemed as favourites ahead of the semi-final clash on Wednesday after their comprehensive demolition of England and Argentina in the previous two rounds. There are even those who believe that Spain will not stand a chance against this devastatingly efficient German side. And you can't blame them.
While Germany have been ripping their opponents apart with ruthless and frightening efficacy on the break, Spain have looked unimaginative in attack and, more crucially, slapdash in defence.
However, Joachim Loew and his boys won't care about favouritism and form book. They will still rely on their shrewd tactical game plan, defend diligently in that obsessive-compulsive way of theirs, hit the Spaniards on the counter-attack every chance they get and they will still go about their business on the pitch as if it were any other World Cup finals match.
What it does for the Spanish psyche, though, is that it will help La Roja let go of their inhibitions and demonstrate that they still have the spark from two years ago when they won Euro 2008 in such dominant fashion. This is a chance for del Bosque's troops to let their hair down and finally go toe to toe with an opponent who are their equals; an opponent who do have something to lose; an opponent who are inclined to go for the win and play good football.
First time semi-finalists versus three-time world champions. Perhaps it's Spain time to enjoy that 'nothing to lose' feeling.
Our

provides the best breaking news online and our

football fan community is unmatched worldwide. Never miss a thing again!