In our World Cup Comment series, individual writers at Goal.com offer their views on the hot World Cup topics of the day with local expertise and a global outlook…
It was a strange feeling at the final whistle. Despite winning their semi-final against
Uruguay
by the odd goal in five - which seems like a ding-dong, on paper at least - the Dutch have once again left us feeling slightly unsatisfied, making us believe they have more to give. No matter - the
Netherlands
have a chance to make it third time lucky in the
World Cup
final in Johannesburg on Sunday, and they will care not one jot for popular opinion.
Captain Giovanni van Bronckhorst's stunning 18th minute opener, bringing back memories of his midfield pomp with Rangers, was a red herring, as was Diego Forlan's equaliser, a splendid strike too even if it did expose Maarten Stekelenburg's intrinsic fallibility, rarely tested so far in the tournament. This was a match - perhaps unsurprisingly - gripped by tension, which often threatened to boil over.
The pre-match patter of coach Oscar Tabarez and the Uruguayan camp had been how they would stop Arjen Robben. The answer was pretty obvious, and confirmed by one brutal first-half assault by Maxi Pereira next to the touchline, for which the Benfica man escaped sanction. Even luckier was Mark van Bommel, whose near-forearm smash on Mauricio Victorino in the lead-up to Van Bronckhorst's opener went unnoticed by referee Ravshan Irmatov.
With perceived weak links Khalid Boulahrouz and Martin Caceres performing admirably for their respective sides at full-back, an interesting battle of wills developed on the Dutch left wing between Maxi Pereira and Dirk Kuyt. These two workaholics of the modern game epitomised the attritional nature of proceedings, and ran themselves into the ground for the cause.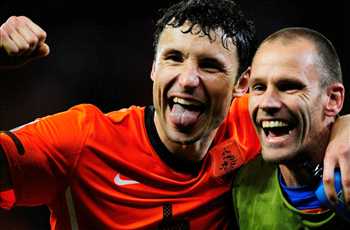 Maxi's fine injury-time consolation goal was just reward for a sterling tournament, while Kuyt's industry, as it often does, eventually bore fruit, with his pinpoint cross being adroitly headed home by a craning Robben for the (eventually deciding) third goal. The indefatigable Liverpool striker's nest intervention was arguably the most crucial of the match. His tremendous, sliding last-ditch challenge prevented a gilt-edged chance for an unmarked Victorino to snatch an equaliser mere seconds before the whistle.
In a bizarre role reversal, the Dutch will not be the choice of the purists should they face a hotly-anticipated rematch of their nation's finest World Cup hour, the 1974 final against West Germany, in the final. They shouldn't let it worry them. It has nothing to do with the current 4-2-3-1 system, which Johan Cruyff argues betrays Holland's heritage.
This has been in situ for while, but the inclusion of two genuine holding midfielders for most of the competition in Van Bommel and Nigel De Jong (a necessary measure to protect a suspect central defence) makes them more circumspect than in Euro 2008. The Dutch were wonderfully stylish in dismantling 2006 World Cup finalists France and Italy in that tournament's group stage, and how much good did it ultimately do them? None.
Wesley Sneijder, surely a now a strong favourite for this year's Ballon d'Or, has the passing range to cover make light of tight spaces, just as he did throughout Inter's successful season. He will be asked to do the same again in Johannesburg. If he ends up with the greatest trophy in the game, and the almost inevitable personal honour that would follow, he should raise a glass to Kuyt.