Die Mannschaft go into into Euro 2008 rematch as neutrals' choice
By Andy Brassell
It's been a
World Cup
of surprises, and the semi-final between
Germany
and
Spain
captures much of the intrigue in microcosm. Purely on paper, a reunion of
Euro 2008
's two finalists in a World Cup semi is completely logical. So why did so many of us fail to pick it, and why are Germany - a country that has reached the final more than any other European nation - considered a successful dark horse?
Even if one had convinced anyone pre-tournament that Germany were capable of reaching the last four, it would have been a struggle to paint Germany as favourites in a direct confrontation with the European champions. For all the lazy labelling of Die Mannschaft as a 'tournament team,' Joachim Loew's men looked prone and vulnerable in the run-up to the World Cup.
In fact they arrive in Durban not only as a now-hotly-tipped side, but as the neutrals' darlings. They are the tournament's top scorers with 13 and have come into their own in the knockout rounds, impressing with their emphatic win over England and truly astounding with their demolition of Argentina. The fluid, flowing style of a team underpinned by youngsters such as Thomas Mueller, Mesut Oezil and Sami Khedira has really captured the collective imagination.
Compare this to Spain, lauded for bringing pretty, passing football back into vogue and proving it could triumph over physical rigour in Euro 2008. They have made history in reaching their first-ever World Cup semi-final but generally failed to excite thus far - give or take the end-to-end penalty-missing fest in the second half of the quarter-final match with Paraguay.
Spain's progress so far - dogged, determined and based on the goals of the extraordinary David Villa - has disappointed, with Vicente Del Bosque's men seeming short of their normal zesty selves, weary and bearing the legacy of carrying a number of injury doubts into the tournament, particularly to key players like Fernando Torres and Andres Iniesta.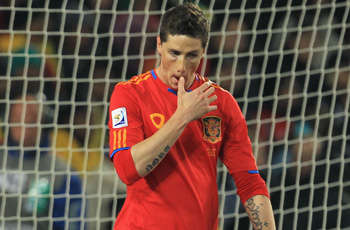 Firing blanks | Torres has struggled in front of goal
Injuries have affected Germany too, arguably more so as they lost five members of Loew's original squad before they even arrived in South Africa. Yet these have turned out to be a blessing in disguise, and crucially have not been carried into the tournament itself.
The most newsworthy was the loss of Michael Ballack, and this has become a symbol of the German story of the World Cup. After arguably their key player had to pull out, Germany's chances were written off, but not only did Loew find cover in the squad in the shape of Khedira, but Ballack's absence has allowed Bastian Schweinsteiger to shine in the centre of midfield like never before. Germany have moved the ball at a breezy, athletic tempo, which almost certainly would not have been possible with their ertswhile captain in the fold.
Ballack's absence has seen a power shift in the camp too. Bayern Munich's Phillip Lahm has taken the armband, a top-level pro with excellent experience (and one of the world's finest full-backs) but hardly an elder statesman like Ballack. There is no notable deference to him, and the squad seem to feel the skipper is more representative of them.
Lahm himself certainly feels there has been a positive effect and German media reported that Ballack's departure from the German camp yesterday had much to do with Lahm's stated ambition to remain skipper after the finals. The freshness of the squad is clear, with four members of last year's European Under-21 Championship winners in the first XI for both knockout round games (Oezil, Khedira, Jerome Boateng and Manuel Neuer).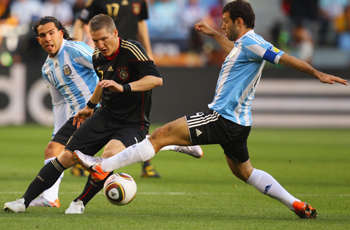 Never mind the Ballack |
Schweini has excelled
Loew's need to rely on youth has accelerated the positive approach begun by Juergen Klinsmann pre-2006 World Cup. It is hard to imagine Torsten Frings, Christoph Metzelder and Thomas Hitzlsperger returning to the fold, though they all started in the defeat to Spain in the Euro 2008 final.
This time, the match-up between these two will be very different. Spain are playing in Germany's arena. The reaction of Del Bosque's men to the nervy win over Paraguay spoke of relief but also of reaching a new peak. Germany have won the tournament three times and been losing finalists on four other occasions.
But speaking in the present, this Germany side have the confidence that they will run Spain much closer than the 1-0 defeat in Vienna two years ago, which in truth flattered Loew's side. And Germany are all about the present, and the future, right now.