In our World Cup Comment series, individual writers at Goal.com offer their views on the hot World Cup topics of the day with local expertise and a global outlook...
Ever since the great Holland side led by Rinus Michels and Johann Cruijff lost that fateful Munich final against West Germany in 1974, their World Cup hopes have been constantly hampered by internal squabbles, or bad luck, or both.
There is no doubt the Dutch should have won their maiden title 36 years ago, just like Hungary deserved to be crowned in 1954 and Brazil were everyone's favourites in 1982. We would never know for sure why Cruijff was so nervous that day, and what made him argue with the referee instead of playing in his usual style. Probably it was because of his wife's rumoured call that kept him awake all night, so that she'd be sure he is alone. Despite taking the lead before any German player touched the ball, Holland were trailing by half-time, and never really looked like staging a comeback.
Somewhat ironically, four years later, with Cruijff out of the team for personal and political reasons, the Oranje actually came closer to beating the hosts in the World Cup final in Argentina. Having equalised just eight minutes from time with an unlikely header from inexperienced substitute Dick Nanninga, Ernst Happel's side almost won it in the dying seconds, but Rob Rensenbrink's shot came off the post. Had the Anderlecht forward's effort been better by just a few centimeters, he would be crowned the tournament's top scorer, and captain Ruud Krol would lift the trophy. Instead, both titles went to Mario Kempes, and it was a very tough luck for the Dutch.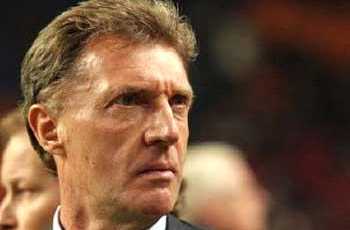 Krol | Denied the opportunity to lift the World Cup
Since then, something always went wrong for the them. They missed on Spain-82 by a single point in qualification group, and prior to Mexico-86 they lost in a playoff to neighbours Belgium on away-goals rule.
After winning Euro-88 with a sensational team, containing the famous Milan trio of Ruud Gullit, Marco van Basten and Frank Rijkaard, they managed to push the self-destruct button ahead of Italia-90 in a spectacular fashion. The players revolted against the unpopular coach Thijs Libregts, and he was sacked just a couple of months before the tournament after stating in an interview that "coloured players are lazy". Even more amazingly, the FA allowed the players to vote for their new manager, only for Michels to block the winner, Cruijff, and give the job to a poor Leo Beenhakker. He had no chance in the dressing room that was blowing up, and there were unconfirmed rumours of van Basten punching the coach and throwing an ash-tray in his face. Luck was also against the Dutch in Italy. After drawing all their games at the group stage, they finished with an identical record to that of Ireland, but lost on lots and were forced to play eventual champions West Germany in the second round, instead of facing Romania. That clash is mostly remembered due to Rijkaard's double spit at Rudi Voeller.
Ahead of USA-94, the team was ruined by continuous spat between Gullit and Dick Advocaat. The superstar quit the team in protest against being played out of position on the right flank, and was persuaded to come back, only to leave the camp again just weeks before the tournament after disagreeing with the FA over preparation methods. The Oranje reached the quarter-finals nevertheless, and tried their best against Brazil, only to lose the second-half thriller 3-2.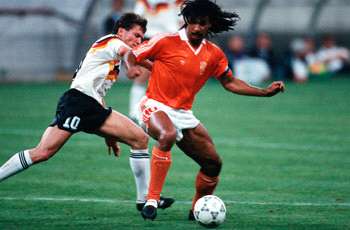 Gullit | Vital in 1988, but rebellious in 1994
Guus Hiddink survived some dreadful dressing room riots at Euro 96, with the team divided even regarding the dinner menu, and Edgar Davids sent home for telling the coach "to take his head out of some players' arses". The Pitbull was back for France-98, and somehow the internal unrest was overcome on the road to the semi-finals. Luck wasn't on their side again though, with a penalty shoot-out loss to Brazil.
Hiddink was frequently accused by the media for not being involved with the team, and only doing the required minimum. The coach who tried to guide the Oranje to 2002 World Cup was, on the contrary, TOO involved. Louis van Gaal's obsession with his job made most of the players dislike him, to say the least, and somehow they manage to fail in the qualification, finishing behind Portugal and Ireland.
Van Gaal is not an easy man to work with, but that was nothing compared to van Basten, whose favouritism for some players and hatred for older leaders like Mark van Bommel and Ruud van Nistelrooij made success absolutely impossible. Van Nistelrooij was outrageously benched for second-round game versus Portugal in Germany-2006, with Jan Vennegoor of Hesselink sent on to save the game in the dying minutes. Van Bommel, criticised by van Basten in public during the tournament, vowed never to play for the Oranje again as long as the coach retained his job.
And so to South Africa 2010, and this time it looks like it all goes smoothly in the extreme. Bert van Marwijk might not be the most famous coach compared to predecessors, but he is a honest, hard-working person, highly respected by all of his players. Even some inevitable incidents, like Robin van Persie's unwise words after being substituted against Slovakia, were managed superbly by van Marwijk.
van Marwijk | Exercising his diplomacy skills on van Persie
In addition, luck is on their side this time. There were just two own goals in this World Cup (well, now it's only one if you believe updated FIFA records), and both were scored for the Dutch. Wesley Sneijder is having an extraordinary time, scoring winning goals despite not playing especially well. Deflections, free headers – everything just goes his way. And now it looks like Uruguay will face the Oranje in the semi-finals without two of their most important players. Not only Luis Suarez (a top player in the Dutch league at Ajax, by the way) is suspended, but captain and defensive stalwart Diego Lugano is likely to sit out due to injury.
If that luck continues, and van Marwijk manages to keep all the egos quiet for two more games, don't bet against Sneijder, Robben and co.