In our World Cup Comment series, individual writers at Goal.com offer their views on the hot World Cup topics of the day with local expertise and a global outlook...


Cape Town Stadium will host what promises to be one of the most intriguing and exciting contests of the 2010 World Cup thus far when two-time finalists Netherlands take on two-time winners Uruguay.

Choosing a winner for such a tantalising affair is nearly impossible. Netherlands have so far won all their matches in South Africa, but Uruguay have yet to be beaten at this World Cup, too.

The match will surely sit on a knifes edge and promises to be one of the most exciting of the knockout round. If Netherlands are to emerge the victors, they will do so because of the use of the following five 'tactics':

1) Shoot From Distance

Uruguay's performances at the 2010 World Cup so far have proven that the Charruas are extremely solid at the back. Goalkeeper Fernando Muslera kept three consecutive clean sheets in the group phase to underline this feat. However, South Korea's Lee Chung-Yong managed to beat Muslera for the first time in the round of 16 before Ghanaian midfielder Sulley Muntari found the weakness in Uruguay's defence in the quarter-finals. The Inter star opted to test his luck with a stunning long range strike and Muslera reacted too slowly to deny Muntari. Players such as Wesley Sneijder, Arjen Robben and Robin van Persie have all found the net with shots from long distance on more than one occasion in the past couple of seasons and this weapon could prove to be crucial in the Dutch's attempt to crack Uruguay's defence.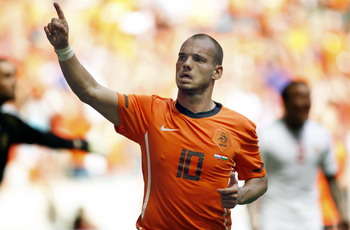 2) Don't Panic

Netherlands have been the favourites in four of their five World Cup matches so far and were again and again confronted with opponents that focused on defending instead of trying to play their own game. The match against Uruguay is likely to be rather similar to Oranje's games against Denmark, Japan, Cameroon and Slovakia. What proved to be very important in their previous wins was Holland's ability to remain patient and wait for the right moment. This patient approach turned out to be very successful in the past and could very well be a hit again against Uruguay.

3) Attack Down The Flanks

Oranje have so far struggled to impress the world with the attacking style of play everybody expected of the Dutch. However, they have always looked dangerous when making full use of their wingers. Arjen Robben is without doubt one of the best wingers in the world and has been impressive in the three appearances he has made so far. Dirk Kuyt looked excellent coming from the left against Slovakia and Brazil, while many coaches can only dream of having someone like Eljero Elia available as an impact sub. With Uruguay being deprived of Jorge Fucile, their best full-back, the South Americans look vulnerable out wide.

4) Support Mark Van Bommel

Normally, national team coach Bert van Marwijk relies on Mark van Bommel and Nigel de Jong to keep Oranje's midfield balanced. However, with the absence of De Jong due to suspension, Van Bommel will be Holland's main man when it comes to keeping things tight in midfield. Demy de Zeeuw, who is likely to replace De Jong, is not the tough tackler the Manchester City man is. Therefore, Van Bommel will need all the support of his team-mates he can get.
To help the Bayern Munich man out all the Dutch forward players will have to start defending from the opposition goal-line, continually pressing and harrying anyone in a Uruguayan shirt.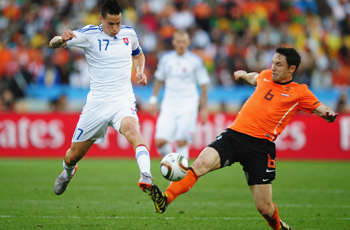 5) Mark Diego Forlan Extremely Tight

Uruguay have so far scored seven goals at the World Cup, with Luis Suarez and Diego Forlan both netting three times. The Ajax striker will miss the semi-final due to suspension, meaning that Forlan will be the Charruas' main attacking threat. National team coach Oscar Tabarez will probably deploy Forlan in a more advanced role again on Tuesday and the Dutch defence will face a tough task to keep the Atletico Madrid star quiet. Both Joris Mathijsen and Johnny Heitinga need to be fully focused for the full 90 minutes if they are to keep Forlan at bay. Forlan can't be allowed any space, as he will take advantage of every possibility to test Maarten Stekelenburg between the sticks.