Before the controversy surrounding his last-minute dismissal against Ghana last night, Luis Suarez was a footballer almost universally admired for his exploits at this World Cup. A player whom most had inked in as another flat-track bully of Dutch football who lorded it over average at best Eredivisie sides playing for an Ajax outfit who were still superior to most in that league, despite their supporters still harking back to past glories. Time and time again his statistics had been oft-quoted yet the numbers had no real meaning for in football, as in cricket, pure numbers often systematically fail to relate the narrative of a footballer.

The resulting polarity of opinions on both sides in regards to Suarez is, however, nothing new. The Salto-born attacker, capable of playing anywhere across the front, has always been a love-hate figure. Loved by the close to 50,000 Ajacieden who sing his praises every home-game, hated by the hoards of opposition fans who decry his gamesmanship, cynically viewing him as fitting in perfectly with a club they view as arrogant with a divine right to reign at the top of the league.

Suarez is a man of many different sides. There's the Suarez who jokes around in the ad for Eredivisie Live struggling to utter the simple words "Ik heb het" (I have it); there's the dazzling Suarez who has lit up both Dutch football for Groningen and Ajax, and finally what you might term as the dark side of Suarez who has an infuriating propensity to throw himself to the ground or even in the direction of an opponent, as AZ defender Niklas Moisander will testify. Such an action marked a new low even according to the Suarez school of gamesmanship.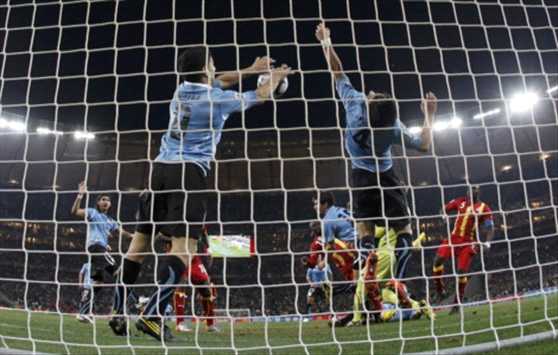 The emnity surrounding Suarez has of course been catapulted to a new level as he will now be cast as a hate-figure for a whole continent. The man who, in their eyes, single-handedly denied Ghana what they felt was their destiny of a place in the last four of the World Cup. In every corner of a seemingly endless expanse that is the footballing world, players, pundits and fans alike will be picking apart every aspect of what the Americans might call "Suarez-gate".

For what it's worth, I think the telling reaction is that of Suarez himself. Having been ushered from the field, he hung around long enough to witness the sight of Gyan's penalty crashing against the crossbar, prompting the dismissed striker to emit a cry of delight with both fists clenched. However don't let his individual characteristics detract from the simple fact that in the world of professional football, far removed from the ideals of the amateur game, players will always look for that 1% to make the difference for their side and it's no different to Manuel Neuer against England.

Suarez took the gamble - knowing that he would miss not merely his country's first semi-final since 1970 but also a fascinating duel against both friends and foes from the Netherlands. Make no mistake, he will be hurting inside at this missed opportunity but he will also take his place on the bench next Tuesday in the knowledge that he took one for the team. Perhaps then it should be admiration and not condemnation that comes his way.