By Andy Brassell
The
Netherlands
and
Brazil
- two footballing dynasties whose very names prompt a lick of the lips. Their
World Cup
quarter-final should be the game of the tournament so far, but the anticipation of fantasy football fare is really based on the past as opposed to any recent evidence. So what changed for the Netherlands and Brazil?
An exchange through the media between Johan Cruyff and current Brazil coach Dunga has brought the debate uncomfortably to the fore in the last day or two. Cruyff, long since retreated from the front line but never short of an opinion, sniffily remarked that he "would never pay for a ticket to watch Brazil." "He never pays to get in anyway," Dunga retorted.
Trash talking is the currency in this year's quarter-finals (see also Germany v Argentina), but these comments highlighted an important debate which is going on not just in and around the World Cup but in the respective countries themselves. Dunga is not popular back home, and anything less than victory in Johannesburg on Sunday week will see him torn to shreds by the Brazilian media, a fact not lost on the man himself.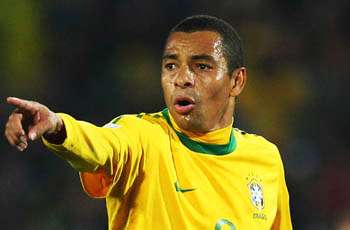 Director | Gilberto Silva is key for Brazil
So how did Brazil get from 1970, the all-time benchmark of beautiful football, to here? We should not kid ourselves that Brazil's circumspection is merely the work of their coach. Dunga was a key part of the 1994 winners, who also faced Holland in the knockout stages and were complicit in the dullest World Cup final of them all, the goalless clash with Italy which Brazil won on penalties.
When we look at 2002's winners, they relied on Gilberto Silva and Kleberson keeping the back gate bolted so Ronaldo, Rivaldo and Ronaldinho could do their stuff. We can't pin it all on Dunga.
Instead, we should look at the sort of players Brazil produces now. Gilberto Silva is still there and exports in recent years include Felipe Melo, Michel Bastos, and even Kaka - strong, physical players bred with the European transfer market in mind.
The change in the Netherlands has a less economic motivation, but is connected in a sense that it tells us how the game has changed into a more athletic sport in modern times. The 1974 World Cup finalists (with Cruyff at its centre) will always be remembered as the greatest side in tournament history not to win it, with due respect and acknowledgement to Brazil's 1982 vintage.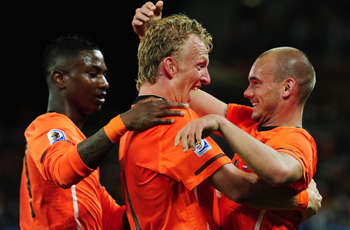 Total joy | But Dutch style has changed
Holland is synonymous with total football, pioneered at Ajax in the late '60s and early '70s and which came to full bloom with the 1974 national team. Based on players swapping positions down imaginary lateral lines on the field, it is still romanticised as the apex of style and technical excellence.
Sadly, the physicality of the modern game makes such pressing and positional exchange almost impossible over 90 minutes.
Authored by the Dutch players in the run-up to Euro 2008, Holland now play with a modern, and more solid, 4-2-3-1. Current coach Bert van Marwijk was appointed as a safe pair of hands, not to found a tactical revolution but to oversee calm in the camp, which previous managers with big personalities like Guus Hiddink have spectacularly failed to do.
Ironically, amidst the talk of how the two countries' football cultures have incontrovertibly shifted, the standout game of the 1994 World Cup was a quarter-final meeting between the two, when Brazil edged a thriller 3-2.
Perhaps these two sober sides can break out of the straitjackets to give us something spectacular again today.