In our World Cup Comment series, individual writers at Goal.com offer their views on the hot World Cup topics of the day with local expertise and a global outlook...
Brazil and The Netherlands have woven one of the richest World Cup tapestries, providing epic meetings at three tournaments. Brazil lead the historical count by two victories to one, with Holland's sole World Cup win against the Brazilians coming in 1974. That Dutch side advocated Total Football and boasted the calibre of Johan Cruijff and Johan Neeskens. However, this Dutch side is not built in the same free-flowing tradition as Rinus Michels's world beaters.
Bert van Marwijk, the current Oranje coach, favours a methodical style of play and this World Cup has yet to bring electrifying performances from the likes of Robin van Persie, Arjen Robben and company.
Similarly, the Brazil coach Dunga has constructed a team that is more steel than silk. Two 'number 5s', a counter-attacking philosophy and set-piece nous mark this edition of the Brazil team out from their more rambunctious predecessors.
This may not be the most exciting of meetings between the sides but it will be among the most intriguing. Brazil should shade a close encounter. Here's five reasons why:
1. Double Up On Robben
Michel Bastos faces the prospect of taking on Arjen Robben this afternoon. The Bayern Munich winger was one of Europe's best players last season but looks distinctly delicate at these finals after injuring a hamstring a week before the tournament. Bastos, at Lyon, is not a natural defender and may require some help in dealing with the flying Dutchman.
Brazil have that luxury of a man to spare, at times, with Gilberto Silva and either Felipe Melo or Josue adequately screening the defence. Expect one of them to get across to the Dutch right-side in order to lend a hand to Bastos. Also, Robinho has been tracking back during the World Cup in an aboutface that is startling Manchester City fans. He knows that hard work, as well as ability, has kept him high in Dunga's esteem. Robi has exuded maturity and discipline in South Africa and has willingly dropped deep to help out. With Robben occupying the same side of the field, he will have to do so again.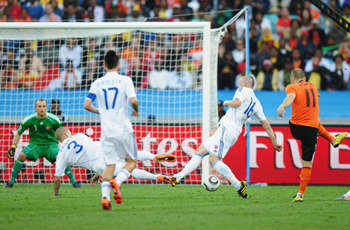 Robben | will need to be watched extremely closely

2. Sturdy Defence
Brazil have conceded only twice at this tournament and both of those goals came with matches were as good as won. Two momentary lapses of concentration, one against North Korea and another against Cote d'Ivoire, cost Dunga his clean sheets. There was no such indiscipline against Chile; indeed, the Brazil defence made Marcelo Bielsa's multi-faceted attacking formation look pretty blunt and stuck manfully to their defensive task to the end, seeing out the game professionally.
In Julio Cesar, Maicon and the captain Lucio, the Selecao boast 60 per cent of Inter's notoriously stringent back-line. These three know each others' games inside out. Add to that the form of Juan, arguably Brazil's best player of these finals so far, and you have one mean unit. In defence, Brazil have it all. There has been a distinct lack of flapping from the goalkeeper, who ended the club season in questionable form, there have been precious few errors from the centre-backs and consistency from the full-backs, both going forward and in defence. A Dutch side that has struggled for creativity to this point, against much worse sides, will need to conjure something very special to breach them.
3. Wing Dominance

Daniel Alves is a very different player to Elano. The Galatasaray playmaker will not feature today because of injury and the Barcelona man will again continue in his stead. Giovanni Van Bronckhorst would prefer it the other way around. In the twilight of his career, the Dutch captain lacks fundamental pace and faces the prospect of eating Alves's dust should he find space behind him. On the other side, Robinho occupies a position that cannot be described as an orthodox left-winger. He is more likely to push infield than to take on his man in a foot race. And if he does come in then he will be in the domain of Mark Van Bommel. This sort of movement will create pockets of space for Kaka to exploit. Brazil have a varied threat going forward; the dexterity and discipline of their wide men will give the Dutch more problems than they can handle.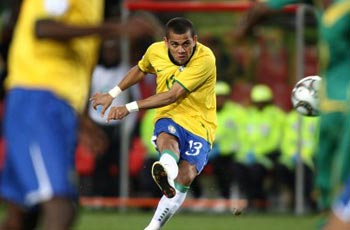 Alves | offers greater dynamism than Elano

4. Patience in possession
Brazil have bossed the possession numbers in each of their matches so far in the tournament. Dunga's side are content to keep the ball and play the waiting game before launching attacks at the opposition defence. Indeed, they did not hit the net against North Korea until the hour mark. But they do not panic. The South Americans do not have a tendency to go long or launch hopeful crosses for Luis Fabiano. Instead they are content to work channels until an opening comes available, keeping the ball from their foes. With Kaka and Robinho doing the prompting, it only takes a second before the game is turned around. Goals against Cote d'Ivoire and Chile came in the blinking of an eye once the ball reached the edge of the box. Furthermore, the Dutch are fond of having the ball themselves and may not relish 90 minutes worth of chasing. And should any man in Oranje fail to stick to his task, Brazil will pounce.
5. Counter-attacking threat

Although the Brazilians have had most of the ball so far in the tournament, they are also adept at breaking out once an opposition move grinds to a halt. Dunga's side are masters at exploiting space at a canter. They left Chile in disarray to open the scoring in the second round once their South American cousins were caught too high up the pitch after a poor cross by Alexis Sanchez. By defending with seven players and attacking with three they have a knack of finding gaps in key areas to spring attacks. Gregory Van Der Wiel is an adventurous sort of full-back and with Robinho on his flank he needs to be wary of not straying too far from base. Should the Ajax man become stranded up field, then Brazil's number 11 can break, as he has done to great effect so far.