Cristiano Ronaldo
didn't hang about to talk to reporters after
Portugal
's World Cup exit in Cape Town. He just had enough time to respond with a brief missive on his way. "How do I explain Portugal's elimination? Ask
Carlos Queiroz
." Rarely have so few words been so significant, even when emanating from the mouth of one of the world's most recognisable footballing names.
This had echoes of his similarly sulky reaction to the end of Portugal's Euro 2008 campaign. The then-Manchester United player stopped briefly in the mixed zone to fire off a few facts; to confirm he was injured and would be having a foot operation immediately, and to ratify that he wished to leave United for Real Madrid as soon as possible. With that, he pursed his lips, turned on his heels and he was gone.
Many will regard this as further proof of a haughty, arrogant superstar with little regard for anyone's feelings or needs save his own. His move to Real Madrid and ensconcing in the Bernabeu's culture of celebrating the individual has only heightened perceptions of his alleged self-absorption.
A more balanced view is that Ronaldo's need to make a pithy comment and flee is a trait of a genuine winner's mentality, and an expression of bitter disappointment and frustration at defeat - on this occasion - to a Spain side which, while clearly more gifted than their Portuguese counterparts, were put under little pressure by painfully unambitious opposition. Ronaldo must feel more than stymied, but stranded and alone.
The coach will surely carry the can for his star man's discontent. It wasn't supposed to end like this. Queiroz, having overseen the winger's development from pimply pipecleaner to world-class matchwinner in his second spell as Sir Alex Ferguson's assistant at Old Trafford, was meant to bring the best out of him. Instead he oversaw a nightmare run for Ronaldo at international level, where he failed to score or set up a single goal for Portugal in a competitive match for two whole years.
Queiroz was unlucky in that Ronaldo was injured when he began the job, missing the opening stanza of Portugal's World Cup qualification campaign. By the time he returned, the Quinas were already in trouble following a disastrous home defeat to Denmark. His very position was being questioned just a few months into the job, a situation which was never likely to transpire at United, where he could give Ronaldo the benefit of plenty of attention whilst under no pressure.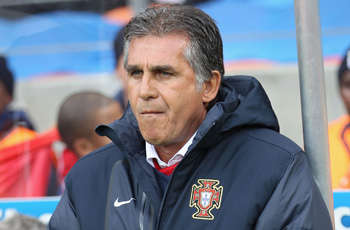 History and circumstance has seemingly always been against Queiroz since he came back into the job. He was burdened with over-expectation created by the successes of Luiz Felipe Scolari's reign - and the media have scarcely wasted an opportunity to attack him at the merest sign of problems - but inherited his squad just as it had started to come apart. Unlike the Brazilian, he had no opportunity to call on the stellar likes of Luis Figo and Manuel Rui Costa, but only a set of Ronaldo's contemporaries like Joao Moutinho and Miguel Veloso who weren't developing at the expected rate.

The coach reverted to type, pulling Portugal out of their qualifying hole with a sturdily-constructed defence not only as their backbone, but their overwhelming trait of personality. His backline organisation had been credited for Manchester United's European successes and pulled his country from the jaws of failure. Few thought ahead as to how Queiroz might develop the side into something more expansive.

He has seemed lost when challenged to do that. Even with time to prepare for the finals, he has not been able to build his team around Ronaldo, as surely would have been the key to Portuguese success. The coach has switched him between wings and even used him as a lone frontman against Brazil, when he looked desolate.

Sadly, that has mirrored the cut of Ronaldo's jib for much of the tournament. He was the one man who could have saved Portugal after David Villa put the Spanish ahead last night, but Queiroz was unable to find the formula to bring him into the game. Again.

Losing in such a meek fashion against many of his La Liga peers will have deeply hurt Cristiano Ronaldo. He has arrived at the pinnacle of the world game on the back of his hard work and extraordinary ambition. Sadly, this is not a characteristic that he shares with his coach. Queiroz is likely to pay for this with his job in the weeks to come.