A second-round clash with
Spain
is a tough task for
Portugal
, but it was a fixture that was always on the cards, ever since the
World Cup 2010
draw was made in Cape Town back in December last year. It is safe to say, however, that
Carlos Queiroz
and company will be somewhat less daunted by the prospect than they would have been seven months ago.
Not that there is a doubt over Spain's pedigree. The reigning European champions command respect, as well they should. Coming into the tournament they had lost just once since the Vienna final in 2008, when they fell to the United States at the semi-finals stage of last summer's Confederations Cup.
They doubled that defeat tally in the opening game of this tournament, against Switzerland in Durban, but this freak result is little slight on their quality. Spain still have the tournament's best striker in the shape of recent Barcelona acquisition David Villa, a plethora of supplementary attacking options (Fernando Torres, David Silva, Jesus Navas), and the world's most metronomic and precise passer in the extraordinary Xavi. They can even afford to leave Cesc Fabregas, a player whose prospective transfer may command a fee over the £50m mark, on the bench.
So how do a Portugal side, for whom the talismanic captain and creative fulcrum Cristiano Ronaldo has only recently broken a two-year international scoring duck (and that towards the end of a mauling of a dispirited and broken North Korea), have a sniff of a chance? Even history is against the Quinas. Portugal have beaten Spain only five times in 34 meetings stretching back to 1921, though they were victorious the last time the two came together - in Euro 2004, where Luiz Felipe Scolari's side's 1-0 win in Lisbon sent Spain out of the tournament.
Lisbon is as good a starting point as any. This was the last occasion on which Spain exited a major championship at the group stage, so that match brings back memories of a time when Spain were synonymous with perpetual underachievement on the biggest stage. That win liberated Portugal. It was their first win over their Iberian neighbours since 1981, and the country went nuts. It gave them an enormous sense of pride, and gave the team the boost to go on a run to the final, improving on their eye-catching achievement of reaching the semi-final in the previous Euros, where they lost to eventual champions France.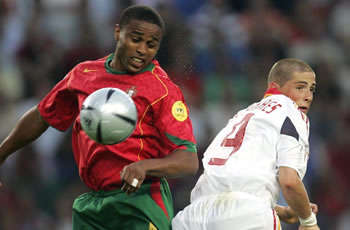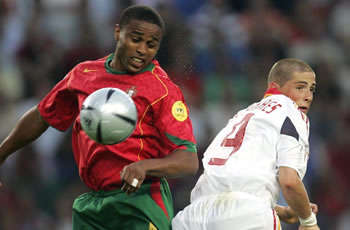 Euro 2004 ¦ A landmark Portuguese triumph
France themselves are an important point in Portugal's battleplan. Exactly four years ago last Sunday it was Raymond Domenech's men who pulled a surprise by knocking Spain out of the World Cup in Germany at this very same stage, the last 16. Luis Aragones' side had looked peerlessly stylish in the group stages, while the French had crawled through a fairly simple looking group, gaining qualification in the final game with a laboured win over Togo.
Spain started brightly in Hanover, took the lead through Villa's penalty, and all looked rosy. The difference between Spain and France was like night and day, humour and witlessness, concrete and clay. Then came Franck Ribery, sprinting through as the first half approached a climax and rounding Iker Casillas to level the scores. Domenech's men went on to muscle the Spanish aside in the second period with goals from Patrick Vieira and Zinedine Zidane.

The Spanish XI that night was very similar to the one which will take the field in Cape Town tonight. Only Raul, Pablo and Mariano Pernia are gone from the Hanover XI. Whatever the line-up, their plan will be similar, the "tiki-taki" short passing recently defended by Xavi as a reasonable tactic to win a World Cup.

Portugal, meanwhile, will play like France - rugged, unflashy, functional. It was no secret they were built on a tough defence before the competition began, and they have not ceded a single goal since arriving in South Africa. Their final group game, the turgid draw with Brazil, saw another important element return to the mix - Pepe, who has made his name playing at centre-back for Real Madrid but whom Queiroz uses as a midfielder, sitting in front of the back four.

That he is difficult to pass and comfortable in distribution is one plus; the fact that he rubs shoulders with most of the Spanish squad in his day job an even bigger one. The replacement of Deco with Tiago has also helped to address the problem of a soft centre that opening match opponents Ivory Coast had laid so bare.

Of course, while France made Spain uncomfortable with their physical power, they needed finesse too. Fortunately, Portugal already have their Zidane in Cristiano Ronaldo. Stylistically, these two Real Madrid stars of different eras are quite contrasting, but they have the same effect - a team totum, and a cutting edge. Ronaldo's pace will be key, particularly in wide areas against his occasionally clumsy club-mate Sergio Ramos and perceived weak link Joan Capdevila.

Normally weaknesses are hard to spot in the Spanish make-up, but they have looked strangely fallible in this World Cup. It could be blamed on the huge expectation that is part of being European champions (and ones of such impeccable stylishness), but fitness concerns have hung over the squad for many weeks now. Fabregas has just returned from injury, Andres Iniesta has been dogged by muscle complaints and Fernando Torres looks a half-fit shadow of his imperious best.

Ironically, the biggest injury problem for Spain is news of one that is fit. Xabi Alonso is expected to recover from the ankle injury suffered against Chile to retain his place, so Vicente Del Bosque will go again with two midfield sitters. If ever there was a game where he didn't need both, then this is it. Portugal are notoriously difficult to breach, so the selection of Fabregas - the only Spain midfielder capable of consistently making late runs into the box and a fine goal creator to boot - would be more adventurous. But it won't happen.

This is the bottom line. Portugal will come to sit, hold and break. As they often do. Del Bosque's men have already shown in this tournament that they struggle to get through a packed defence - in their opening game, against Switzerland. Ottmar Hitzfeld and company had to ride their luck, and maybe Portugal will have to too. But there is no doubt that the latter have more quality than the former. Ronaldo put one over the team of his nation of residence four years ago in Germany, and he would love to do it all over again. Perhaps this is the most pertinent omen of all.