In our World Cup Comment series, individual writers at Goal.com offer their views on the hot World Cup topics of the day with local expertise and a global outlook...

Much has been made of Argentina, Spain and the Netherlands' appetite for joga bonito at the 2010 World Cup while the likes of Chile and Mexico have also been highly commended for playing the beautiful game.
But the one country that everyone wanted to see turn on the style in South Africa was Brazil. Not Dunga and his 23 soldiers, though. And based on their dismantling of Chile in Monday night's last-16 encounter, they have every reason not to follow the trend and stick with their own brand of football.
It's difficult to categorise Brazil's current style. While it has a distinct European feel to it, they are by no means a defensive side. They do like to absorb pressure and they do it very well, but every time they bring the ball forward, there's still a gasp of excitement in the air as fans wait with baited breath to see what feast will be served up.
The Selecao's 3-0 thumping of the Chileans once again highlighted how effectively balanced Dunga's Brazil are. Each of the three goals perfectly summed up their style of play: direct and lethal on the counter-attack with a very subtle hint of Samba beat hidden between the lines of play.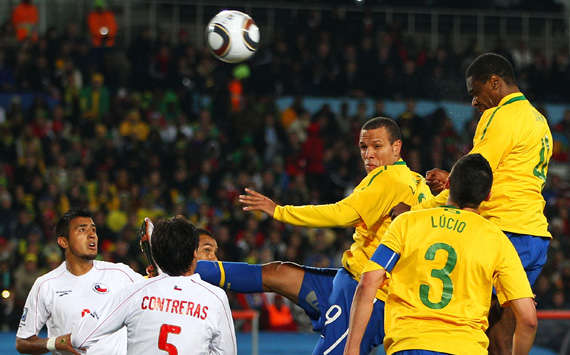 Get a head | Lucio puts Brazil one up
Juan's opening goal from a header off a Maicon corner is about as un-Brazilian as the archetypal Brazil can get. Described and labelled as a typical 'English' goal, it's the kind of goal that Dunga and his players always look for to open the scoring as it gives them the freedom to just relax and slowly ease into a more attractive style of play.
The second and third goals are proof of that. Both were scored on a blistering counter-attack and yet, they captured everyone's imagination. First, there was Robinho's charge down the left wing which teed up Kaka to cushion on the most delicate of through balls to Luis Fabiano, who proceeded to round the goalkeeper and tuck into the empty net.
Then there was Ramires' lung-bursting 40-yard dash which set up Robinho for the sweetest of finishes. Two goals on the break that can only be made to look so good by Brazilians. Simple yet elegant at the same time.
To further illustrate how little Dunga cares about fancy flicks, dizzying step-overs and jaw-dropping tricks, and how little the players have been practising their Samba moves, look no further than Luis Fabiano's embarrassing attempt of a backheel and Kaka's equally horrible effort. But who needs backheels!
While the Netherlands and Spain, and indeed many other teams, are struggling to juggle between playing good football and avoid getting eliminated from the World Cup, Brazil seem to have found the right mix between efficiency and entertainment.
But just how far can they go with this type of football? Well, the Dutch are about to find out next.
No trip to South Africa is complete without a visit to its most beautiful and sunniest city. Durban offers much more than sandy beaches, safaris, casinos and the World Cup, for information on what to do and see, please click here.