Four games at the 2010 World Cup for the Netherlands and four wins, seven goals scored and just two conceded - both from the penalty spot. Things appear to be going along quite smoothly for Holland, right?
Well, not entirely.
The Dutch have deserved to win all these four matches, and were once more the better side against the Slovaks in Durban, but they are not firing on all cylinders - offensively and defensively.
Arjen Robben made his first start of South Africa 2010 and broke the deadlock on 18 minutes from just outside the area following a trademark cut-in-from-the-right.
The Oranje controlled things for the larger part thereafter, and were close to doubling their advantage through Joris Mathijsen and Robben again. But the Repre enjoyed some extremely dangerous moments in the second half, and Italy's conqueror Robert Vittek should have equalised on at least one occasion.
Holland escaped, and killed the game off with six minutes remaining through Wesley Sneijder, meaning that Vittek's injury time spot-kick was academic.
As
Goal.com
International's Dutch expert Stefan Coerts noted, "The start of the game was pretty encouraging. Sneijder finally showed his class at this World Cup when he found Robben for the opener, but Oranje then returned to the type of football we've seen them play in the group stage.
"They lacked the creativity up front to trouble the Slovakian defence, bar the moments where Robben was involved, and the Dutch defence weren't focused enough to keep the opposition attackers quiet.
"Gregory Van der Wiel was quite disappointing, while the centre backs allowed Vittek too much space on occasions. Things could have gone wrong if it weren't for Maarten Stekelenburg, who demonstrated that he's a class act between the sticks."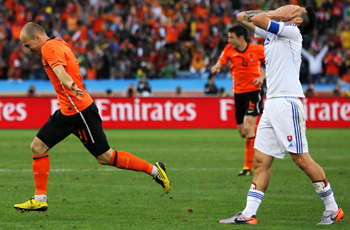 While the Netherlands are into the quarter-finals with a 100 per cent record, and just three games away from World Cup glory, they will certainly need to move up at least a couple of gears if they wish to beat the winners of tonight's Brazil-Chile clash on Friday.
The five-time champs will certainly make Holland pay if they are gifted the same chances Vittek was in front of goal, while the impressive Chileans are so fast and free-flowing that you could almost mistaken them for Holland '74 or Holland '88.
The final word is reserved for Slovakia, who will be proud of their first ever participation in a World Cup finals as an independent nation. After a difficult opening two matches, the central Europeans qualified from Group F by eliminating champions Italy with the greatest victory in their 17-year history and then ran a star-studded Holland team very close in the last 16.