By
Andy Brassell
So it's all over then, for this most feted of Golden Generations. Yet the most humbling aspect of
England
's
World Cup
dumping by
Germany
was not necessarily a feeling of unfulfilled promise but of a genuine gulf in technique and inventiveness. Was the core of of this England side ever equipped to furnish the dreams of so many?
It should be lost on nobody with even a passing interest in the development of England's footballing talent that four of Joachim Loew's first XI in Bloemfontein had also started in Malmo almost exactly a year previously, when Germany's youngsters hammered their English counterparts 4-0 to lift the 2009 European Under-21 Championship.
Significantly, two of Germany's impressive young midfield in South Africa, Sami Khedira and England's tormentor-in-chief Mesut Oezil, were among them.
Oezil had created the opener in Malmo before scoring the second, and stepped up effortlessly to run the show for the seniors this year. The cream of England's Champions League regulars, even with partial immunity granted to the admirable and persistent Frank Lampard, were pedestrian by comparison.
The alarm bells were ringing long before John Terry's frankly alarming admission in the build-up to the final group game with Slovenia that club-mate Joe Cole and Wayne Rooney were "the only two in the side who can really open things up and be the key to breaking down defences".
Cole is worth evoking in this context. He is fairly blameless for this latest World Cup failure, having had little chance to influence proceedings in the tournament.
The soon-to-be ex-Chelsea midfielder got an 18-minute turn at the end of the Slovenia match, followed by a 63rd-minute entrance against the Germans, with England trailing and threatening to create little outside the staple of set-pieces, where Lampard and company hoped to prey on the oft-uncertain handling of young Manuel Neuer.
Cole again saw far too little of the ball, stranded on the right side of midfield with a clear vacuum existing in England's centre.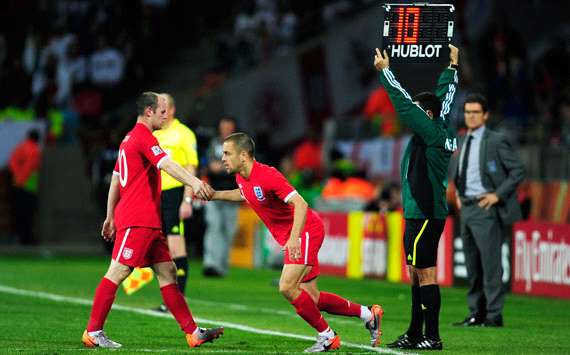 In the running | But Joe Cole's involvement at World Cup 2010 was limited
Speaking after the game, Cole swiftly turned his attention to his next move at club level. "Wherever I go, it'll be a footballing decision," he told reporters. "I want to play in a more central position and I want a manager who has faith in me. And I'm talking about club football here."
It was necessary to make the distinction. In recent months the former West Ham man has talked passionately about his love of representing his country, and betrayed not a little pride about his past performances for England, as he has every right to do. He feels more at home, he has said, with the "tempo" of the international game.
He has had to fight tooth and nail to bring that influence to bear, and successive England regimes have struggled to take the leap of faith to accomodate him, especially in his preferred central position, where Cole feels he could pull the strings more adroitly.
For the roots of this, we should go back to March 2002, and the friendly with Italy at Elland Road, Leeds, as England prepared for their first World Cup under the guidance of Sven-Goran Eriksson.
Winning his third cap, it was the then 20-year-old Cole's loss of possession in his own half that led directly to Vincenzo Montella's equaliser for the visitors.
Eriksson talked post-match about Cole needing to learn when to play and when to pass, but he would barely ever again grace a central midfield area for his country to display what he might have learned.
He would not start a competitive international until the World Cup qualifier with Northern Ireland at Old Trafford three years later, when he opened the scoring in a 4-0 win.
It's easy to square Cole's problems - and the general dearth of midfield creators - with England's traditionally deep mistrust of flair players, which notably blighted Glenn Hoddle's international career. For many, it still defies belief that one of the most gifted players to ever pull on an England shirt finished his career with a mere 53 caps.
Hoddle's coach at Monaco, Arsene Wenger, felt he was misunderstood, and Michel Platini famously lamented that Hoddle would have won three times as many international caps had he been born French.
Maybe Cole should have had the adventure to try his hand abroad, where his technique and vision would have been more appreciated, and thus developed. Instead, Jose Mourinho - the coach credited with making him a viable option for England - chided him in his early days at Stamford Bridge for not putting in the hard yards, and arguably took much of the joy from Cole's game, restricting him to wide areas.
All these things only tell us that England doesn't produce creative midfield talent - that Cole and Hoddle have been problems for the national team to solve, rather than gifts to be exploited - but not necessarily why.
The initial wake-up call that England were not tactically and technically world leaders came almost 60 years ago, when Hungary's Mighty Magyars became the first team from outside the British Isles to win at Wembley in 1953.
The World Cup win of 1966 refuelled English notions of superiority, just as in modern times the rampant commercial success of the Premier League - and the domination of the latter stages of the now-Champions League by its biggest clubs - has allowed the FA to continue to bury its head in the sand about the problems relating to player development.
It is only recently that Sir Trevor Brooking, now the FA's director of football development, has ceased to be dismissed as a joyless crank, warning about the non-production of technically - as well as physically - adept players for the national team. It is high time that Brooking's role was given some teeth.
The inflexibility of the current crop, and especially its midfield, has been underlined by its incredible over-reliance on Gareth Barry, for whom Fabio Capello extended deadline after fitness deadline to enable him to join up with the squad. Barry fulfills a key role in Capello's system, acting as not just a defensive shield but as a means of passing the ball out from the back.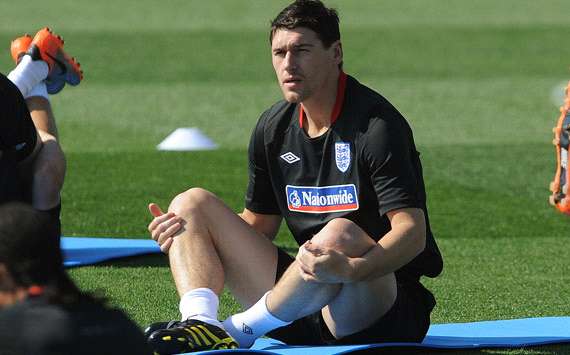 Worth the fitness fight? | Reliance on Barry has exposed England's inflexibility
He inexplicably escaped criticism for his poor distribution in the win over Slovenia, a flawed team performance that benefitted from flattering comparison next to the previous Friday's farrago against Algeria.
This was a tacit acknowledgment of a lack of alternatives, something that cannot been pinned on Capello, whatever one makes of his sometimes-baffling squad choices and tactical plans of the past month to six weeks. The one viable substitute, had he been fit, would have been Owen Hargreaves - a player whose own footballing skillset was formed in Canada and Germany.
In a match report of last summer's European Under-21 Championship final,
The Daily Telegraph
's Henry Winter wrote the following. "Germany's No 10 ran the game," he said. "England's No 10 ran around. Mark Noble is an honest, hard-working pro, but he lacks the technical expertise or vision of Oezil."
When put in this context, it is not difficult to see why Premier League fans jealously raise their eyebrows at the sight of Arsenal's Cesc Fabregas warming the bench for his native Spain.
After the failure to qualify for Euro 2008, the FA promised 'root-and-branch' reform of the system, but even at this comparatively early stage, how much has it really delivered?
Capello is a great coach, but one who can only work with the tools provided. There can be little confidence that the shed is going to be restocked any time in the near future.
o