In our World Cup Comment series, individual writers at Goal.com offer their views on the hot World Cup topics of the day with local expertise and a global outlook...


Chile have made more than a few friends in this World Cup. With tepid defensive play prevalent, Marcelo Bielsa's side have bucked the trend of unimaginative football with their creative, fluid, attacking style, but the end of the road may be nigh for la Roja, who must meet Brazil on the field of play on Monday evening.
Historically this is not a healthy match-up for the Chileans. In 65 previous encounters against their South American cousins, they have claimed only seven victories, and recently their record has deteriorated further.
Bielsa's men may only have finished just shy of Brazil's pace in the World Cup qualifiers, recording more wins in the process, but they twice succumbed to the attacking power of the Selecao, losing 3-0 at home and 4-2 on the road. In fact, real beatings against the most successful World Cup nation have become de rigour, with 3-0 and 6-1 hammerings at the 2007 Copa America succeeding a 4-0 friendly loss earlier that year.
Surely the Chileans' recent upswing in notoriety must mean that they stand a chance of causing a real upset against Brazil, right?
Dunga's outfit should not take a carefree attitude into this encounter, as Chile have already proven they are no mugs. Only losing 2-1 to Spain was an achievement in itself given the circumstances, and the manner in which la Roja (the South American version, that is) played can only offer more hope to their well-wishers.
"We could see that they came out to play even when they had a player sent-off," Gilberto Silva warned the press after watching Chile test Spain, according to
Globoesport
. "They'll come out to play, not just defend."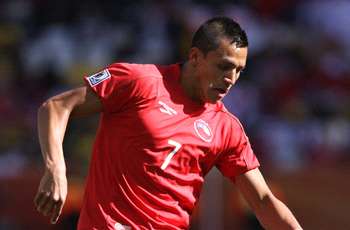 The Selecao, meanwhile, have looked pedestrian at times. Unspectacular in beating North Korea 2-1, they also struggled for fluidity against Portugal. Only against Cote d'Ivoire in a 3-1 victory have they truly shone for any significant period.
Chile have the offensive threat to be able to take advantage of potential weak links in the Brazil chain. Alexis Sanchez has been one of the stars of the tournament and should be fancied to maintain his strong run of form against Michel Bastos, who is an attacking left-sided midfielder shoehorned into a full-back role, while the sheer audacity of Bielsa's attacking set-up has caused confusion and panic for all Chile's opponents to date, even if the South Americans haven't necessarily scored the goals they might have.
Humberto Suazo, the top marksman in South American qualifying, is expected to return to the Roja side after injury, adding a potentially dangerous element to the Chileans' play. And increasing the danger levels for Brazil is the loss of anchoring midfielder Felipe Melo, who misses out due to injury.
But the threat of Chile should not be overstated.
Spain may have been given awkward moments by the South Americans in their final group match, but la Roja have since been hit by a handful of acute selection problems, most notably in a defensive sector that had previously been functioning strongly.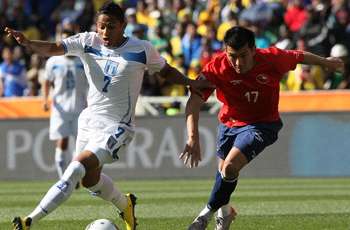 Gary Medel, fondly known as 'Pitbull', picked up a second yellow card of the tournament against the Spanish and will sit out the last 16 encounter, and a similar fate is also reserved for Waldo Ponce. The importance of this duo is underlined by the fact they occupy the top two spots in the Castrol World Cup Rankings – meaning that they have been statistically the best players of the competition to date.
But there is further damage. Marco Estrada was dismissed in the first half of the Spain match and he will take no part in this fixture either, leaving the normally attack-minded Bielsa to scrape around in an attempt to reshuffle his defensive unit. Just how effectively he can complete this task may determine the outcome of what promises to be a fascinating game and a genuine test for the side now labelled as World Cup favourites.
Robinho believes that playing at a high tempo and using the entire width of the field will be vital in securing a quarter-final berth. "Our team needs to be fast," he said. "We must play well the whole time. In addition to speed, our team must use the whole width of the field."
Dunga's winning machine should chalk up another victim come Monday evening, but it will have to be a victory hard fought and justly won against a team who boast the attacking endeavour normally associated with the Selecao.