Aloof & over-protected - little wonder Rooney & Co didn't enjoy World Cup
By Amar Singh in South Africa
If you are staying at the same hotel as the Ghana team, chances are you could find yourself in the gym working out next to Asamoah Gyan or Richard Kingson.
These players are the darling sons of Africa right now after getting the Black Stars into the quarter-finals, yet they are friendly, accessible and chatty.
When you compare this to the ring of steel that surrounds England and their state-of-the-art Royal Bafokeng complex you realise that the footballers at this World Cup do not just live in different countries - they live in different worlds.
The perception that the England team are the most aloof and their players the least friendly bunch of all 32 teams that came here is one shared by many supporters, journalists and sponsors at this World Cup.
One friend who works for a major sponsor tells me that he has no problem dealing with some of the biggest stars of the game when he needs to get them to do interviews or events - except for a couple of England players who, he says, are surrounded by a flurry of agents and red tape.
Indeed, for the non-English journalists out here battling to get some words with some of the players after a match, the contrast between how accessible players from other teams are compared to how so many England players simply refuse to speak to anyone from the international media could not be starker.
The abrupt press conference held on the eve of the Germany game, in which questions were invited in English only (despite Fabio Capello's ability to speak Italian and Spanish) only strengthened the feeling that England are the snobs of the World Cup.
Wayne Rooney's silence since the start of this World Cup says it all.
Bar one press conference between the Algeria and Slovenia match, Rooney has cut a remote, distant, sullen and overprotected figure.
Some insight and honesty into why things were not going to plan for him would have been refreshing.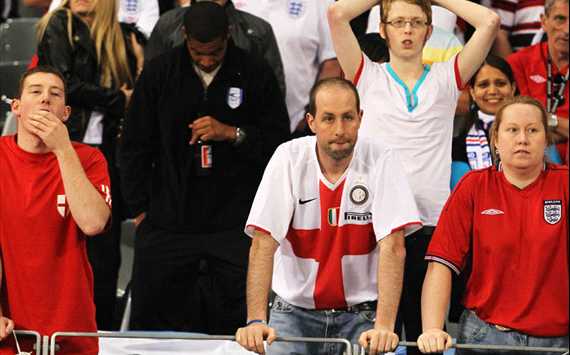 Out on their own | England fans received little thanks from the players they backed so well
England have long been one of the most high-profile teams in football but that was borne out of success, namely winning the 1966 World Cup.
But it wasn't always like this. Journalists who covered previous World Cups regale us with tales of how the likes of Paul Gascoigne and Chris Waddle would have a drink in the hotel bar with the English sports reporters during Italia 1990.
It made the players seem more human and made for a much happier relationship between the media and the team.
And what about the supporters?
England fans have been the most vocal, the most passionate and have spent the most money at this World Cup, yet it was not until yesterday's defeat that the dejected players actually made a show of applauding their fans.
England's four opponents at this World Cup all showed more warmth and appreciation towards their supporters at the final whistle.
The Premier League and its phenomenal success has made our players superstars of club football.
Stevie G, Lamps, Wazza and JT came here not just as players but global icons who could count on support from not just England but the whole of South Africa.
But despite their so-called star status, they have once again failed to deliver, and there are not a lot of people working at this World Cup who will shed a tear for them.