In our World Cup Comment series, individual writers at Goal.com offer their views on the hot World Cup topics of the day with local expertise and a global outlook...
Before Germany sent England packing with a 4-1 defeat, I wrote
an article
on the ways Jogi Loew's side could win or lose the match. Below is an assessment of how well Germany fared in the critical aspects of today's game.
Factors In Germany's Favor

1) Control The Midfield
The final statistics may show that Germany completed 66% of their passes to England's 70%, but the gap was far wider until the final half hour. For the first 60 minutes, Germany were hovering around 57%, and lost the possession battle by 58-42%. By full time, that possession deficit changed to 51-49%, but much of the possession gap was recovered after the result was decided. For most of the game, Germany didn't even come close to controlling the midfield. They did close down well in defense, however, and were exceptional in transition.
2) Counter-Attack
Miroslav Klose's opener was rather abrupt and primarily came down to the Bayern Munich hitman out-muscling Matthew Upson. It wasn't classic counterattack, nor was Lukas Podolski's second, which came from some splendid passing between Klose, Thomas Mueller, and Podolski, who finished with aplomb. Nonetheless, both goals involved set-up play from deep, which is exactly what Germany do well.
Both of Mueller's second half goals did come on the counterattack, as did a host of other opportunities. Germany really put England to the sword today, and did so primarily because of such phenomenal play while in transition.
3) Get The Best Out Of Lukas Podolski
Podolski made a good run and better strike for the second goal, but actually did not get behind Glen Johnson all that often. Bastian Schweinsteiger took Podolski's position in the play leading up to Mueller's first, and Mesut Oezil moved into that role ahead of Mueller's second.
Before the game, my point was that Johnson is a weak point in the English defence, and that Germany could exploit his oft-questionable positioning through Podolski. In the end, it wasn't just Podolski who did that; other members of the dynamic German attack moved into the left channel to cause England problems.
4) Use The Lahm Factor
Today may have been Philipp Lahm's worst match of the World Cup. He was by no means bad, but the right back rarely made his way forward, and was rather errant with his passing. His poor form didn't hurt the Germans because they went ahead early and accordingly, were able to use the counterattack as England threw men forward. If not for the early goals, however, Germany may have had a tougher time.
5) Play With More Confidence Than England
Germany had much, much more confidence than their opponents today. After each German goal, England looked dejected, and often came close to conceding another within seconds. There is one caveat: Germany showed the Three Lions far too much respect going forward, and swapped their slick passing style for a more rigid defensive stance. That change was nearly costly.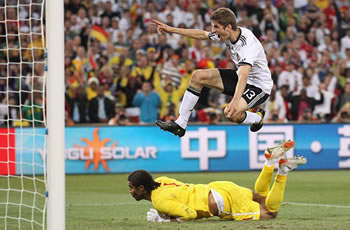 Ways Germany Could Have Lost
1) Become Isolated In Defence
Fabio Capello didn't use his faster players, and that can be regarded as a big mistake from the England boss, especially given their occasional counterattacking opportunities. Generally speaking, Germany were well organized in defence, and used two lines of four men to avoid leaving any defenders in one-on-one situations.
2) Concede From Set Pieces
When you're 2-0 up in the first half, it isn't a time to lose focus. Upson's headed goal to pull one back for England gave the Three Lions hope for the game, and to be fair, they should have equalized before Mueller's brace. From a German perspective, the England goal was completely avoidable. Nobody came out to pressure Steven Gerrard's cross, and Jerome Boateng allowed Upson to beat him to the ball.
3) Collapse Under Pressure
This obviously didn't happen, but Germany did allow their lead to slip, and allowed momentum to swing into their opponents' favor. Against a better team, like Argentina, such mistakes would surely prove costly. Ultimately, it was England who collapsed under pressure, however. This factor will be one to watch when Germany play in the quarterfinals.