In our World Cup Comment series, individual writers at Goal.com offer their views on the hot World Cup topics of the day with local expertise and a global outlook....


Five Ways Germany Can Beat England:
1) Control The Midfield
Under Fabio Capello, England have struggled to cope when down a man in midfield, and have often resorted to punt-and-run tactics rather than weaving through a congested centre of the park. In this regard, Joachim Loew's favoured 4-2-3-1 system is perfect for today's match. Depending on his health, Bastian Schweinsteiger can shackle Frank Lampard, and due to their unorthodox movement, Mesut Oezil and Sami Khedira will have Gareth Barry scrambling all over the pitch.
2) Counter-attack
Featuring three natural centre forwards, two of whom play out of position on the flanks, it is no surprise that the "new Germany" plays best offensively when in transition. Against Serbia and Ghana, sides who featured deep-lying defences, playmaker Mesut Oezil ran out of pitch to use for his throughballs. England will want to attack, so Germany should have opportunities on the break.
3) Get The Best Out Of Lukas Podolski
As a result of No. 2, Germany need a good game from left winger Lukas Podolski. Glen Johnson may be a good attacking full-back, but he is a soft spot in the English defence. If Podolski can get behind him, it can not only create German goals, but force England to revise their plans on the right wing.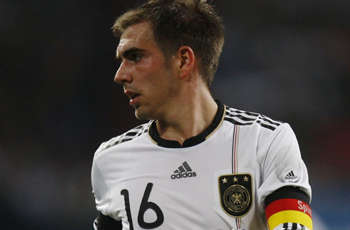 4) Use The Lahm Factor
If Capello opts to reinstate Aaron Lennon, whose blistering pace would pose major problems for Germany, in his starting XI, then Steven Gerrard would start on the left wing. In each of England's previous games, the Liverpool captain has tended to play very narrow, especially when England needed a goal. With all this in mind, Philipp Lahm can exploit the space left in Gerrard's wake and team up with Thomas Mueller to take on England left-back Ashley Cole.
5) Play With More Confidence Than England
England limped into the Round of 16. They could have won their group by scoring another goal against Slovenia, but were too wary of conceding the equaliser. Instead of actively seeking another goal, Capello's side spent the final minutes of their 1-0 victory running the ball into the corner and wasting as much time as possible.
Germany, by contrast, would have had an easier path to the semi-finals had they earned a draw with Ghana. Even with second place all but secured due to Australia's two-goal lead over Serbia, the Germans played hard for a win, earned it, and topped their group. To reach the final, Germany will likely have to beat England, Argentina and Spain. It takes confidence to accept such a challenge, but this confidence is what makes champions… and wins penalty shoot-outs.
Three Ways Germany Can Lose To England:
1) Become Isolated In Defence
Wayne Rooney, and especially Aaron Lennon, are too fast for those who will be marking them. Due to lack of pace, as well as the currently questionable form of Per Mertesacker, Germany cannot afford to become stretched across the back. Only team defending will preserve a clean sheet.
2) Concede From Set Pieces
When these teams last met in 2008, England won 2-1 thanks to a pair of goals from central defenders following corners. Since then, Germany have improved in defence, but set pieces will always be sources of danger, especially when coming from a very physical English side.
3) Collapse Under Pressure
Germany's most recent clash with a top 15 team ended in a 1-0 loss to Serbia. Now, Loew's young players have to take on another top team in a real pressure cooker. Having played in the Champions League or European U-21 finals, the German youngsters (Toni Kroos aside) are fairly well adapted to playing under major pressure. Still, it is difficult to prepare for a match such as today's. Extra reasons to stress, such as the recent death of Mesut Oezil's grandmother and possible unavailability of Bastian Schweinsteiger, could pose problems.