Brazil's blockbuster firecracker with Portugal in the final Group G clash was billed as the most highly anticipated game of the group stages.
With players like Cristiano Ronaldo, Kaka, Deco, Robinho and swashbuckling full-backs such as Fabio Coentrao, Maicon and Michel Bastos, you couldn't be blamed for expecting a humdinger of an encounter when the draw was first made back in December.
It was, however a far cry from the exhibition that both teams – Brazil especially – put on back in November 2008 in a friendly which the South Americans won 6-2, a game that unquestionably planted the seed of expectation that Friday afternoon's contest was going to be another classic. That and the fact that Portugal coach Carlos Queiroz personally guaranteed that it would.
But the Portuguese, it would turn out, resorted to "violent" defending, as Brazil coach Dunga would put it, while the Selecao themselves, without the inventiveness and the inspiration of Robinho and Kaka, had little creative flair to break down their opponents.
With Elano also out, a player who may not be overly flamboyant but is a vital attacking figure for the side nonetheless, it was no surprise then that this was only the second time in their last 24 games that Brazil have failed to score a goal inside 90 minutes.
In the end, the Canarinha resorted to European-style long balls and English-style speculative crosses from the flanks. Granted, not all of them went to waste and indeed, Brazil carved up their best chances with this approach.
The South Americans also enjoyed the lion's share of possession, and they did amass 19 shots with five on target, but any feeble attempts to catch out their opponents with quick, one-touch passing football fell flat faster than Cristiano Ronaldo could scamper forward on the break.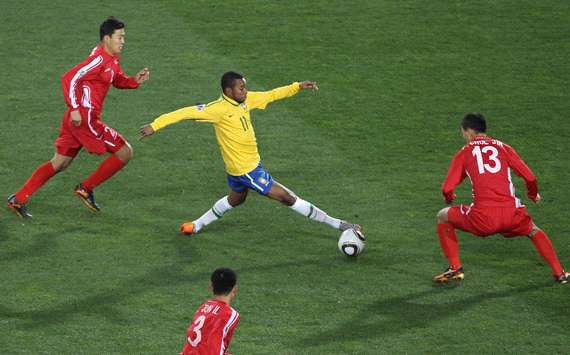 Playing Nilmar, a traditional right-footed target striker on the left side of attack in place of Robinho, highlighted just how thin Dunga's offensive options are, even though the Villarreal hitman had inarguably the best scoring chance of the game.
Julio Baptista meanwhile was thrown into the fire as Kaka's replacement, but the 'Beast' flopped horribly when he was asked to take on the playmaker role and provide regular service to lone striker Luis Fabiano.
The prospect of Maicon and Dani Alves combining down the right wing would have been enough to wet anyone's lips, but the duo failed to really click on the pitch, while Michel Bastos was unable to create much headway on the opposite side without the aid of Robinho.
Kaka will return from suspension for the last-16 clash against Chile and Robinho will also be reinstated to the starting XI to reinvigorate the team's attacking thrust, but Friday's stalemate where Brazil had to trudge through without their only two creative players will surely be a concern for the Selecao faithful, especially with the threat that one or both of them could go missing in subsequent games.
Knockout matches in the World Cup tend to be tight and cagey affairs and if Brazil do happen to have an urgent, desperate need for goals, they could be in trouble if they do not have Robinho and Kaka to count on.
Dunga could find himself being left to sink in the same boat as Italy's Marcello Lippi. The heavily criticised departing Azzurri tactician stubbornly refused to call up any genuine creative players to his 23-man squad and he paid the price heavily as Italy made an embarrassing early exit from the tournament because of their utter ineptness in attack.
Brazil, even without Robinho and Kaka, are nowhere near that catastrophic, but if they do go out of the 2010 World Cup due to their inability to score when it matters most, there will be no doubting where the finger will be pointed at.