In our World Cup Comment series, individual writers at Goal.com offer their views on the hot World Cup topics of the day with local expertise and a global outlook...
The worst should be over. Monday's pummeling of
North Korea
should - should - have given
Carlos Queiroz
a bit of much-needed breathing space, with
Portugal'
s qualification for the last 16 of the
World Cup
assured barring a colossal turnaround in goal difference between the Quinas and the
Ivory Coast
. Yet even ahead of a potential second-round meeting with European champions
Spain
, there is the considerable hurdle of
Brazil
to face in Durban.
Anybody who tells you that Friday's match is some sort of phoney war is kidding themselves, or merely mistaken. It matters every time these two play one another. For Brazilians, it is a welcome opportunity to put one over the erstwhile colonial masters, while for Portugal it is a chance to improve on a dismal head-to-head record with the five-time World Cup winners. Since the first meeting in Lisbon back in 1956, Portugal have won only four times in 18 attempts, though two of those have come in the last three matches.
The historical links between the two countries have become even more keenly reflected on a footballing level in the last few years. Much controversy accompanied Brazilian-born Deco's first call-up for Portugal, a situation given a further twist by the midfielder making his debut against the country of his birth in March 2003, and scoring in a 2-1 win. He has since been joined in the squad by the similarly-naturalised Pepe and Liedson, who, like Deco, have made the bulk of their senior careers in Portugal.
These three are not the only ones in the Portugal camp with Brazilian blood. Porto-born Bruno Alves' father - and agent - Washington is Brazilian, and the centre-half's four uncles were all professionals in Brazil in the 1970s. The most celebrated of these was Geraldo, who played in the same Flamengo side as the legendary Zico, who was a close friend.
An extravagant midfielder, Geraldo was capped seven times by Brazil in his short career. He died tragically and suddenly in 1976, at the age of 22, after going into anaphylactic shock during a routine operation to remove his tonsils. The normally-taciturn Alves spoke movingly about the uncle he never met to the Portuguese media on Wednesday. Playing against Brazil, he admitted, is very special for him.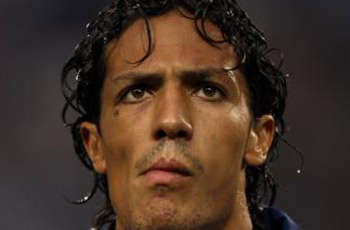 Family ties | Lining up against Brazil a proud moment for Bruno Alves
There is also the issue of who will be group winners of course, with Brazil needing just a point to clinch top spot, but outside the morale boost of a win the merits of this are debatable. The runners-up actually get a day's extra rest before playing their second round game in Cape Town on 29th June, as opposed to Johannesburg the day before for the number one - so it could be argued that a draw would suit Queiroz and company fine, keeping their pride intact and giving them 24 hours more to put their feet up.
Recent history is what will make Durban matter most to Portugal. The last time they faced Brazil was in a November 2008, unusually set in the poky Mane Garrincha stadium in the capital, Brasilia. After taking an early lead through Danny, Portugal were tanked, 6-2, a humiliation that represented perhaps the lowest ebb of Queiroz's nascent second spell in charge. Both coach and team were heavily criticised in the Por tuguese media as having disgraced themselves after a display that said 'mid-season jolly' rather more than it did 'prestige friendly.'
If Portugal show any sign of weakness in this final group match, they will be torn asunder again. Dunga's Brazil is a rugged and ruthless machine, as they showed in their qualification-gaining win over the Ivory Coast. Luis Fabiano is the unerring spearhead, but the Iberians will not have needed to see his brace in that game to know that;
O Fabuloso
hit a hat-trick against them on that night in Brasilia.
Brazil are a genuine test for Portugal, a yardstick to measure where they are. They have a similar physicality to the Ivory Coast, an aspect which posed the Quinas increasing problems as the opening game went on. Dunga's side of course have far greater technical ability than the Ivorians, and rampaging full-backs to add to the equation. Maicon will give the thus-far superb youngster Fabio Coentrao a thorough examination of his defensive capabilities. On the other hand, the space behind Maicon and Bastos provides an opportunity, if Miguel and Coentrao are feeling daring.
Despite Brazil's upper hand in direct confrontations, Portugal have won the only previous World Cup encounter between the two, helping to dump the 1958 and 1962 winners in the group stage with a 3-1 win at Goodison Park. Eusebio scored twice that day, and was one of the stars of the tournament in Portugal's first World Cup. Brazil hasn't forgotten that. There's history between these two footballing nations, and one shouldn't bet on Friday's clash marking another spicy chapter.