In our World Cup Comment series, individual writers at Goal.com offer their views on the hot World Cup topics of the day with local expertise and a global outlook.
..
Brazil take on DPR Korea this Tuesday and it is the South Americans, and not the Koreans, who are attempting to keep things under wraps. The five-time winners confront a nation which is renowned for the clandestine nature of its affairs and Dunga is taking a leaf from his opponents' book ahead of the World Cup opener. The coach has tried his damnedest to maintain a veil of secrecy over his squad, closing training sessions off from the public and only lifting the covers when obligated to do so by FIFA.
It is a stark contrast to four years ago when the Seleccao conducted their business in full view of fans and media in sessions that more closely resembled rock concerts in Berlin's Olympic Stadium than drilling excercises. It is also in stark contrast to the North Koreans, who have been happy to train alongside the masses at a public gym in Johannesburg.
But Dunga has his ways and he is sticking resolutely to them.
His methods have curried little favour at home throughout his tenure despite apparent success; it is still seen as lamentable that the likes of Ronaldinho and Neymar have been left off the roster in favour of industrious players in the mould of Ramires and Felipe Melo even though qualification was a breeze and the Conferations Cup trinket was accrued.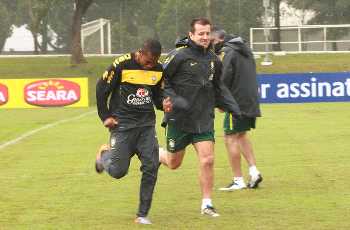 Silk and steel | Dunga puts Robinho through his paces
The former defensive midfielder has engrained a European-style robustness to a once shimmering 'dream team' with set-pieces, at both ends, a key attribute. And that has not gone down well with everyone.
The 1970 World Cup winning captain Carlos Alberto has thrown in his two cents. He told
the Observer
on Sunday, "The coach has chosen this way to play, and the results are very good, but let's see what's going to happen. If you look behind [the results] you see that most of our goals start from dead balls. Free-kicks or corner kicks. This is why I say it's not Brazilian football."
To that end there is an added onus on Dunga to deliver. They are expected to show up with their traditional style and panache as well as substance; critics and fans at home, as well as neutrals, demand aesthetically pleasing football along with results. An iron fist within a velvet glove.
Admittedly, there is only so much excitement that Gilberto and Lucio can generate, but with Robinho and Kaka in the starting XI, a sparkle is still a necessity. If their coach is going to a World Cup after turning the excitement factor down a notch or two, then he better win the thing.
The dress rehearsal win at the Confed Cup and the win away at Argentina went some way towards thawing relations between the trainer and his critics but there is more work to be done. Dunga needs deep progress to justify his transformation of Brazil from purveyors of 'joga bonito' to the international equivalent of Inter Milan.
Brazil are one of two favourites for the World Cup; the other being Spain. It will not be lost on observers that Spain's bluerpint follows closely to that of Barcelona. When the irresistible force met the immovable object in the Champions League this season it was Inter who had their day. Dunga now needs similar.
Can Brazil go all the way? Check out Castrol Football's 2010 World Cup Success Predictor.
Become a fan of Goal.com India's Facebook fan page for all the latest news and insight into everything related to the beautiful game!