Going into a penalty shootout is like going out on a speed-date. You may do all the preparations and mug up every suggestion your friends and the internet has to offer, but still you would have to act on the spur of the moment and take your decisions in the space of a few minutes. And, of course, depend on your luck.
And depend on his luck Ronald de Boer did when he swung his right foot and tried to find the bottom right corner of Taffarel's net. Perhaps the Brazil goalkeeper too had depended on luck but he guessed the right direction and made the save that fired the South Americans to the final of the 1998 World Cup.
The 1998 World Cup semifinal between the Netherlands and Brazil at the Stade Velodrome in Marseille had ended 1-1 after extra time and De Boer failed to tuck away his spot-kick that handed Brazil their berth in the final. You do suspect that both sets of players had prepared for penalties before the match during training but preparations for the Dutch didn't really
materialise.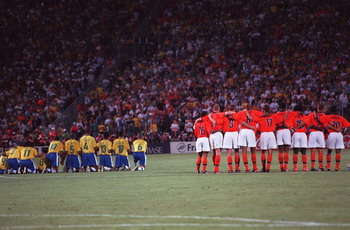 Tense moments| The two sides during the 1998 shoot-out
Yet going into a penalty shootout without any preparation would be like going for a speed-date with your pajamas on. Of course, while on a date you have to rely on several external factors but without proper psychological preparation and understanding a bit on how women's minds function wouldn't make you score.
And what better way to prepare for a penalty shootout than to take a look at the
Castrol Edge Penalty Analysis
system, a modern-day scientific way to approach what has long been consigned to the territory of luck.
Castrol's team of performance analysts have studied every penalty taken in Europe's top five leagues and the Champions League over the last four years.
They have also studied every penalty taken in the last five World Cup finals, both in matches and penalty shoot-outs, by teams who made it to South Africa to understand the impact the pressure can have on players.

Based on those results and much more, we now take a look at the Netherlands and Brazil and see how each team could fare should their quarterfinal tie on Friday afternoon go down to the wire.



Netherlands
Should the Netherlands have to confront Brazil in a penalty shootout, they shouldn't feel much discouraged as they will have a decent chance of reaching the final, as since 1982, ten of fourteen World Cup finalists have had to encounter a penalty shoot-out at some point in the tournament.
Arsenal striker
Robin Van Persie
is one of the Netherlands's best penalty takers. Out of his last ten penalties, he has scored nine, having had one saved by the opposition goalkeeper. However, the 26-year-old appears to be hugely predictable in his spotkicks as seven of his last ten penalties have been taken down the right. But he has had a 100% conversion rate each time.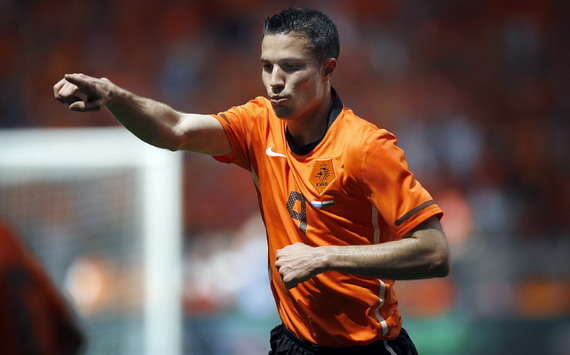 Midfielder
Rafael Van der Vaart
is also lilkely to take a penalty should he be on the pitch by the time. The Real Madrid player has successfully converted seven of his last eight spotkicks. But like Van Persie, he too is predictable as he goes for the corners every time when taking a penalty.
The versatile
Dirk Kuyt
has scored from his last six spotkicks and have mostly gone for the corners. In fact, the Liverpool midfielder's last two penalties for Netherlands have taken down the left side of the goalmouth.
Winger
Arjen Robben
too had a good record as he has scored three of his last four spotkicks.
Edson Braafheid
is down in the pecking order but he is one of the five potential penalty-kick takers: the Bayern Munich defender scored his last spot-kick.
First-choice goalkeeper
Maarten Stekelenburg
doesn't appear very promising in saving penalties. He has watched the ball zoom past him and into his net on the last three occasions.
85% of players under 23 score their penalty, 78% of 23 to 28 year olds convert their kicks and 71% of over 28 score their penalty in a FIFA World Cup™
Brazil's top three penalty takers,
Kaka
, Elano and Luis Fabiano, have not missed any of their last five spot-kicks in their respective leagues. Elano is out of the clash with the Netherlands, which means that Kaka and
Luis Fabiano
should ideally be the first ones on the list to take the spot-kicks for the South Americans.
Left-back
Michel Bastos
too should be on the list to take a penalty. The Lyon player has scored six out of his last seven spot-kicks and indeed this is an encouraging statistic. Researchers have also found out that Bastos is likely to direct his penalties to the bottom right corner - five of his last seven spot-kicks went in this direction.
However, there is one nagging problem: left-footed players only convert 50% compared to 69% for right-footed players.
Grafite
will not start against the Netherlands on Friday afternoon but his presence on the pitch for the spot-kicks will be crucial as he has scored nine times out of ten from the spot. Defensive midfielder
Gilberto Silva
has a good record of six out of eight while Kaka has a perfect 10 out of 10.
One player who shouldn't be taking the penalties for Brazil is
Daniel Alves
. The Barcelona right-back was unable to convert his last two spot-kicks.
Interestingly, midfielders are the poorest in penalty shootouts - strikers convert 74% of penalties, defenders convert 69% and midfielders convert 58% in World Cup penalty shootouts.
Brazil goalkeeper
Julio Cesar
appears to be a decent penalty saver as he has kept out three out of the last 10 kicks he has had to face.
Overall, Brazil have a very good chance of doing very well in the penalty shootout. Brazilian internationals have put none of their last 46 penalties wide or high; however, they had six of these spot kicks saved.


Goalkeepers and fans alike can take advantage of this incredible data by downloading the 'Castrol Edge Penalty Cheat Sheet' on the www.castrolfootball.com site or download the free Castrol Football iPhone App.