---

BY AYUSH SRIVASTAVA

Follow @ayush_sri on twitter
---
As Afghanistan's players broke into wild celebration after seeing out a sustained Nepal onslaught to make it into the final of the 2013 SAFF Championship, they were joined in their joy by millions of fans, back home.
For them, it is not only a matter of pride and happiness, to see their national team do so well, but also a balm to the injuries of a nation torn apart by strife over decades.
The stars of the Lions of Khorasan, captain Zohib Islam Amiri, influential midfielder Yousef Mashriqi and striker Sandjar Ahmadi, who scored the winner against Nepal, alongwith head coach Yousef Kargar, sat down for a chat with Goal, to reveal how the passion of the fans back home drives them to success on the pitch.
The Germany based striker Sandjar Ahmadi informs, "The support is good. We are happy they are supporting us and we play much better due to that. Their support in Kabul (against Pakistan) made us much better and we take energy from them."
Football has not only brought joy to the country, but in a way, has united a nation at times divided into several sections. Yousef Kargar, the coach of the side stated, "In Afghanistan, the biggest sport is football and everyone is in love with it. Everyone (the fans in Afghanistan) is united in this and everyone is thinking about Afghanistan's game. They want to come together for it. For them, football brings together all sections of people."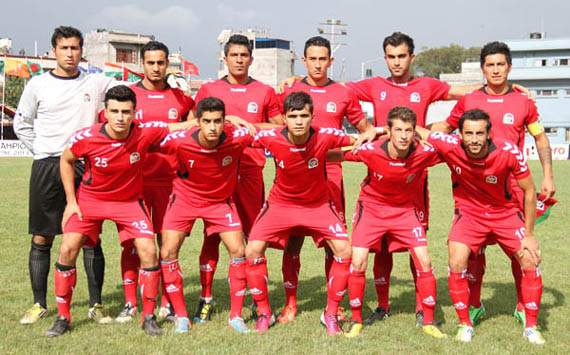 Afghanistan is ready for another crack at the SAFF Championship title...
The 51-year old, had stated he shall retire from coaching, if the team wins the tournament. He is of course, primarily responsible for bringing the team to its present status of being the highest ranked side in the region, from the earlier tag of being the whipping boys.
Kargar mentions, "You know in Afghanistan, there were so many challenges, but everything has improved a lot. Before, due to the fighting, we could never show how good we were. But now we can show how much talent Afghanistan has got."

Many Afghans had to leave the country, to secure their future due toe political and economic instability in the country.

One of them was Tahir Mashriqi, a former International footballer, and father of present midfielder Yusef Mashriqi, who went to United States of America via Pakistan, to take his family away from the strife in 1985. It was not easy though, and Yosef is well aware of the hardships his family faced in those times, a story that is repeated throughout the squad, which has several players who migrated abroad during the Soviet invasion and subsequent Taliban rule.
Mashriqi reveals, "It was very difficult, they (his parents) tell me stories of how they went to Pakistan and then got lucky. They got some sort of lottery and went to the USA. There they worked daily for several hours a week, to help get us along."
However once the Taliban was ousted, football got a chance to flourish in the country. But even then, it was not easy. After years of neglect, infrastructure was missing and when tours abroad were organized, players often took flight, hoping to get a better life elsewhere.
The first few years were tough...
Amiri, the captain of the national team, has alongwith Kargar, seen this Lions of Khorasan side rise from the ashes. He told Goal, "After Taliban (left), we made a national team and went to South Korea. After that a coach from Germany came and we had a national camp. They went to Italy and then nine players ran away from there in 2003."
On the pitch too, results didn't really look rosy, as in the 2005 SAFF Championship, they were thumped 9-1 by Maldives. However the present captain of the side maintains that it was an invaluable lesson on international football, and the team improved thereon.
He stated, "When we first played at the SAFF Championship, we played against Maldives and conceded nine goals. Back then it was difficult for us, but then we took it seriously. We gave a good fight to Pakistan and Sri Lanka and then confidence came to this side."
Slowly though, the team evolved, with Yousef Kargar playing a big part in bringing-in players whose families had migrated abroad. Sandjar Ahmadi was one such player, and he spoke of how he was selected for the national team, mentioning to Goal, "My first time with the team was in the SAFF 2011 Championship and a representative in Germany got in touch with me. Of course I was very happy to join the country's team. They called me and said they liked my game and wanted me for the national team. It was a very proud moment for me."
Mashriqi, who is a former USA U-14 International and once rejected a contract offer from Paris Saint-Germain, too was picked after being noticed during a tournament organized by the Afghan community in America.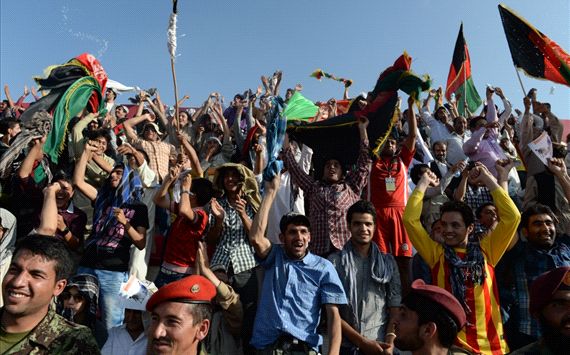 Huge crowds turned out for Afghanistan's friendly in Kabul against Pakistan...
The midfielder was ecstatic at having the opportunity to follow his father's footsteps, into the national team.
"I mean at that time, it was an easy decision. It was easy since even though I was in the USA U-14 and U-16 team, but then maybe some politics came in, which I don't want to really get into. At that time I was not playing for American national team, so it was an easy decision. It was also a dream come true. My father was a striker for the national team and I got to fill in his shoes. I have now played longer than him for the national team," he pointed out.
The team has since flourished, and apart from being the highest ranked side in South Asia, is also the only one from the region that is going to take part in the AFC Challenge Cup in Maldives.
To add to that, Afghanistan got to see some International football on its shores, for the first time in a decade, when they welcomed Pakistan to their country and promptly thrashed their neighbours and arch rivals 3-0. This prompted amazing celebrations in the country, which caught the foreign based contingent pleasantly off-guard.
Amiri informs, "You know, beating Pakistan is bigger than defeating India or Bangladesh. When we played them, everyone was watching the game, including the President."
Mashriqi adds to his captain's statement, stating, "The people have been heartbroken and been through a lot. That game was big (for them) and lots of people watched it in Kabul. When we won, people were dancing on the streets, and stopping our bus and getting us to dance with them. We are all from different states in Afghanistan but this team has brought us together."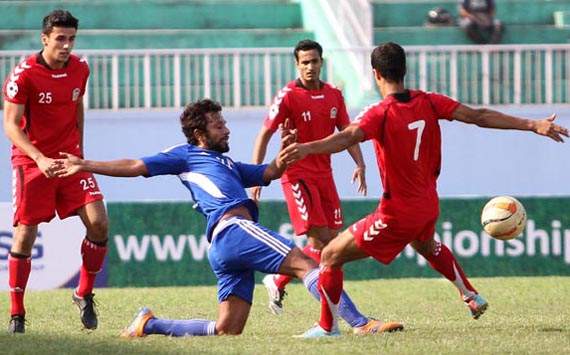 The national team has united the country...
While things have improved, a return back to their old stomping ground remains a distant dream for the families of these players. Mashriqi, who had a stint with Bhawanipore last year, speaks of how his father sometimes hints at his wish to go back, and they haven't lost hope of returning to their homeland of Kandahar.
"Well this time (when he went for the Pakistan game) my father did not go back but my mother has made a journey back to Afghanistan. He has mentioned a couple of times that we could go back to our Kandahar which is a difficult state where Taliban held sway. If there is peace and security definitely (we would like to) go back and help the state."
However such discussions are for the future. In the present, all the focus is on winning that elusive first piece of silverware. It is not lost on the players and staff of the country, that when such a moment arrives, it would help them register their names in the history of this country, forever.
Kargar points out, "In Afghanistan, all of them (footballers) are already heroes. We are still hoping to win the tournament, and then you shall see the welcome they give us back home. It's (going to be) the most unique welcome anywhere that you could receive. If I take this cup home, I will say goodbye to football."
Amiri agrees with his coach, and as a captain, he just can't wait to hold that piece of silverware.
"In Afghanistan they will remember this tournament as a part of our history, if we win and I will have been the captain of the team and all these players will be heroes as members of the side. We don't want any sort of statues in our name, but we want to win to return the support we have had over the past few years."
While a place in the SAFF Championship final has been secured for a second time running, the memories of the last edition are still fresh in the minds of the Lions of Khorasan.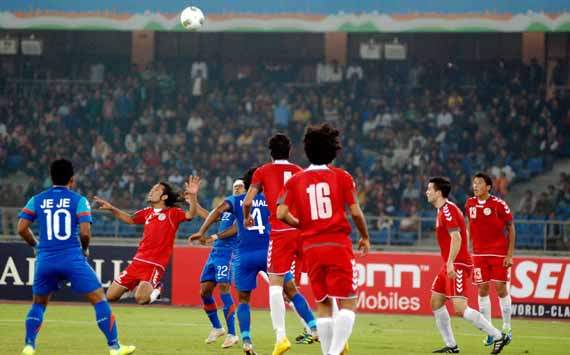 The memories of 2011 are fresh in the minds of the players and staff...
Back then, a team tagged as an underdog, had confounded expectations, to reach all the way to the final, where they were holding India competently, until a penalty decision that went against them, changed the pattern of the game.

Looking back, the Afghanistan coach commented, "Definitely we analysed that video, and many other coaches saw it as well. That was not a penalty and definitely not a red card. I felt the referee supported India. After the final match, the next day, a paper at the hotel lobby said, this is a gift to India by the referee."

However all that heartbreaking loss has done is to further steel his side's resolve to ensure that those scenes are not repeated this time round.

"That loss affected the players, coaches and everyone else a lot. Everyone in Afghanistan is passionate and can't wait to take the cup back home. They (the players) are working hard and they don't want to go away without a Cup," Kargar revealed.
It remains to be seen, if this SAFF Championship shall indeed be the moment when the trophy cabinet of Afghanistan gets some silverware placed on it.
What can be said without a doubt though is the fact that this football team has done much more than anything else to bring a sense of unity as well as pride back to a war torn nation like Afghanistan.
How then, shall the nation react, if they are finally crowned as the kings of South Asia?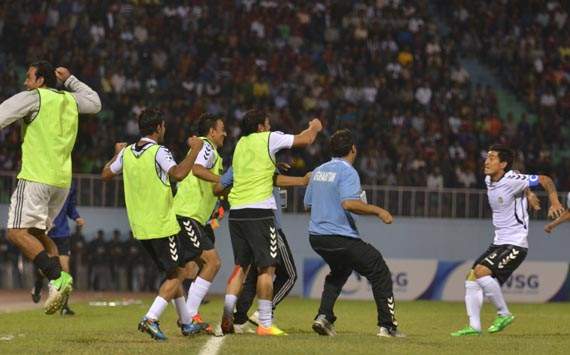 The celebrations could continue for months, if the team wins the title...
Sandjar Ahmadi sums it all up, stating, "I think we feel and know what will be ahead of us if we get a victory."
"In Afghanistan, they were very happy when we beat Pakistan but the first cup we win for the country, I think they will party for one year. They shall talk about it forever!"
And while Amiri might not want statues to be made of his side, a victory at the SAFF Championship shall immortalize the Afghanistan team's captain, and his players, forever in their country.
How do you stay up with football when on the move? With http://m.goal.com –your best source for mobile coverage of the beautiful game.