---

BY AYUSH SRIVASTAVA

Follow @ayush_sri on twitter
---
Probably no one has done more to alter Afghanistan football team's image from being that of the proverbial Asian whipping boys to their present condition of being South Asia's highest ranked team on the FIFA Rankings, than coach Yousef Kargar.
Having been attached to the team in various capacities since over a decade, the fifty one year old has worked painstakingly to scout and call-up Afghan origin players based from across Asia, Europe and North America. He has then moulded them into a team which now has risen to 139 in the FIFA world rankings.
For him though, the aim stays to bring back silverware to a nation, whose wounds after years of war are only just beginning to heal, with football being a huge factor.
Talking exclusively to
GOAL
, he revealed, "In Afghanistan, the biggest sport is football and everyone is in love with it. Everyone (the fans in Afghanistan) is united in this and everyone is thinking about Afghanistan's game and they want to come together for it. For them, football brings together all sections of people."
Kargar though bears this expectation with dignity, but now hopes that the SAFF Championship would help him bring an elusive International title win, after which he hopes to walk away from the daily affairs of the Lions of Khorasan, proud of the work he has done to bring them so far.
He mentioned, "In Afghanistan, all of them (footballers) are already heroes. We are still hoping to win the tournament, and then you shall see the welcome they give us back home, it's the most unique welcome anywhere that you could receive. If I take this cup home, I will say goodbye to football."
"I am tired as I have been with the national team for a long time. So many problems I have faced, but I have done my best. I also do all coaching instructions in Afghanistan, and I am very tired. I am proud of the job I have done in the last five-to-six years. Before we could see Maldives beating us 9-0, but now we are the top ranked side in South Asia. I am proud I will leave my team at such a high point," he further elaborated, hoping to leave a legacy behind, before moving on from the national team.
But before he could look towards retirement, there stay two games to be won, if the Lions of Khorasan are to take the title back to Kabul. Looking forward to the clash, the coach stated, "We are mentally and physically prepared, and we hope we can have the same teams (Afghanistan and India) in final as two years before."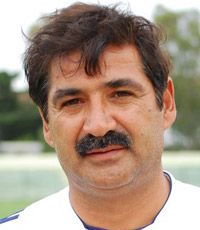 Mohammad Yosef Kargar
"Everyone in Afghanistan is watching us on television and they believe and trust in us. And we will play a good game, and it's a big semi-final for us, and we will give it our best. Once we win, we will think about the final again," he added.
The pride he has, when he talks about his present crop of players, is very audible in his tone, as he mentioned, "You know in Afghanistan, there were so many challenges, but everything has improved a lot. Before due to the fighting, we could never show how good we were. But now we can show how much talent Afghanistan has got."
Karger lamented the loss of their two key centre-backs, Faisal Safa and Djelaludin Sharityar through injury and conceded that the home fans can make a difference in the game. However he also believes his players have the passion needed to succeed, and will not be intimidated by them. He said, "Fans are very important and they can change the game. But we are not thinking about them. And the most important thing of our team is that we are passionate and young and we shall play with our heart."
While they retain the capability to win the tournament and have shown that they mean business during a draw against Maldives in a game they dominated, what has surprised many so far, has been the patchy form of the Lions of Khorasan in the group stages. They almost conceded an equalizer to Bhutan, before having to come back from a goal down against Sri Lanka, and relied on a stunning goal from Captain Haroon Amiri against the Lankans to go ahead.
"We play on an articifial pitch in Afghanistan, and we analysed we didn't play too well in the first two games. In the third game, I had predicted we will play better and that is how it happened. Every game we improved, we didn't know about ground first but now we do, so we shall do better," he told
GOAL
.
Karger also felt that against smaller teams, sometimes a country is not able to give their best performance, but as they are now at the business end of the Championship, he warned of far stronger showings, indicating that there was plenty of untapped potential in his side. He opined, "Against smaller teams, sometimes we don't play our natural game. It happens sometimes with strong teams, but against the likes of Nepal and Maldives or India, we shall take our game to another level and play a much better game."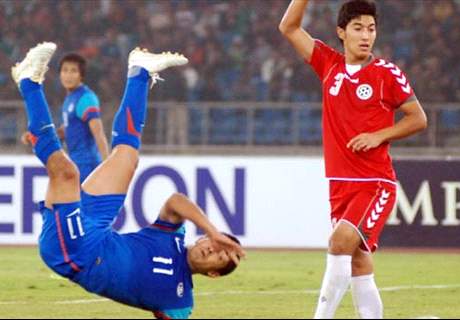 'India is a much easier opponent'
The coach was bullish of his chances against the
Blue Tigers
, if they get a re-match against them in Kathmandu. He stated, "If we win against Nepal, India is a much easier opponent. It is not as good a team as two years ago."
The memories of two years ago are still fresh in his mind. Back then, a team tagged as an underdog, had confounded expectations, to reach all the way to the final, where they were holding India competently, until a penalty decision that went against them, changed the pattern of the game.
Looking back, he commented, "Definitely we analysed that video, and many other coaches saw it as well. That was not a penalty and definitely not a red card. I felt the referee supported India. After the final match, the next day, a paper at the hotel lobby said, this is gift to India by the referee."
However all that heartbreaking loss has done is to further steel his side's resolve to ensure that those scenes are not repeated this time round.
"That loss affected the players, coach and everyone else a lot. Everyone in Afghanistan is passionate and can't wait to take the cup back home. They (the players) are working hard and they don't want to go away without a cup," he concluded.
If Kargar's dream of winning the South Asian title is realized, it would have been a truly remarkable rise within eight years from the day that they were thrashed 9-1 by Maldives.
However while his destination might be closer than ever before, the hardwork for Afghanistan's head coach has only just begun, as his side look to get the better of a Nepal team, which itself is looking to end nine editions of heartbreak in the SAFF Championship.
Will the 51 year old get his much wished farewell gift? The final result against the Gorkhalis on Sunday might well hold the answer.
How do you stay up with football when on the move? With http://m.goal.com –your best source for mobile coverage of the beautiful game.