India have earned a point from their last match against Bangladesh courtesy of an injury time goal scored by skipper Sunil Chhetri. The 28-year-old, however, was not too pleased as he felt that they squandered was too many chances.
"Just happy that, at the end of the day, [despite] missing so many chances we got the draw. It would have been a disaster if we had gone down 1-0," he told reporters after the match. "It was a free-kick. There sure was a contact made (for the foul). I was pretty happy that I got a penalty first, but anyhow (the referee gave a free-kick), I got a goal," he admitted.
Besides getting a goal against Pakistan in the 1-0 win over their neighbours, which by virtue was an own goal, India have not been able to take the lead since their 4-0 win over Guam in March earlier this year.
Chhetri stated, "I think it was our (strikers) mistake only. The defense had a great game, as was against Pakistan but we were guilty missing so many chances - especially me and the attack line. If you miss so many chances that's what happens to you.
"The whole team gets frustrated. They get a free-kick, the ball bounces or rebounces and it's in the net. It happens. I've seen so many games, played in so many games where we missed chances, but it happens. So it's just that we have to get better in our finishing which is below par," he continued.
"Initially we did a lot of good passing and we don't convert chance. I can imagine for the defence if you see your attackers missing chance after chance and one corner...it's in and their heads are down."
Chhetri however still believes that India are the favourites from Group A to qualify for the semi-finals. He said, "We know that we are a good team. If you really calculate having 12-to-15 chances in two games, it is not good enough in this level. We really have to buckle up and be calm in front of the chances (goal).
"We say, generally, that we had 8-to-10 chances. Let's suppose that Maldives had 10 chances and they converted 10 chances (on Monday). I'm not degrading Bangladesh, but we did have a lot of chances. One or two goals in and we're comfortable."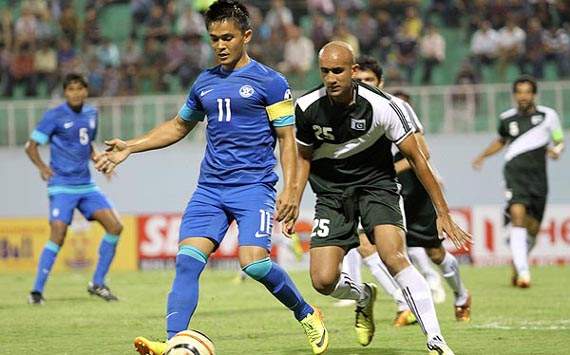 Did India have a better match against Pakistan?
The Bengaluru FC hopes that his injury-time goal does enough to motivate his team-mates, but took it upon himself for being able to finish chances.
"There is no lack of motivation in our team. It's just that we are not finishing well. That's the only issue," he pointed out. "I wouldn't blame the team, because we are missing so many chances. We go back and watch our videos. In the last match also (against Pakistan), the sitters that we got - firstly me."
In an off-the-ball incident, Sunil Chhetri got involved in a heated altercation with Pakistan's Sohel Rana for which the Indian striker got in the books of the referee for allegedly for elbowing his opponent.
"That was my mistake, personally. I shouldn't have. I think I am one of the most senior players in the team and I should have behaved. That was very silly and I'm extremely sorry. I went to the dressing room, I said sorry to all the players, because that is something you should never do - no matter what is the result, no matter how the game is going," he reasoned.
With regard to the changes made by Wim Koevermans in the starting line-up, Chhetri quipped, "That is completely the coach's decision. We are 20 players. It doesn't matter who plays, 11 players are in and there are three changes."
India's last group match is against Nepal in which the
Blue Tigers
need at least a point to secure their place in the semi-finals of the South Asian tournament.
"At the end of the day, we have to win the next match. We are not thinking about the semi-final yet, we're only thinking about the next game. We're going to go for a win against Nepal."
"We haven't won matches. We lost against Tajikistan, we lost against Myanmar before that, so it's playing on their mind. The moment we start winning, the team will settle down."
Having to play a game every alternate day, the Indian skipper commented, "You have got to cope with it. We already knew about it. Our medical staff is working very hard. I'm telling you, if it was 4-0 (win), we would have been talking [about] something else right now. It is just that when you come to the ground, you have to take your chances. If you get 10 chances in the game and you don't convert them!?"
How do you stay up with football when on the move? With http://m.goal.com –your best source for mobile coverage of the beautiful game.